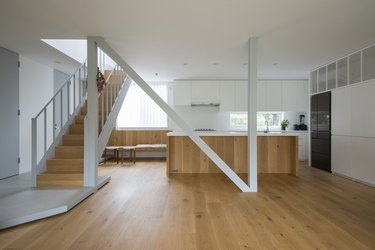 Doing something to the letter doesn't usually result in creativity. But in the case of a spacious Tokyo house designed by CASE-REAL, that phrase takes on new meaning. The design was based on two letter-shaped features: The L-shape of the building, which informed the garden and landscaping (created by GREENETTA) and an N-shaped structural support that defines the open dining and living room.
The rest of the house follows this motif that concentrates on hard edges: The front and back facades feature doors wedged at an angle. Wood built-ins accentuate square shapes. A reserved color palette (mostly white, gray, and natural wood tones) creates a sense of serenity, which can be found in both the private and shared rooms. Overall, the 1,900-square-foot residence is a reminder that concentrating on shapes and exercising restraint can create a spacious and relaxing atmosphere.
---
After interning at Dwell magazine in San Francisco, Kate began writing about arts, design and culture for other national publications. She is based in Los Angeles and San Francisco.