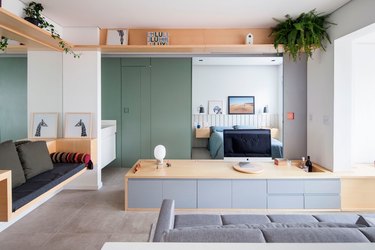 At first glance, you'd never guess that this São Paulo apartment is in fact a tiny 400-square-foot studio. That's all thanks to the clever workings of architectural firm Estúdio BRA Arquitetura, which transformed the space by creating barriers and strategically placing large furniture items.
"The biggest challenge was getting the living room, dining room, office, and bedroom to blend," architect Rodrigo Maçonilio says. So, he explains, "​We created pieces that serve for more than one use." One large design for the living room includes an entertainment area, bar, and bench — all in a single item of furniture. The wardrobe and the bathroom are also intertwined, optimizing space and storage. The result? A studio apartment that feels far from cramped.
---
After interning at Dwell magazine in San Francisco, Kate began writing about arts, design and culture for other national publications. She is based in Los Angeles and San Francisco.
View Work