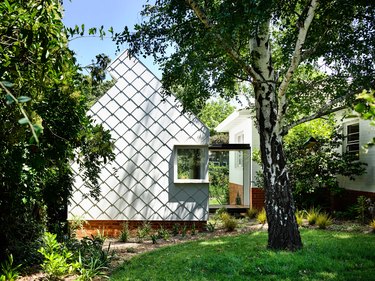 Two additions were better than one when it came to expanding a modest 1950s-era bungalow in Canberra, Australia. The owners, an architecture-loving couple with a teenage daughter, wanted to preserve the character of the original house, while adding more space and contemporary details. Rather than sticking an unsympathetic addition onto one side of the bungalow, Austin Maynard Architects came up with the idea of constructing two modern pavilions, which would be connected to the main house by glass-lined corridors.
They relocated the kitchen and dining area into a new pavilion set within the garden. The sunny space was designed with sustainability in mind using a mix of materials including concrete, perforated steel, and warm wood. The area has extreme seasons, so the pavilion was situated to maximize sunlight and gather heat during the winter and outfitted with shades to help keep it cool in the summer.
The other addition contains the master bedroom and ensuite bath. While the pavilions are contemporary, the firm chose materials that would connect them to the original building. The white shingle clad structures are set on recycled-brick bases, creating harmony with the white and red brick bungalow. The three buildings work perfectly together, blending past and present into a modern family home.