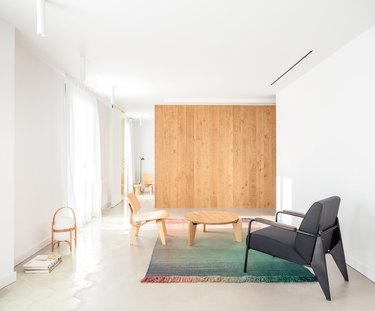 We love minimalism, but increasingly, we see how it's actually the trickiest design style: It's all too easy to create a minimalist home that feels sterile ... or just looks like a thousand other spaces. Which is why, when we saw architect Raul Sanchez's design for an apartment in the Eixample district of Barcelona, we were immediately struck by its creativity. The most obvious design feature is the wood paneling, which Sanchez says, is "a warm material with a strong personality."
But then there are the more playful, carefully chosen elements in the 1,180-square-foot home: a purple kitchen (don't see that every day), brushed brass doors, and a swing in the living room (definitely don't see that every day). The result is a reminder that with careful color and material selection, you can do minimalism in a way that doesn't have to be so serious.
---
After interning at Dwell magazine in San Francisco, Kate began writing about arts, design and culture for other national publications. She is based in Los Angeles and San Francisco.