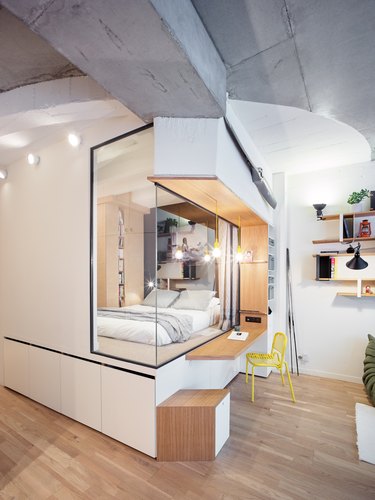 If an empty apartment is considered a blank canvas, then the place a couple with two children purchased in Paris' 18th arrondissement was a canvas that hadn't even been assembled yet. The concrete space was part of a former garage and one wall of windows was the only source of natural light. "The clients were very aware from the beginning that they bought an atypical flat," said Céline Pelcé of Atelier Pelpell. "So they wanted very creative ideas." Pelcé and her partner Géraud Pellottiero had to figure out a way to optimize the natural light and the square footage of the apartment.
Since the apartment had 11-foot ceilings, the architects opted to build up, creating a glass-walled master bedroom that sits on a storage platform next to the living area; the kids' bedroom was created in a mezzanine area. The team even added nearly 70 storage areas to the 710-square-foot home, building them into the walls, floors, and ceilings. The end result is a functional space that's also big on fun.
---
Elizabeth Stamp is a freelance writer in Los Angeles. Her work has appeared in Architectural Digest, Elle Decor, and CNN Style.