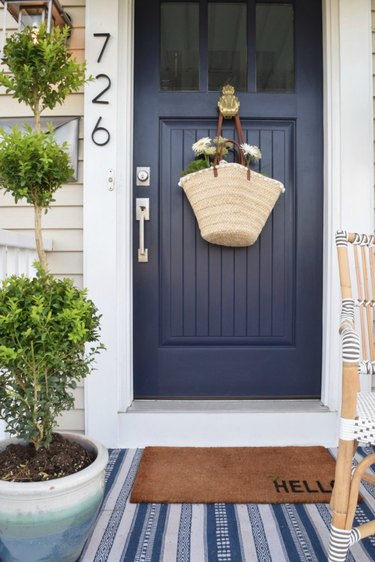 After a long day at work, have you ever pulled into your driveway, looked at your house, and thought to yourself: Something's gotta change? Luckily, there is one very fast, easy, and impactful way to spruce up your home's exterior without spending your life savings: Paint the front door. While the concept of selecting paint for your entry sounds pretty simple in theory, when it gets down to brass tacks, choosing the right hue for you can become quite daunting. There are endless shades to choose from (everything from millennial pink to Gen Z yellow), and trends are always changing, so what color is perfect for you?
We here at Hunker understand that it's hard to find a balance between our own color preferences while incorporating the latest design trends. And while everyone might not be inclined to change the color of their front door every time there is a new popular shade, it's nice to know what's hot when inspiration strikes. So we went straight to the source and consulted with a pigment expert to point us in the right direction. Sue Kim, Senior Color Designer at Valspar spoke to Hunker about the most sought-after entry hues. She says that teals and berry-red hues in particular are trending at the moment.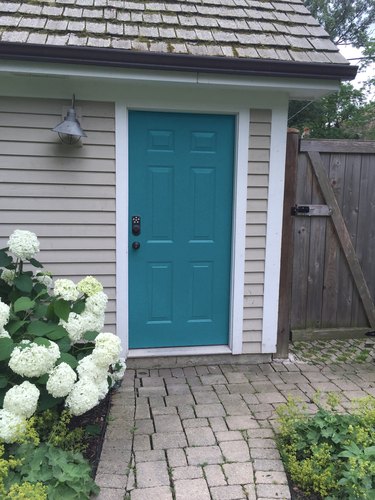 "Today's popular front door colors are in the cool color family like blue, aqua, and teal," Kim told Hunker. Some fear that selecting a cooler hue for their door may be limited to summer months, however, that's not the case as more serene shades bring a touch of calm and relaxation year-round. Kim continues, "When you step forward to next year, homeowners are looking for a positive energy and to feel encouraged to express who they are even on the front door."
Kim explains, "A playful attitude helps explore contrasting shades on the house like this coral front door on a light blue house." After all, who can resist not taking a picture in front of a pink door? We can't.
Of course, bright colors are still popular. Kim explains, "A ray of sunshine can be brought to the home with a yellow front door ... The traditional shades are getting updated with a fresh take on today's home. A timeless red has been intensified with shades like Cerise that has a hint of berry and healthy glow which it gains inspiration from popular beauty products." Surely, your golden-yellow harvest wreath would pop on a red front door. Let's not forget how good a rich wintergreen wreath would look against a berry-tinted door, too.
As for those looking to renew their creative soul and add a bit of calmness to their controlled chaos, something aqua might be the go-to-hue. Kim reveals, "For coming years, we have an increasing awareness of our wellness and concern for our environment. So this light and crisp blue ... will provide a renewing moment every time you enter through the door. With this color, the home is a place of healing and rejuvenation."
Okay, it's your turn ... pick a color.