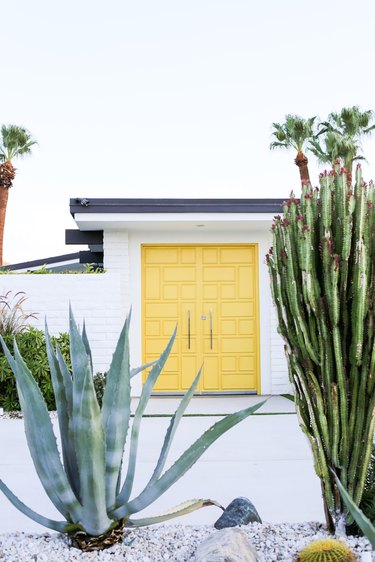 If you don't fall into the latter category, that doesn't mean you are out of luck. You can give your humble abode a dash of retro flair with the help of a midcentury modern front door. You might have noticed one or two during vacays in Palm Springs — they tend to sport vibrant, not-for-the-faint-of-heart colors, from yellow to blue to orange. Many include small windows that act as a design element, but the big things to watch for are sculptural or geometric shapes. Here are a few of our favorite grand entrances to inspire an exterior makeover.
1. Make it part of the color palette.
A mod front door is an opportunity to experiment with your home's exterior color palette. If you see your home as anything but a wallflower, consider a white exterior with a vibrant midcentury modern front door and accompanying sculptural detailing, something that's seen in this Palm Springs home captured by Kelly of Studio DIY.
2. It's all about geometric shapes.
Midcentury modern front door ideas often feature a three dimensional design made up of geometric shapes. The look instantly adds a vintage vibe, as seen with the orange entrance of this A-frame home refreshed by Strening Architects.
3. Look to retro hues.
4. Symmetry, symmetry, symmetry.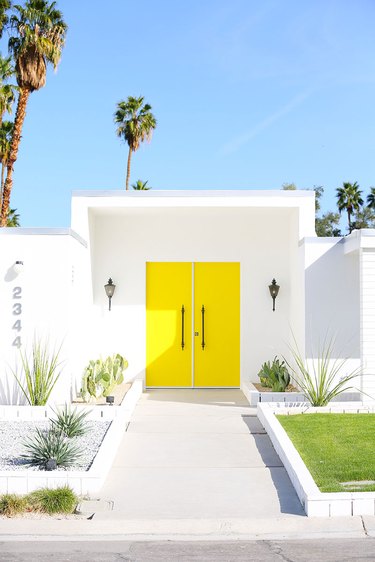 Midcentury homes have always embraced symmetry in a big way, and the front door is no exception. For a look that's pleasing to the eye and brims with curb appeal, consider double doors with matching hardware and light fixtures that echo the visuals, a look that Kelly of Kelly Golightly reveled in while passing by this home.
5. Get playful with hardware.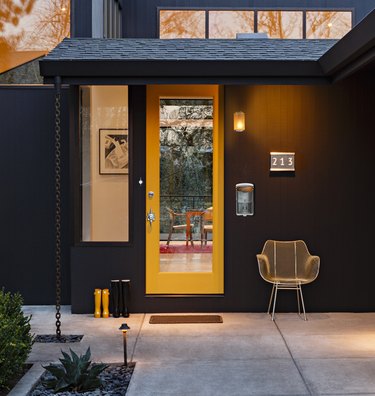 As previously mentioned, even if you don't have an authentic midcentury modern home, you can still nod to the look by way of your front door ... and door hardware. It's all about fanciful backplates paired with grand pulls, similar to this starburst backplate and door knob from Rejuvenation. Not only is the shape a mainstay of midcentury design, but it also adds a one-of-a-kind look and feel to this home's entrance.
6. Represent linear design.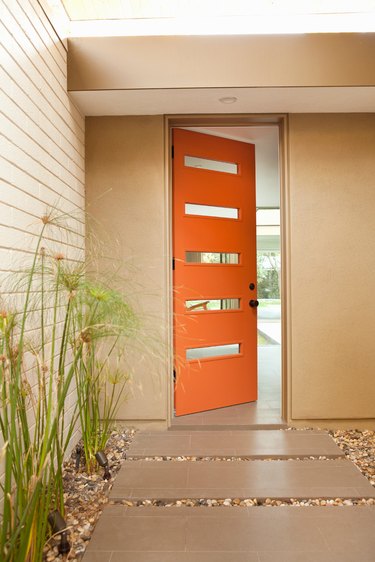 Midcentury designers have always relied upon linear detailing to create interiors and exteriors that are satisfying to the eye. These clean lines often continue to the front door through design accents and windows, aspects that make this mid-mod front door revived by BilDEN a picture-perfect match.
7. Don't be shy.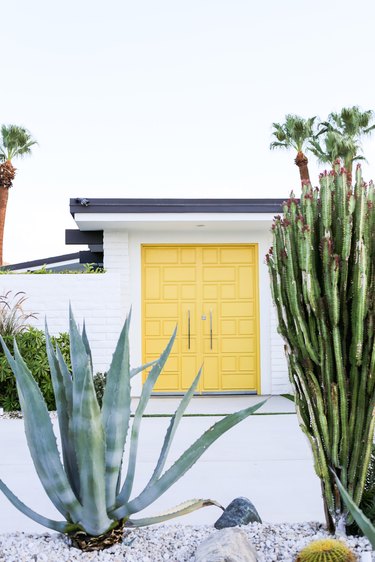 Midcentury modern front doors are gutsy, confident, and guaranteed conversation starters. So needless to say, when designing your retro entry, you should feel anything but shy — and this yellow front door spotted by Andrea of Salty Canary is a show-stopping example.
8. Be brave with a modern update.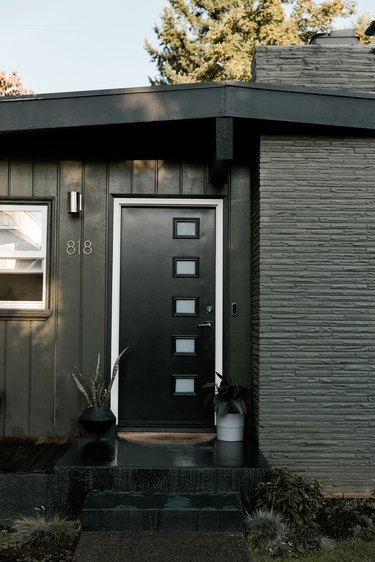 There tends to be two schools of thought when it comes to mid-mod design: the purists who make authenticity their top priority and those who are a bit more liberal with their visuals. If you fall into the latter camp, don't be afraid to paint your front door in a trending color, as is the case with this home's door, which is swathed in black to match the rest of the exterior.
Where to Shop for Midcentury Modern Front Doors
If you aren't blessed with a true-blue midcentury modern home that comes with a stylish front door, don't fret. You can always purchase a new one to give your digs a retro boost.
Believe it or not, this big box retailer is in the business of selling classic midcentury modern front doors, many displaying eye-popping colors and geometric windows.
There are lots of companies out there that specialize in midcentury-inspired products or reproductions. Make It Mid Century is one those retailers, offering front doors with shapes and hues that look as if they were plucked right out of the 1950s.
Midcentury modern front doors don't necessarily need to be colorful. For a toned-down version, look to Doors4Home, which provides an assortment of options in neutral wood finishes.