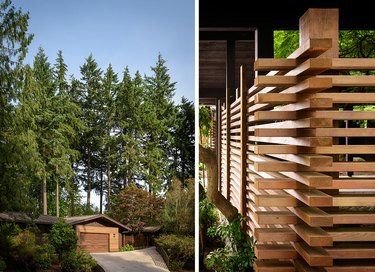 While not usually named on lists of most influential midcentury architects, Portland-based William Fletcher's influence on the Pacific Northwest region can't be denied. Inspired by the work of Mies van der Rohe, his designs were often reflective of their woodsy surroundings, bringing in nature and using local timber. You can see that aesthetic in this Portland home, which was given a recent upgrade by Jessica Helgerson Interior Design.
Preserving Fletcher's original details was of course paramount, however the firm needed to address the realities of the clients — a creative work-from-home couple whose clan had grown to a family of six. The space was reworked to include a more open layout as well as a film screening room. Texture and color became key to the design, to break up the richness of the rich wood paneling throughout the home. The result is a modernist house that fully retains its historic character, with an interior that feels like a complement to the period, and not a caricature.
---
After interning at Dwell magazine in San Francisco, Kate began writing about arts, design and culture for other national publications. She is based in Los Angeles and San Francisco.