We may earn compensation through affiliate links in this story. Learn more about our affiliate and product review process
here
.
Finding a "hidden" house by famed architect Albert Frey is something that would shock any self-respecting modernist in Palm Springs, but that's just what happened when a lesser-known Frey house was put up for sale last year. The home, called the "Hollingsworth Tennis Estate" by the celebrated midcentury architect, had been neglected for years and was mostly forgotten.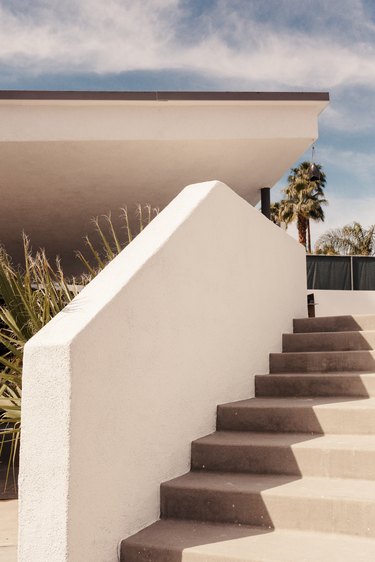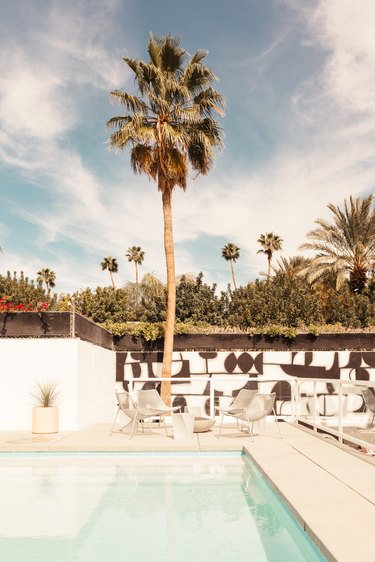 Turns out the Hollingsworth house was specifically built to be hidden from view — and there's a delicious reason why. In 1966, Hollingsworth, a real estate developer in downtown Los Angeles, applied for permits to build his own "tennis estate" next door to the Racquet Club of Palm Springs. At the time, the Racquet Club was the spot for celebrities like Spencer Tracey, Clark Gable, Jayne Mansfield, Eva Gabor, and Frank Sinatra. It's where pin-up photographer Bruno Bernard staged Marilyn Monroe's first photo shoot (and introduced her to her agent, Johnny Hyde, by the pool), and where the Bloody Mary was invented. Apparently the club's owner, Charlie Farrell, was displeased to hear that Hollingsworth planned to put a tennis court with a requisite and unsightly chain link next door to his exclusive enclave. So Farrell complained to City Hall and blocked Hollingsworth's permits. Not to be outdone, Hollingsworth had his entire lot excavated so it would sit below street level and had his permit restored. As a final coup de grace, Hollingsworth then hired Frey, who was working on Farrell's Schiff House at the Racquet Club at the time, to design his new home. Game, set, match.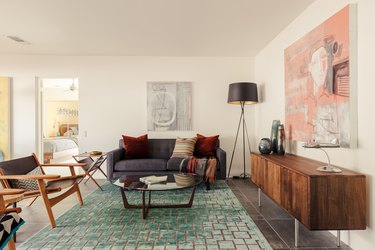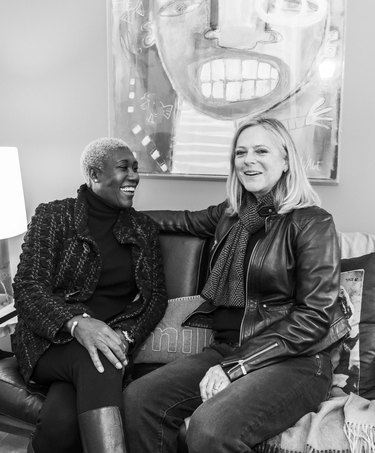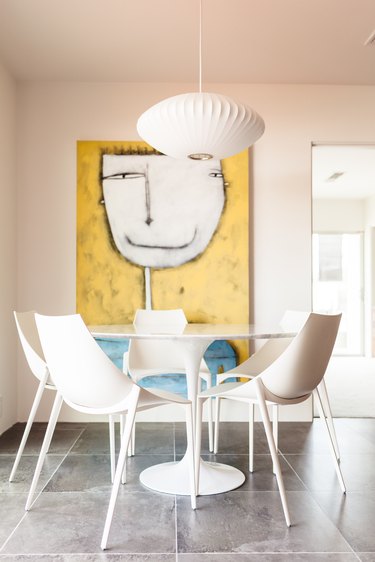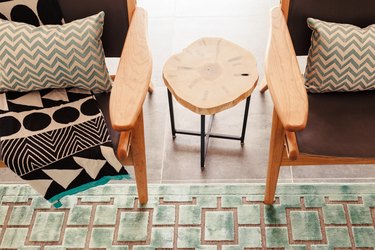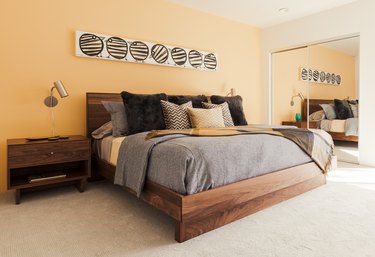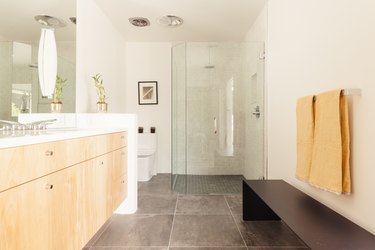 When the 1,900-square-foot house became available last year, it was hidden once again — this time under years of incongruous additions. "When we first saw it, we thought, This is a train wreck," says Jackie Thomas of Thomboy Properties, the team that eventually bought and restored it. Thomas adds that her partner, DeAnn McCoy, described the estate as resembling "a piece of gum you find at the bottom of your shoe."
The house had been painted in a dingy cream, and an unsightly greenhouse-cum-entryway had been added in front of the original glass slider doors. French doors were also installed throughout the home, and the cantilevered carport was walled in for storage. Inside, the original cabinetry was still intact, but unsalvageable. Peach-y tile could be found in the living room, and the kitchen had been converted into a kitchen/laundry room/second entryway.
To put this in perspective, Swiss-born Albert Frey was one of the first of Le Corbusier's followers to build in the United States, where he pioneered Desert Modernism. Frey's style is known for clean lines that steer away from the superfluous; a simplicity that's as sophisticated and simple as a Donald Judd sculpture. The last thing one should do is add anything, as every detail was considered by Frey himself.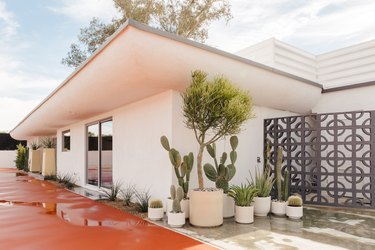 Frey, who passed away in 1998, is the architectural patron saint of Palm Springs, and created some of the area's most well-known landmarks, including the historic Tramway Gas Station that now serves as the visitors center (it's the first thing you see when you drive into town), the Aerial Tramway Valley Station, Palm Springs City Hall, and his trailblazing personal residences, Frey Houses I and II. To Thomas, what happened to the Hollingsworth estate was a heresy — a Frey turned into something more like a ramshackle mobile home.
To restore the estate, Thomas and McCoy considered how to bring the house back to Frey's original vision. The greenhouse was removed and sliding glass doors were put back in where they'd once stood. Unfortunately, the kitchen and bathrooms needed a complete overhaul, so they used Corian_®_ — a beloved '60s material — with retro fixtures by American Standard DxV. Geometric tile from Stonehouse went into the two bathrooms and powder room. "Frey was neutral in his color palette," says Thomas. "He used subdued turquoise, yellow, and pink." So as homage, they painted three accent walls in the home — a wash of yellow in one bedroom, dusty salmon in another, and swimming-pool blue in the living room, all provided by Dunn-Edwards. Finally, furnishings and accessories from Room & Board stunningly complete the finished space.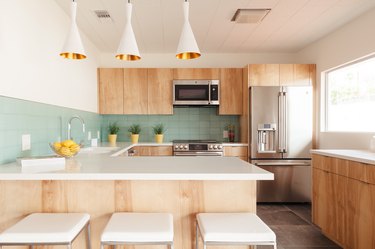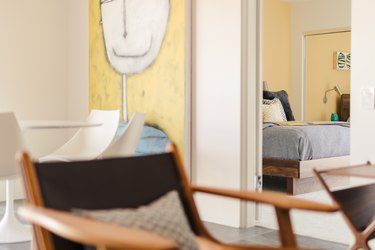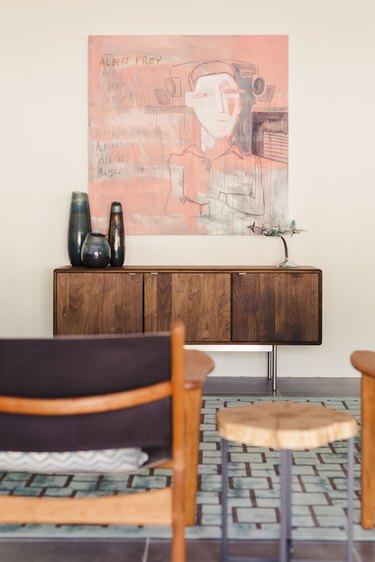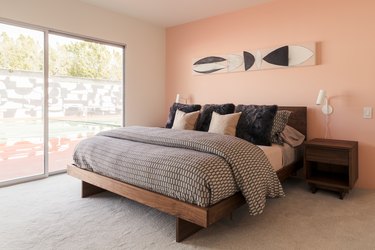 Outside, they removed the walled-in carport so that the cantilevered roof — a Frey design motif — could be appreciated once again. To the original elevated pool area, they added a new walkway to make it easily accessible to the house; extra-wide steps; and a minimal, geometric spa. Rocks that were found around the property were used for a garden off one of the bedrooms, and the original tempered glass from old windows that had to be replaced went into the fire pit.
But perhaps the most Insta-worthy addition is the new mural along the tennis court, which runs the length of the estate. Shawn Savage, a local artist, drew inspiration for his black-and-white geometric design from the breeze blocks Frey used on the property and the circle motifs found on the Frey-designed City Hall and the North Shore Yacht Club at the now-imperiled Salton Sea. "Shadows play an important part in Frey architecture," Savage says. "So I took those shapes and curves and did a loose interpretation."
As Savage puts the finishing touches on the mural, Thomas notes that his work is reflected in the sliding glass doors she put back into the house. "It's like there's art here and there," Savage says. Thomas adds with a grin, "I heard you can see this mural from the Aerial Tram. This is our chance to be a part of history." For the rest of us, it's a chance to admire historic architecture anew.
The Hidden Frey debuts as one of the featured homes and "Social House" at Palm Springs Modernism Week, hosting tours, VIP events, and a panel discussion led by Hunker on the topic "New Century Modernism and Rise of Always-on Design." Co-sponsors include Tees & Jeans of Abbot Kinney; Room & Board, who provided the furnishings; and Dunn Edwards, who supplied paint colors throughout. Special thanks to Jackie Thomas and DeAnn McCoy of Thomboy Properties, as well to Shawn Savage.
Corian® is a registered trademark of E. I. du Pont de Nemours and Company.