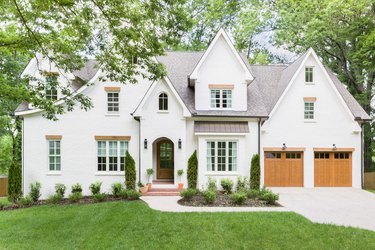 If 2020 has had one silver lining it's that it's allowed us to really take a closer look at our homes, and do some refreshing here and there.
Although a lot of us are naturally focusing on our interiors these days (it is where we're spending the majority of our time), we'd like to invite you to consider some home exterior ideas, too. This could mean giving your abode a top-to-bottom paint makeover, or, if you're not ready to go all-in, you can give your front door a fresh coat.
There's already some 2021 color forecasting emerging by brands such as Sherwin-Williams. They recently released their predictions for the upcoming year including, nature-inspired shades that inspire grounding, artisan-esque colors like terra cotta, midcentury shades like turquoise and lilac, and bold hues that highlight bright pinks and greens. And speaking of vibrant colors, Pantone has released a palette of equally-daring shades for Spring/Summer 2021, wrapping in pinks, corals, and yellows.
So, what does this mean for exterior house colors? We think a lot of the shades that have been trending for 2020 will continue to go strong in 2021, while mixing in some of the latest and greatest colors you perhaps haven't thought about.
Here are five colors we think will be all the rage.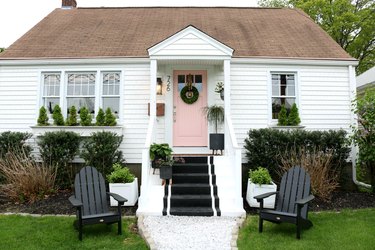 Even though millennial pink has been in demand for the last couple of years, we think it'll take a turn as a pick among exterior house colors for 2021 — soft shades of pink have been spotted in color forecasting. We like it for a front door if you don't want to take the full plunge, as showcased by this home belonging to Brooke of Nesting with Grace.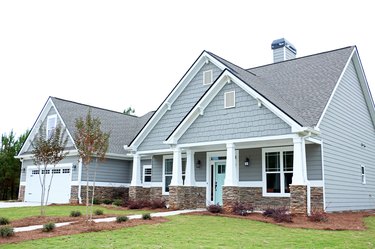 Earthy grays will continue to make their way onto lists for popular exterior house colors during 2021. Although dark gray has been trending for awhile, you can't go wrong with a light, quiet shade as proven by this home belonging to Brittany of Addison's Wonderland.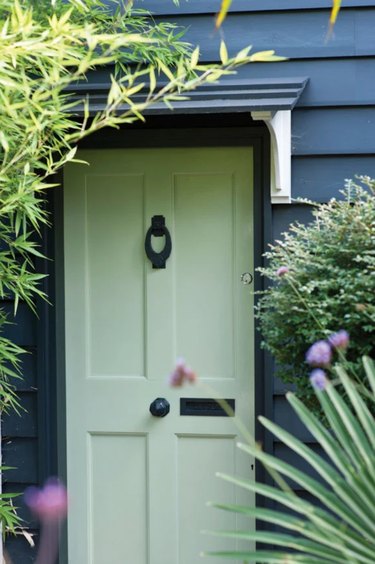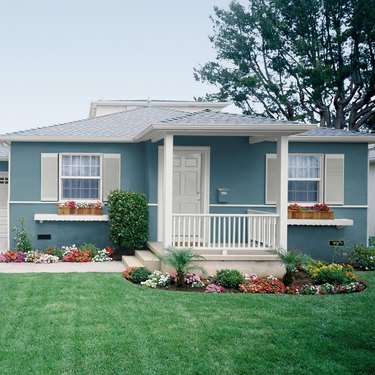 Jewel tones, like teal, have also been seen in the latest color forecasts, and we think it's a fun, unexpected choice for a home exterior. In fact, it's downright cheerful, as witnessed by this pretty home surrounded by lush greenery.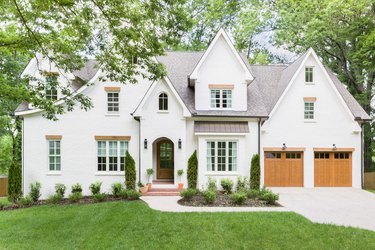 Sherwin-Williams' color forecasting included several shades of white, which means that this standby hue isn't going anywhere anytime soon. For a fresh exterior house color update in 2021, we recommend leaning toward a creamier, almost off-white shade, which is what Jesse and Sam of Scout & Nimble chose for this lovely abode.