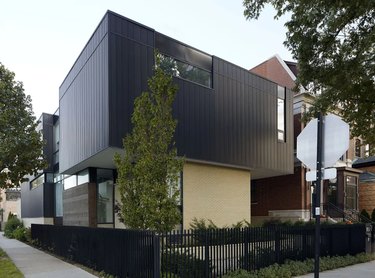 Have you ever looked at your neighbor's digs with envy because they seem to have the perfect home aesthetic while you struggle with how to choose exterior house colors that suit your fancy? Well, it's high time you put eyes back on your own abode. Our tips will help you find the perfect shade.
There's likely a reason (or two) that the ideal hue has escaped you, and it may have something to do with your existing landscaping, your home's style, or the architecture. All of these are significant details that must be considered before you settle on an exterior color palette. So let's get you started with seven ideas that will help you put your home's best face forward.
1. Choose a reflective color to reduce heat absorption.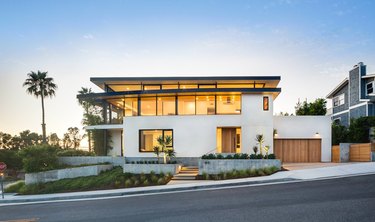 For a home that isn't shrouded in shady treetops, consider choosing an exterior house color that's reflective like the white shade of this modern SoCal home from Anders Lasaters Architects. In locations that get a ton of sunlight, lighter hues that have a low heat absorption rate can help keep the interior cool.
2. Pick a shade that reflects your home's personality.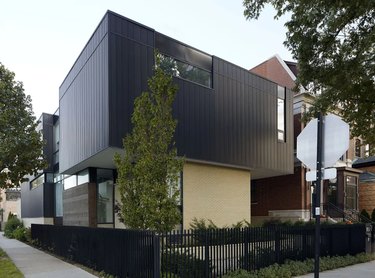 This striking abode by Studio Dwell instantly evokes a feeling of seriousness and sophistication not only because of its design, but because of the black exterior color. The dark shade gives off an air of mystery, which satisfies the homeowner's desire for privacy.
3. Get inspired by nature.
This gorgeous desert-style house by Imbue Design beautifully blends in with the picturesque, mountain backdrop. But the geometric design and large glass windows help set it apart from the surroundings. When making a decision on which color to choose for your exterior, use nature as your inspiration.
4. Keep the style in mind.
The color of your home should complement the design style and architectural features. For instance, red or burgundy exteriors often work well on barns and modern farmhouses. Also, the rich hue can create a more nostalgic, lived-in look.
5. Make it match the driveway.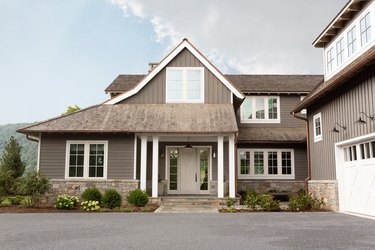 6. Find a hue that complements your landscaping.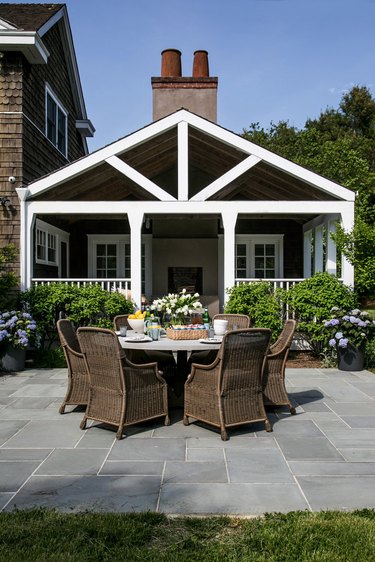 Don't allow your stellar, yard-of-the-year-worthy landscaping to be upstaged by a house exterior color that clashes with the blooms. There's actually a science to picking hues that complement your greenery. At this charming home, notice how the bright-colored buds accentuate the simple exterior.
7. Look for a shade that increases your home's value.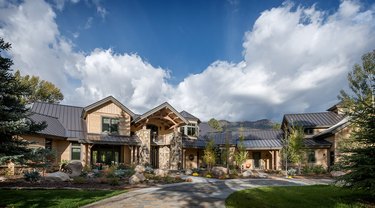 If you plan to put your home up for sale in the near or distant future, sticking to neutral shades, like the beige and stone pairing on this beauty by Massucco Warner, could boost your chances of finding a buyer. In fact, refreshing the exterior is a surefire way to maximize profits when you list, according to Zillow.