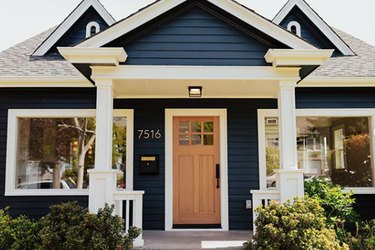 With a myriad of shades, when it comes to interiors, there's no shortage of uses for the color blue. Its soothing properties make it a natural choice for bedrooms, it's a go-to alternative to neutrals in the kitchen, and it can invigorate the most mundane bathroom. But have you considered the hue for the exterior of your house?
Blue is both serene and calming and vibrant and invigorating, depending on the tone you choose. It can impart nautical undertones or enhance a sophisticated farmhouse. We're finding blue home exteriors to be a refreshing departure from more ubiquitous monochrome colors, while being equally timeless. Scroll on for nine blue houses that will undoubtedly get your creative juices flowing.
1. Amp up farmhouse vibes.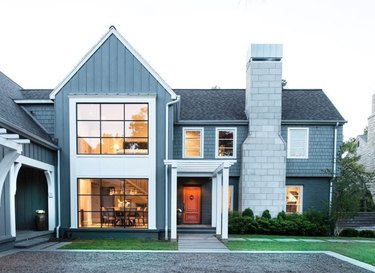 Bailey Austin Design constructed a contemporary farmhouse by combining clean lines and expansive windows with classic traits like shingles, plenty of stonework, and a slate blue exterior. An orange front door is a novel choice that adds another layer of personality.
2. Consider color blocking.
Color blocking is a playful and unique way to introduce color in fashion and design. We've seen it embraced in interiors and love the way Mikasa Design employed the technique on the exterior of this modern home, breaking it into three distinct sections — white, metal, and blue — which adds loads of contrast and visual interest.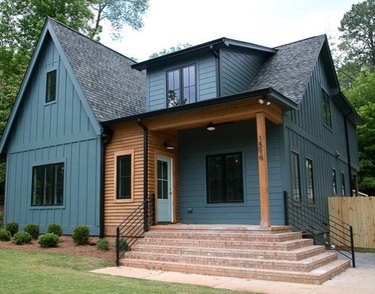 Contemplating what color to paint your home in the woods? Create a modern cabin, like this retreat by Willow Homes, with a blue-green exterior. Board and batten siding, a wood portico, and brick steps work together to add rustic undertones and plenty of warmth.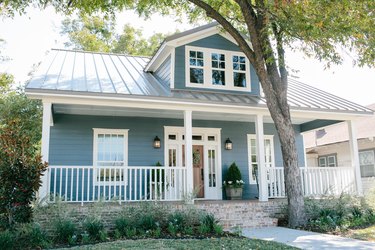 It's no surprise that this charming house with a steel blue exterior was refurbished by master renovator Joanna Gaines. She managed to maintain its quintessential cottage appeal while giving it a modern makeover. Bright white trim highlights the original transom and sidelites, window molding, and porch railing, while a red brick skirt and metal roof add dimension.
5. Embrace primary colors.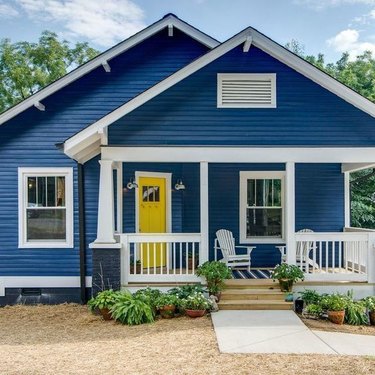 It can be intimidating to fully embrace color, but take notes from this design by Enchanted Homes. They doubled down on primary colors and created an eye-catching facade full of curb appeal and cheery vibes by punctuating a vibrant cobalt blue exterior with a canary yellow front door. White trim and a welcoming porch complete this endearing Craftsman-style bungalow.
6. Create a coastal escape.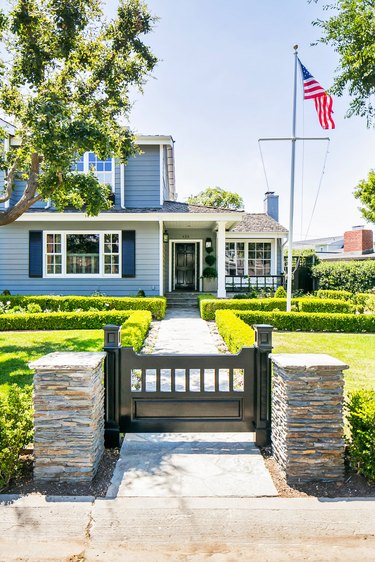 The color blue and water-adjacent properties are a match made in design heaven. Kelly Nutt Design maximized that coastal feeling with a pale blue home exterior, and then accented with white trim and dark shutters. A wooden gate and boxwood-lined walkway set the stage for the timeless design.
7. Emphasize a singular detail.
Suffering from color phobia? Kevin Brown Architecture makes a compelling case for highlighting a single feature, in this case a front door and sidelites, proving it can be just as impactful as painting the entire exterior. This Cape stunner features unstained wood shingles, an expansive porch, and a touch of navy — the perfect antidote for purists who prefer going au naturel.
8. Go for classic combinations.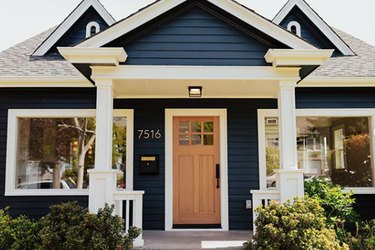 Navy is a classic hue for a reason. If you're looking for a color palette that will stand the test of time, look no further than a blue home exterior coupled with white trim and a natural wood front door à la this welcoming abode by Eakman Construction. It hits all the bungalow high notes, emphasizing telltale Craftsman-inspired particulars like symmetry and broad eaves on a gabled roof.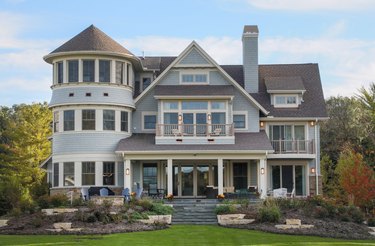 The use of contrasting colors is a great way to accentuate architectural details, particularly with styles that feature an abundance of character. This expansive Queen Anne abode by Lowell Custom Homes combines a light blue home exterior with off-white trim and columns. A gray roof and bluestone patio add weight from above and below.