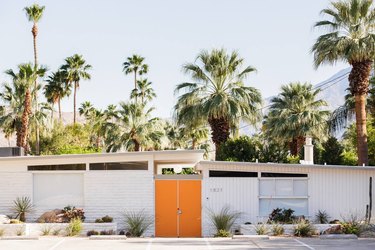 We tend to focus the majority of our time and energy on decorating the inside of our homes, leaving the exterior as nothing more than an afterthought — it's time to change that. Apart from setting a good first impression, it ups your curb appeal and gives your residence a well-deserved revamp. A project as (relatively) simple as painting the facade can instantly transform even the most tired dwellings.
While the array of colors at our disposal can feel overwhelming at times, it's the classics that really pack a punch. A serene shade of white is not only fresh and cool, but luckily the boundless effect it seems to have on interiors translates to the outdoors, too. Need a little more convincing? Ahead, you'll find eight white home exterior ideas that might just inspire you to embrace the hue.
1. Mix and match materials.
Reclaimed wood adds a dynamic quality to the white home exterior of this stunning build by Kate Marker Interiors. The combination of the whitewashed brick, wood doors, and the gray cedar shake roof might feel eclectic, but the rich tonal contrast between the materials adds character as well as a dose of interest.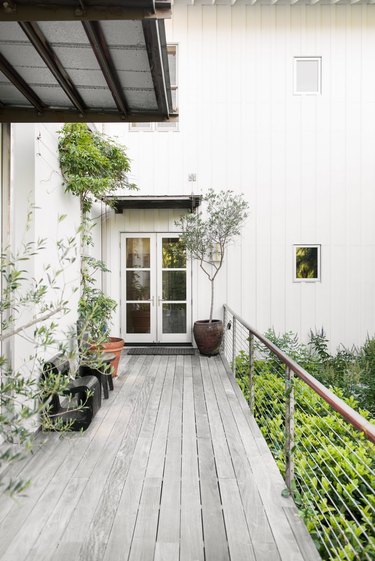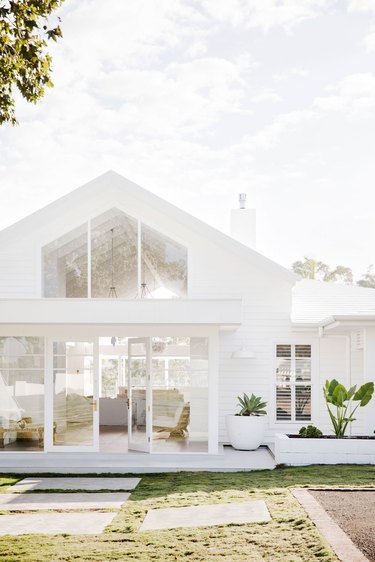 4. Highlight the windows.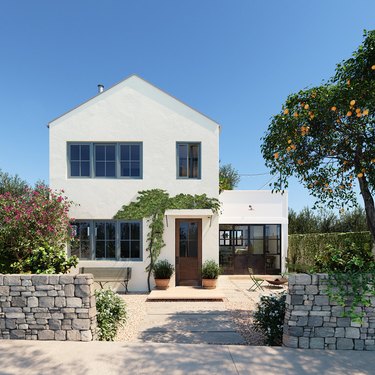 Designer Katie Hackworth's Manhattan Beach house project takes a standard white home exterior and elevates it with a trio of windows. The cool greenish-gray casement trim contrasts with the surrounding walls, while the stained wood door lends warmth to the cooler tones. Climbing ivy (always a solid touch) sparks a welcoming vibe.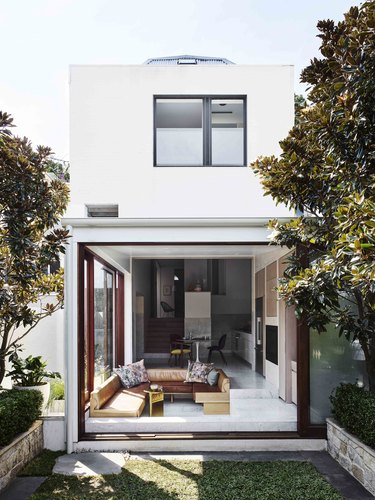 White home exteriors and contemporary builds are a match made in design heaven. The neutral shade softens the linear characteristics of the style, lending an ethereal yet futuristic feel that can't be beaten. Of course, it always helps to have floor-to-ceiling glass doors and windows, too, just like this Bondi Junction house designed by Alexander & Co.
6. Turn the roof into a moment.
There are few combinations as flawless and impactful as a white home exterior paired with an S-tiled roof. The earthy clay, as seen on this Spanish colonial home, not only lends a bold contrast against the stucco siding, but a texturally rich visual layer to boot.
7. Introduce complementary hues.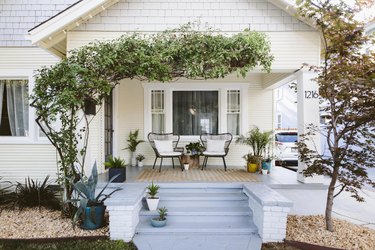 If an exclusively white home exterior isn't your speed, try experimenting with an off-white shade and complement it with cooler blues for a subtle blend. The mix of materials used for the siding of this Cali bungalow contributes to its cozy charm, made warmer by the slew of potted greens surrounding it.