Who: Lisa and Gary Ashley
Where: East Sacramento, California
Style: 1920s Bungalow
Lisa Ashley is a self-described recovering minimalist. "I used to be a complete minimalist with white walls, white sheets, and almost zero furniture or decor." But when she met her husband Gary in New York City, he filled his spaces with color, textiles, and tchotchkes galore. "I think over our eight year marriage, we've finally met somewhere in the middle. Now I'm obsessed with color, as if I'm making up for lost time!" From New York City, the couple were ready for a downshift, so they moved to Venice Beach. But when their son Ronan was born, they needed more space. "By that time Venice had exploded, so there weren't exactly deals to be bound," she says. So, the couple decided to move to the even slower paced Sacramento to be closer to Lisa's family.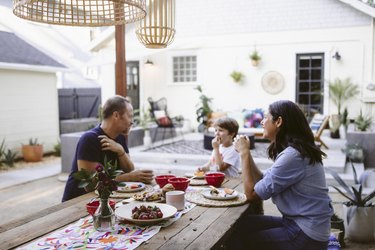 After renting for a stint, their hearts were set on purchasing a home that was still walkable to restaurants, cafes, and shopping — similar to living in Venice or New York. East Sacramento has just that. Although a pricier area of town, Lisa says going with a smaller home in the perfect neighborhood for the now family of three was the best bet. "We loved the feel of the place and thought it just needed some rethinking and TLC." After consulting with a contractor who said they could tear down a wall to open up the once snug kitchen, Lisa was sold. "We also like to dine and entertain al fresco, so we were also excited about the potential in the backyard."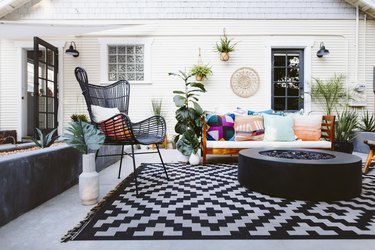 The 1,200-square-foot, two bedroom, one bath home was built in the 1920s, so it had tons of charm from the get-go. One of the first things they did was gut the kitchen and tear out a built-in banquet. The fridge was moved from the laundry room back into the kitchen, which made the space way more functional. The design was inspired by Sarah Sherman Samuel's kitchen remodel. And although they got the interior cabinets from IKEA, Lisa had to have hardware from Lewis Dolan and cabinet doors from Semihandmade. Now it's an open space between the dining and living rooms, making it way more open and spacious.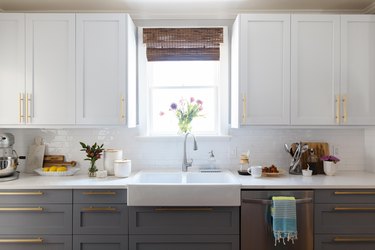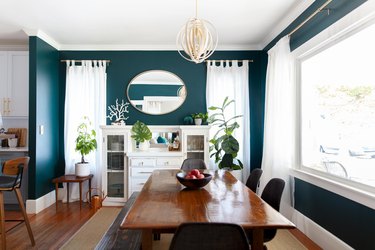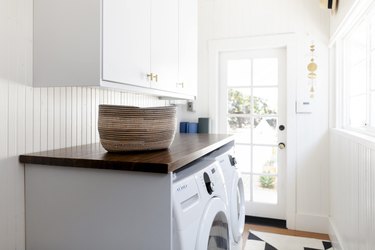 They also worked with Colossus Manufacturing to reimagine their backyard into an outdoor room. "Since it's a small house, we needed more living area and a place to host friends," she says. Now it's Lisa's favorite "room" in the house: "I think I associate it with the desert, which I love. We were pretty inspired by Korakia Pensione in Palm Springs." Working with Colossus, the couple referenced the Palm Springs hotel a lot. "We also see it as an extension of our interior style: eclectic, intentional, but relaxed and a mix of high and low," Lisa says. They kept things simple with fuss-free DG and lots of succulents in the yard, where kids could run free. "Gary built the farm table from reclaimed wood left over in a pile when the house next door got remodeled."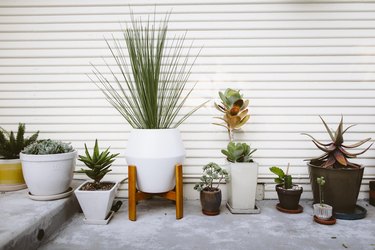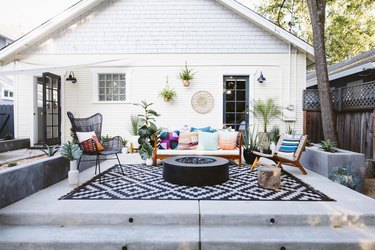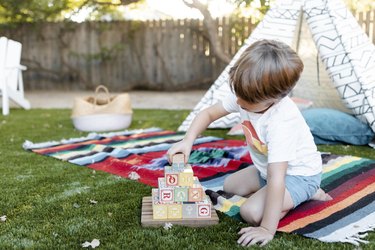 Living on a budget, Lisa says they only indulge in a few splurges, like the Thomas Campbell art pieces, linen sheets from Parachute, and Gary's art book collection. "He had an art book addiction, and what you see here is just the tip of the iceberg." For the most part, she's a fan of upgrading. "I'll take a top of the line hand-me-down linen couch with down pillows (like the one my mom gave me in the living room) instead of buying a brand new, but lower quality one."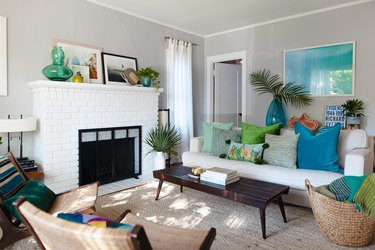 And the small space means getting super creative with storage. "One of our smarter moves we did for the bedroom (which has zero closet space) was buy a white shoe rack from IKEA and use it as an underwear/sock dresser," Lisa shares. "It's an example of a cheap piece that was upgraded with some knobs we bought from Sarah Sherman x Park Studio Collection to make it feel more unique."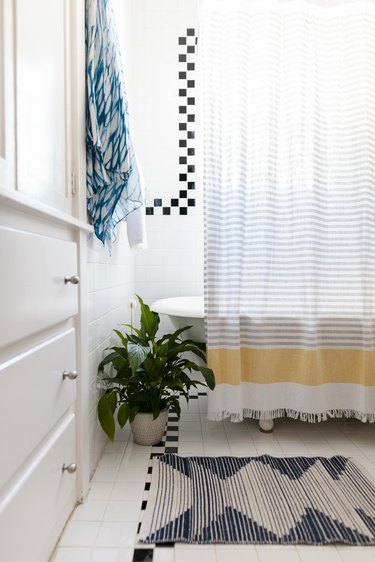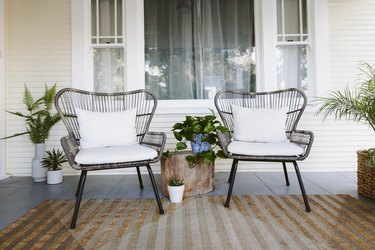 Lisa founded The Wedding Artists Co, which represents a group of high-end wedding photographers and filmmakers based in New York and California. Gary is a photographer who helps Lisa run her business. "Gary's a creative and I love design, which I think shows in some of our choices," she says. "We wanted the house to reflect us by being a fun, creative, and friendly place without dumbing it down with a bunch of kids' stuff." You can see how the decor is influenced a lot by the couples' travels. Gary spent time in Africa, and there are pieces throughout the home from his visits. Lisa also likes to pick up a thing or two when in Mexico. "I love all the color there. You'll see it sprinkled throughout the house, [and] also in Ronan's room." And to top it off, Gary is a woodworker, so he made almost all the shelving and bookcases around the house.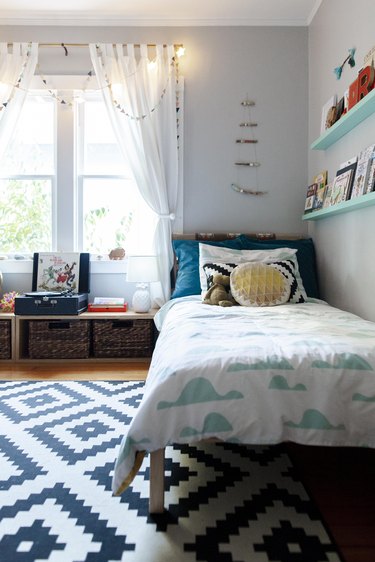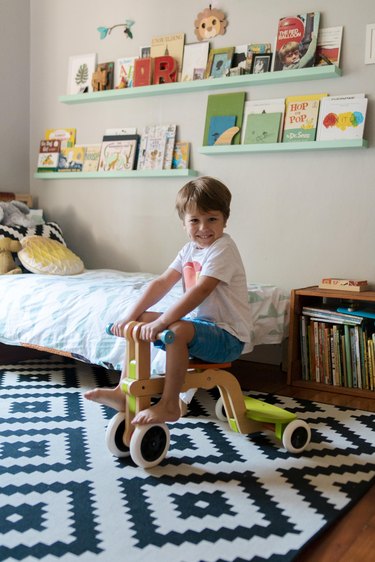 This one-time minimalist admits her favorite design element is the art collection the couple has accumulated over the years. "Most of it is by us or good friends from now to 20 years ago," says Lisa. "It's such a huge extension of who we are as individuals and our journey together as a couple. I've worked on collecting art over the years that's meaningful to us and reflects different phases of our lives while living in different cities." And the collection continues to evolve, just as they do. "Our two newest and proudest additions are a giant surf print above the bed that Gary took when we lived in Venice and the yellow screen print by our Australian Sacramento transplant friend Liz from Print Club Ltd. The print is part of a collaboration she did with artist/designer Alyson Fox. Oh, and I also love the little wall hanging from our pal Sarah of Electric Sun Creatives."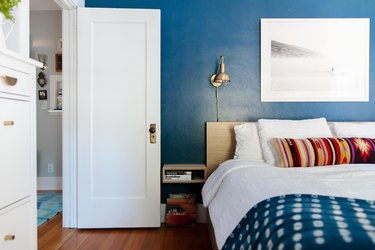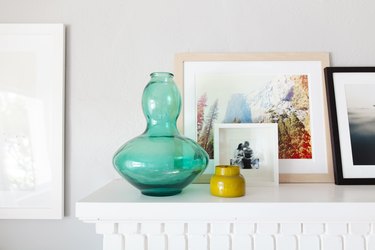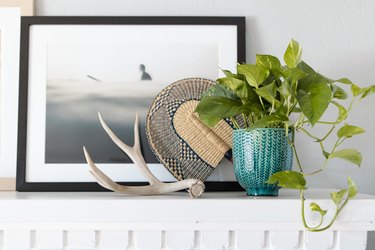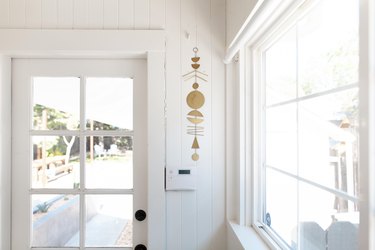 With all this, Lisa ponders what makes her house complete. "My boys! Otherwise, can I mention my coffee maker? My boys and coffee are all I need for it to feel like home."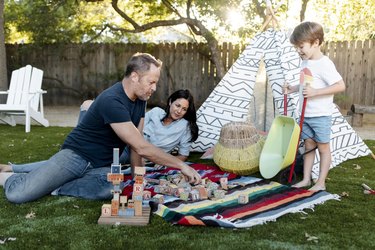 Locals Know Best:
Thrift store finds, antiques, or flea markets: Sacramento Antique Faire
Happy Hour: SacYard, "A great family friendly spot, so it's a go-to meet up spot for us."
Bottle and Barlow, "They have the yummiest cocktails."
Cheap and cheerful restaurant: South
When we have visitors, we take them to: "A drive through the Fabulous Forties or a walk along the river."