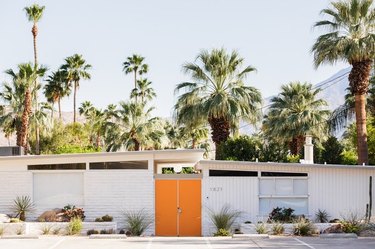 Despite rumors to the contrary, midcentury modern design isn't going anywhere. And that goes double for midcentury modern exteriors. The attention to clean lines, angles, and natural materials — and the lack of unnecessary embellishments — is fairly trend-proof. And those sleek surfaces truly let the architecture speak for itself.
1. Double down on the warm wood.
When designer Jessica Helgerson took on the remodel of this 1959 midcentury home in Portland, Oregon, originally designed by local architect William Fletcher, she made sure to preserve the past as she brought the home into the 21st century. For the exterior, in particular, she wanted to honor the way Fletcher connected to the nature surrounding the site — a hallmark of midcentury modern homes. Helgerson asked one of Fletcher's original partners to update the structure in a cohesive way by adding clean, modern lines, via fencing, and open space to highlight the existing woodwork.
2. Make a prefab(ulous) homage.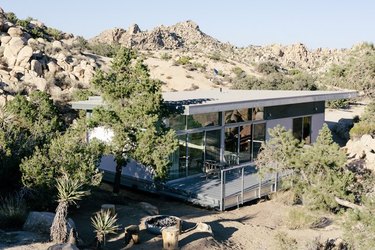 3. Embrace a pop of color.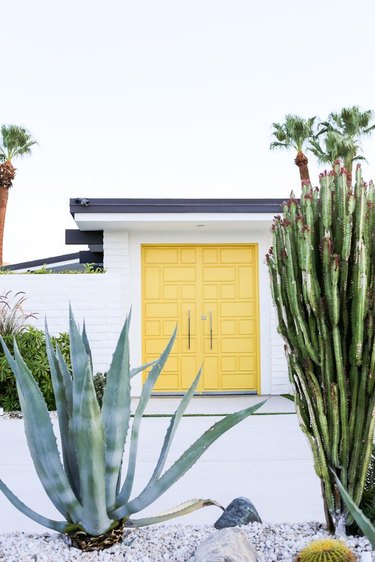 In Palm Springs, California, midcentury modern homes are on a whole other level. And one signature of the mostly ranch-style — sometimes called Atomic Ranch — is the front door. Pops of bright yellow, cool turquoise, sherbet orange, or coral pink on the entrance make a serious statement against the mostly neutral exteriors. And the desert landscaping completes the iconic look.
Not all midcentury homes are clad in wood or painted a neutral white or gray. This statement house in Palm Desert — known, unsurprisingly, as the Wave House — is painted a custom shade of blue, inside and out. The color creates a cohesive feel across the bold and adventurous architecture and lets the midcentury modern decor throughout the home really shine.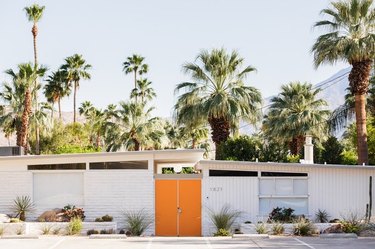 Palm Springs midcentury modern homes aren't afraid of playful rooflines, either. Take, for instance, the bi-level roof at The Amado, a lovingly restored midcentury apartment complex-turned-boutique hotel. It's a prime example of architecture that shines with little embellishment beyond statement doors and simple greenery.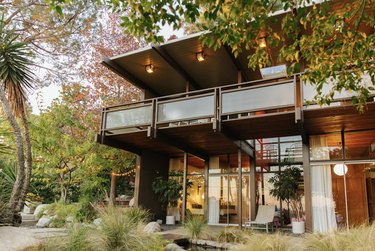 After Daria Yudacufski and Mark Sogomian bought the Schneider Residence in Pasadena, California, they received the original blueprint from architect Leron Austin Hester, which they displayed in the hallway. The print gives them a deep sense of connection to the designer's original vision and a strong connection to nature — including the home's Japanese-inspired midcentury modern garden that's visible through floor-to-ceiling windows.
7. Embrace the dark side.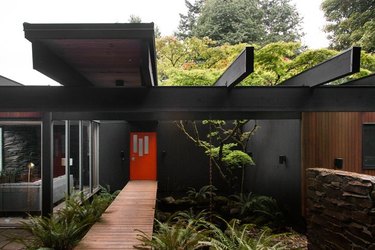 The owners of this dramatic midcentury modern home in Portland, Oregon, call their aesthetic "Palm Springs meets the Pacific Northwest." Which is an apt way to describe the mix of rustic minimalism and retro-modern design references. The black exterior paint helps the house recede into the lush trees and also plays up the bold front door color and wood paneling.