Those of us who love craftsman style houses can recognize their major characteristics no matter what city we're in. There's often the chimney made of natural materials; the overhanging eaves; and the charming front porches.
And while we're obsessed with craftsman interiors, the house's exterior captures our attention first and foremost. If you're wondering what paint combinations to use for your craftsman house exterior, we've got a somewhat unconventional inspiration: Paint the house black. A black craftsman house looks sleek and contemporary in a way we can't help but swoon over.
Here's some inspiration to prove that the idea isn't as wacky as it sounds at first.
1. Embrace a matte black look.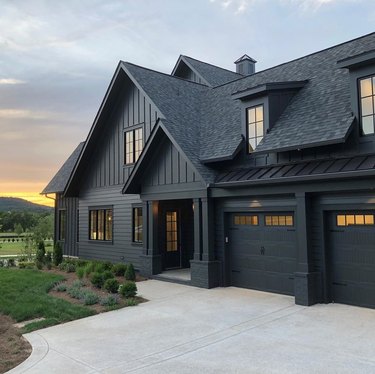 This black craftsman house looks stunning against a natural landscape and setting sun. It fully embraces the dark look, with the eaves, garage doors, and window trim all done in black. The various textures of the house's exterior still come through, which is a nice bonus.
2. Play with black and white.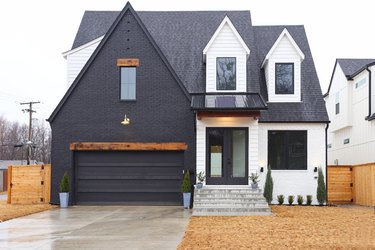 Because craftsman houses have so many elements on their exterior, there's plenty of room to experiment with paint. For starters, if you don't want to go the all-black route, consider painting the majority of the exterior black but leaving some parts white. The black trim and rooftop of this house tie the look together.
3. Use white borders to add contrast.
We love the classic vibe of this look, in which a black exterior gets white accents. The eaves and window trim stand out even more in this black-and-white rendition.
4. Use white paint and brick accents.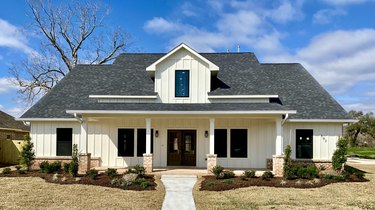 If this move still feels like too much commitment, you can technically sneak in some black with your roof instead. Paint the exterior white to create contrast and keep the look a little more subtle. A touch of brick is the finishing touch on this design.
5. Play with window frames.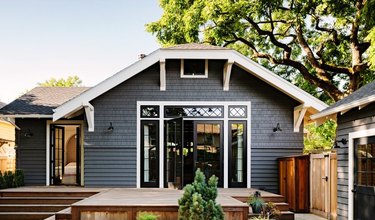 This is another great example of what happens when you shine a spotlight on a few areas of a craftsman home. The use of glass also helps to open up the space, making the black feel a little less heavy.
6. Highlight natural materials.
For a more rustic vibe, try to highlight the entrance to your black craftsman house with natural materials, like unstained wood for your front porch. This design choice adds some warmth to the exterior, all year round.
7. Find small details to highlight in white.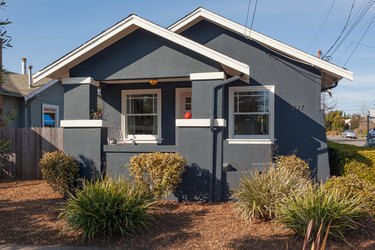 This stylish house not only emphasizes the usual elements, but also finds small ways to incorporate dashes of white paint here and there. You can still show off the structural nature of the house this way, even though you're opting for a darker hue.