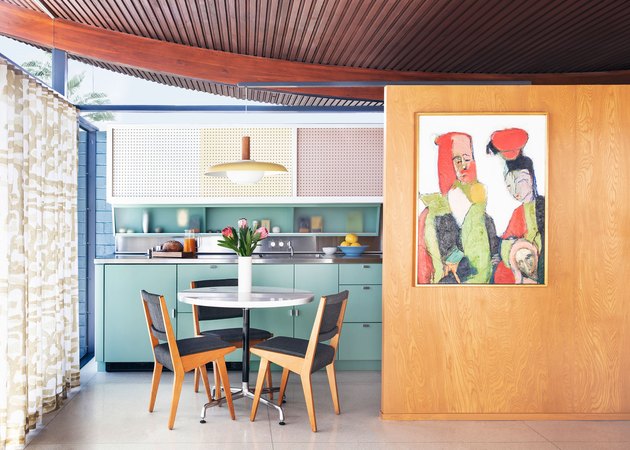 When it was built in 1955, the Wave House in Palm Desert, California was full of life. It was built as a party house and bachelor pad for Miles C. Bates by architect Walter White, but the party eventually ended and the home sat empty from 2008 until 2018. That's when Stayner Architects, a family firm based in Los Angeles, purchased the home at auction from the city of Palm Desert and set out to revive it. "I learned about the house through my architecture practice," says Christian Stayner. "On a lark I forwarded the request for proposals to my father. We had been chatting about trying to find a place in the desert to build a project and I realized this was a more interesting project to take on."
The size of the house had been doubled by previous owners, who added two bedrooms and enclosed outdoor patio areas. The home was also in poor condition by the time the firm bought it. The goal was to pay tribute to the original design, without making it feel like a time capsule. "We approach preservation in a very different way than most historic preservationists," says Stayner. "We're pretty critical of this idea that just because it's old means that it's important. We came to this project because we saw an architectural experiment that had a lot of value, and because there was an underlying idea or set of ideas within the house that were worth moving forward."
They dove into White's archives, which are located at University of California, Santa Barbara, and found original plans and photographs to help guide the renovation. They used the original color palette and were able to salvage most of the original finishes, which had been hidden under layers of paint and other materials. When it came to furnishing the space, they sourced from the Stayer family's personal collection of Scandinavian modern furniture and added other midcentury touches, such as Russel Wright pottery and archival textiles by Tibor.
Even after putting the finishing touches on Wave House, the firm's work isn't done. In the coming months they will add a pool, which was part of White's original design but never realized, as well as two new structures with four guest suites and a commercial kitchen. The new compound, known as the Desert Wave, will be open to guests in 2021, but until then midcentury fans can experience a stay at the Wave House beginning this spring.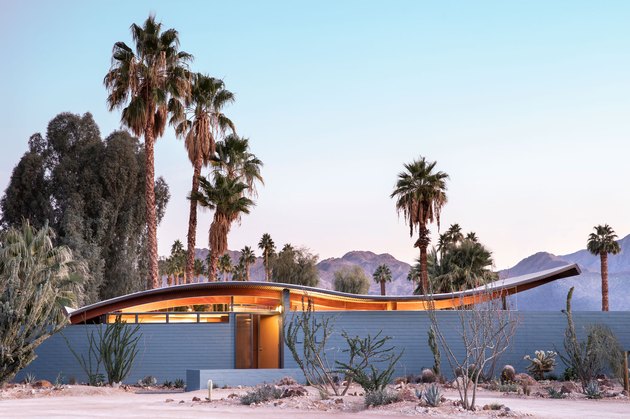 1 of 8
Exterior
The home's signature wave roof was restored to its original glory. "A lot of the ideas Walter White was working through in the Wave House, from the roof construction to his rereading to precious architects' work — like Schindler and Neutra and Mies Van der Rohe — that show up in various points within the house, those were all consistent with our own work," says Stayner. "We saw this as an opportunity to enter into conversation with an architect who had died in 2002. [It's a] three generational project in a way."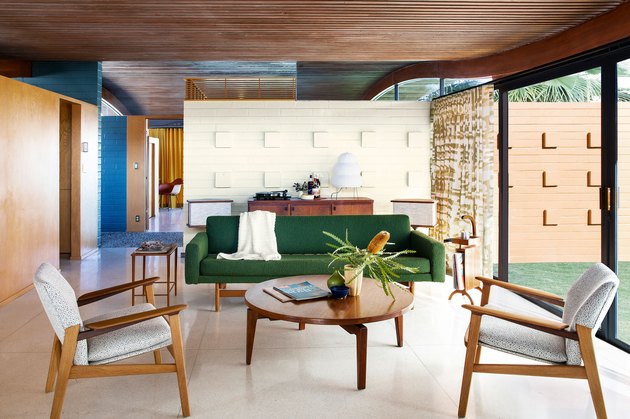 2 of 8
Living Room
"Each of the rooms has a very different orientation to the outdoors and the natural light," says Stayner. The living room's 1960s sofa and Hans Olson chairs were reupholstered with fabrics by Tibor, a company founded by textile designer Tibor Reich and now run by his grandson. The firm is also collaborating with the British fabric company on fabrics for the other buildings in the Desert Wave compound.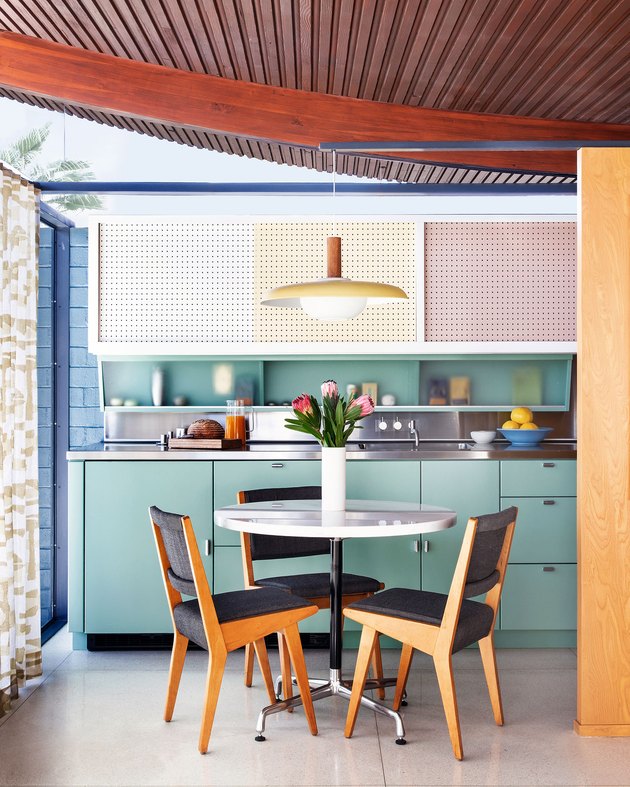 3 of 8
Kitchen
The firm recreated the kitchen's original color palette using photos from the 1955 installation. Russel Wright stoneware, a Florence Knoll table, and a Philips Eindhoven pendant light add to the '50s vibe.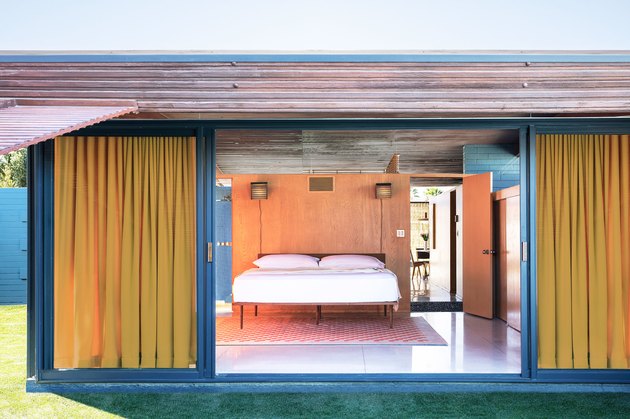 4 of 8
Bedroom
Sunny yellow curtains frame the sliding glass doors that open the bedroom up to the courtyard. "There's a truism how California midcentury architecture is all about living outside inside and vice versa," says Stayner. "That's definitely something that was of interest to Walter White."
5 of 8
Bedroom
A built-in desk is tucked into a corner of the master bedroom.
6 of 8
Bathroom
The bathroom's glass walls make it feel open to the outdoors. The mosaic tile matches the exterior wall, which was painted in a custom shade of blue.
7 of 8
Bathroom
An internal bathroom doesn't have widows, but it does have a ceiling of glass and a perforated material, which gives the light a unique quality.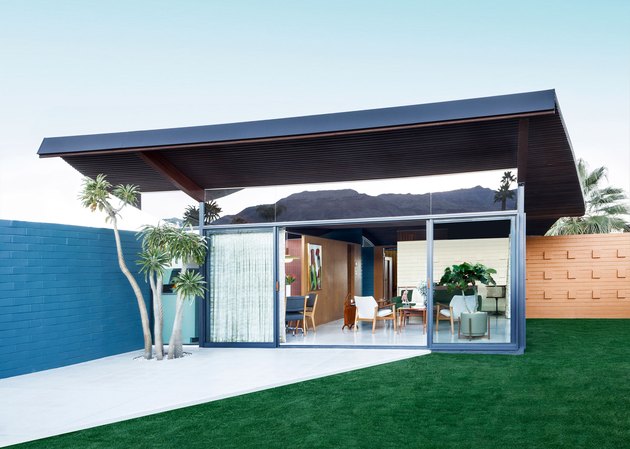 8 of 8
Exterior
The curved roof creates a canopy over the terrace outside the living room, and the terrazzo floor flows from the indoors out.
---
Elizabeth Stamp is a freelance writer in Los Angeles. Her work has appeared in Architectural Digest, Elle Decor, and CNN Style.
View Work