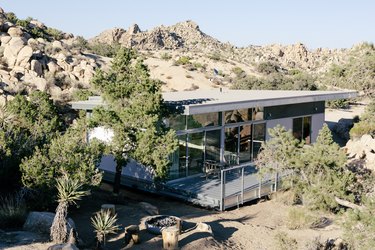 Who: Lindsey Herron, advertising and brand sponsorships at Refinery29 and Yoni Goldberg, a photographer and cinematographer.
Where: Joshua Tree, California
Style: Prefab
L.A.-based couple Lindsey Herron and Yoni Goldberg bonded over their love of travel and design, which led them to the purchase of a uniquely modern vacation home in Joshua Tree. For the duo, the space is all about the amazing light and the expansive windows, which almost act as picture frames for a landscape that seemingly shape-shifts as day turns to night. Dubbed The Graham Residence, it's bookable via Airbnb and we must admit, it's one of the most Instagrammable spots the desert offers.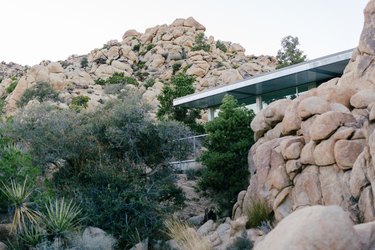 Hunker: What drew you to the property initially?
Herron and Goldberg: Initially, we were interested in purchasing some land across the street from The Graham Residence, but our agent suggested we check out the space anyway. From the moment we sat inside the house surrounded by the beautiful natural light that spills in, we new we had to find a way to make this work.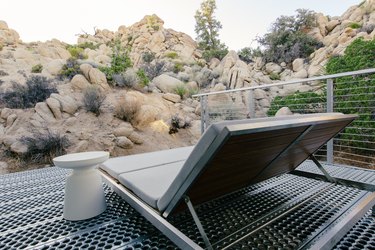 When you acquired the property, did you make any major changes to it?
We didn't want to touch the house because we really feel it's perfect — but we also felt the property could benefit from a hot tub beneath the stars and a fire pit for gathering around with friends. We put those in and are so happy with the additions!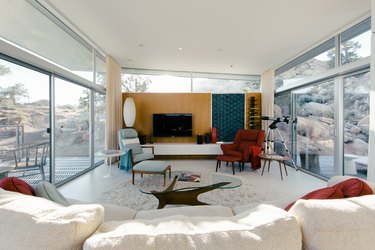 What's your favorite room in the house and why?
The house is built to have one large entertaining space with two bedrooms as offshoots and the main room is without a doubt our favorite room. We're still in awe of how beautiful the space can be both during the day and at night — it transforms completely into something new each time we're out there with a different group of friends.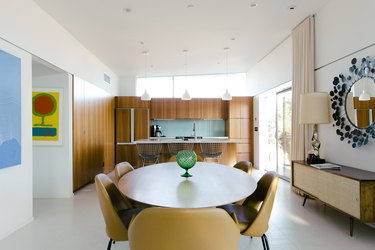 How did you go about decorating the space? Did you pursue a certain look?
The house was built with the midcentury aesthetic in mind. We would never try to defy that and decorate it otherwise! The minimalist style is perfect for a vacation home.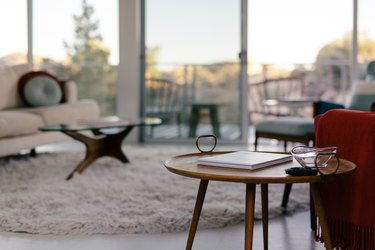 Where did you source the home's furnishings/decorations?
We purchased most of the larger items from the previous owner, but we've been slowly tweaking and adding to it. The coffee table is an original and a very rare piece.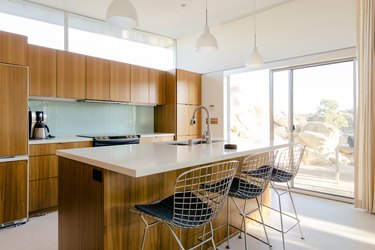 How do you describe the home's architectural style?
We describe it as midcentury modern, although it was built [in 2014] using a new prefabricated steel process that wasn't around back then.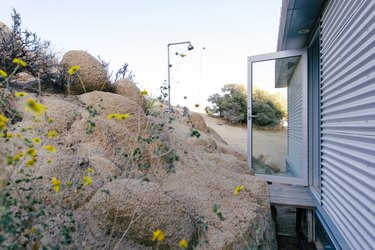 What is the neighborhood/surrounding area like and what makes it special?
The house sits on 10 acres in a private area of Yucca Valley called Rock Reach. It's home to some beautiful properties and we have nice views down into the valley, which we love.