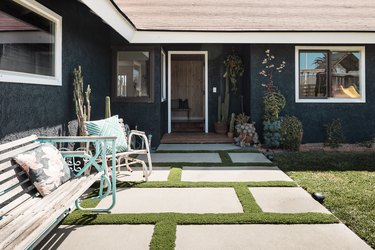 If you often dream about the perfect midcentury modern house, don't forget about an important element: the landscaping. This might seem like a no-brainer but part of what makes the classic midcentury modern look so appealing is how architects, designers, and homeowners made use of their outdoor space.
Midcentury architects viewed the yard as an extension of the house, and often as another room. The design lended itself to entertaining, with plenty of seating for guests.
If you're hoping to create your own midcentury modern-inspired landscape — or just want to pin a few for your dream house board — we gathered some key elements to consider.
1. Use hardscaping to create crisp lines.
Clean lines reigned supreme when it came to midcentury modern architecture. It's how many of these homes get their distinct look. To echo some of that crispness, consider hardscaping materials like gravel, concrete, or stone. This space breaks up the green of the lawn with hard edges; this technique also creates a transition between the house and the grass.
2. Make the pool your focal point.
You don't need to do much to create an Insta-friendly midcentury modern backyard. Keep the focus on features like a backyard pool, complementing it with both greenery and hardscaping. We love the way the green element here frames the pool.
3. Be sure to include a section for entertaining.
Since this space is often used for entertaining, it's a great opportunity to create stations for different needs. For al fresco happy hours, set up outdoor seating where groups can easily gather. If you need some alone time, consider a chair or two for reading or an outdoor meditation nook.
4. Play with shapes, especially near the entryway.
Landscaping can also add visual interest to your home, whether you play with colors, textures, or shapes. This entryway, for example, makes use of smaller plants to create a winding pathway. The house draws your eye in, of course, but the landscaping style adds another layer of personality.
5. Use a variety of heights.
When picking out what greenery you want to add, consider using a variety of heights to add visual interest. This house incorporates natural elements with a simple path leading to the entrance. Midcentury modern landscaping is all about choosing local or native plant varieties, and opting for low-maintenance shrubs.
6. Experiment with different layouts for walkways.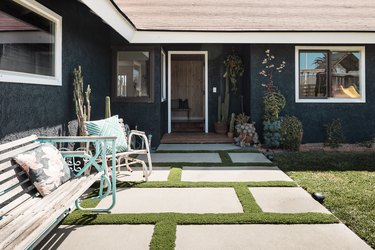 If you've already been saving photos of stunning midcentury modern homes, you might've noticed walkways like the one pictured here. Use pavers to create a path from inside to outside, leaving space between them to still show off some grass. Add seating and you'll be ready to host in no time.