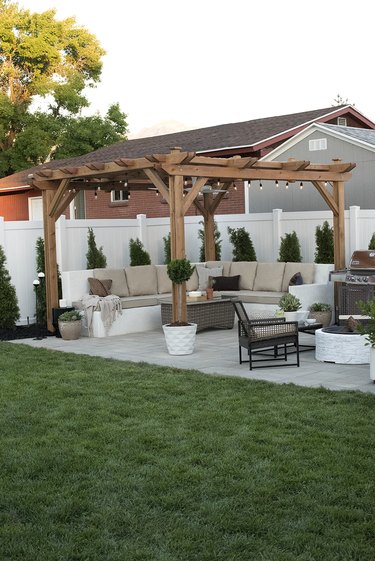 The word contemporary gets thrown around a lot in the world of interiors. Especially when we're talking about modern homes. But how can you incorporate the style outdoors? Contemporary landscape design takes aspects of modern style (such as clean lines and sleek materials) but warms it up with natural accents and multiple spots for lounging.
In fact, you can achieve a contemporary landscape with just a few key ingredients. Here's our recipe to bring your outdoor area to life.
1. Think about clean lines.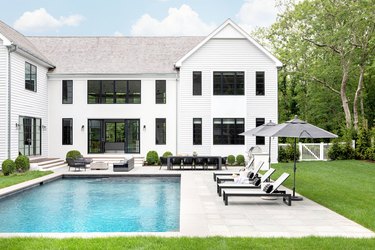 Clean lines and an uncluttered aesthetic are staples if you want to give your backyard a contemporary ambience. Just remember that you don't want it to be too austere, so add elements that warm things up. Outfit your home's exterior with manicured shrubs and a cool fire pit. A lush yard and pool won't hurt either.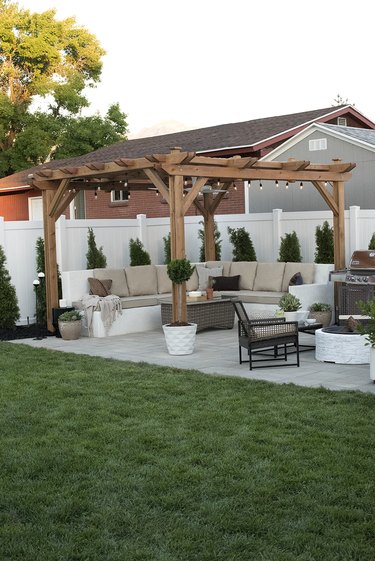 When it comes to landscape design, you don't just want to think about contemporary aesthetics. You also need to consider a contemporary way of living. Create zones that can serve multiple purposes on your property. Like a glass of wine in the evening? Install a pergola and outdoor seating area where you can sip. Prefer playing catch or having a few games in the grass? Make sure that part of your lawn remains unobstructed for roughhousing.
3. Emphasize geometric shapes.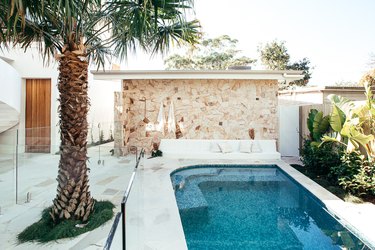 Geometric shapes are just as necessary as clean lines in contemporary design. Designers Kyal and Kara added interest and natural forms to this landscape project with external sandstone walls and sandstone paving. Excuse us while we swoon over that curved pool edge, too.
4. Include a water feature.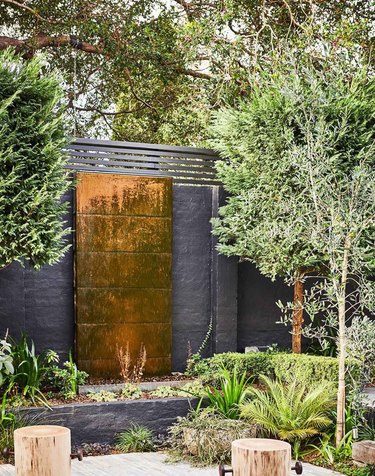 Ambience is everything in a contemporary landscape and a water feature will add all kinds of relaxing vibes to your home. This garden area by designer Adam Robinson perfectly incorporates natural elements such as wood and metal with lots of plants and trees.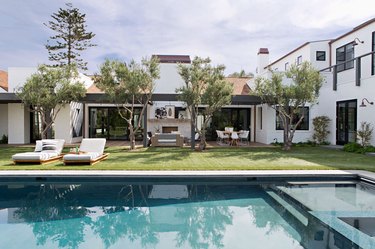 The trick to keeping your outdoor space contemporary is to not get fussy with, well, anything! A pool, simple furniture, and low maintenance plants will keep the landscaping current but classic. The team at RailiCA Design managed to incorporate a swimming area, seating, and a dining spot in this contemporary backyard. Yet it still looks elegant and streamlined thanks to the minimal trees and fresh green turf.
6. Work on a contemporary plant palette.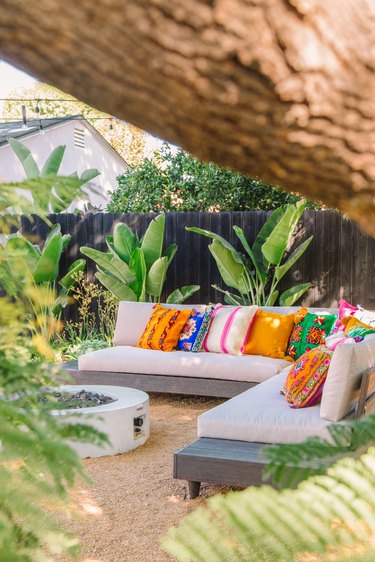 Think your plants can't be contemporary? Think again. The folks at Studio DIY worked with Rachael at Upcountry Design on their landscape, creating the perfect statement-making "plant palette" that's kid-friendly and easy to manage. Plants seen here include birds of paradise, asparagus fern, agave attenuata, and kangaroo paw. Oh, and don't forget that the addition of color (like these vibrant cushions) also works with a contemporary scheme.
7. Make your furniture contemporary, too.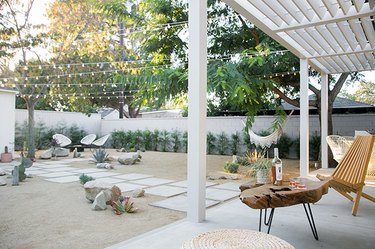 And, of course, when creating a contemporary landscape you have to be particular about the outdoor furniture you add to the mix. That should be fresh, too! While this space that Molly of Almost Makes Perfect designed leans toward a more boho/desert style with the large pavers, stone features, and plant-lined-walls, you can see the contemporary touches in the wooden table, geometric chair, and lighting.