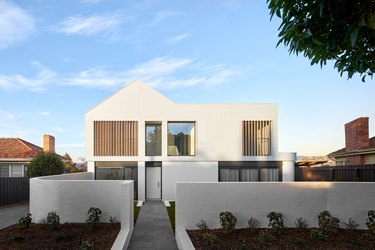 Contemporary style emerged in the latter half of the 20th century, right after modern design became popular and the arts and crafts and Bauhaus movements had their day in the sun. Flaunting geometric shapes, asymmetrical features, dramatic visuals, and sustainable building materials, it probably comes as no surprise that the aesthetic is still a favorite today, especially for exteriors.
So whether you're considering an update to your home's facade or you're planning to build a completely new abode, you may want to consider a contemporary look. It's an approach that any on-trend homeowner can feel good about. Here are 10 contemporary home exterior ideas to get your creative juices flowing.
1. Focus on geometric elements.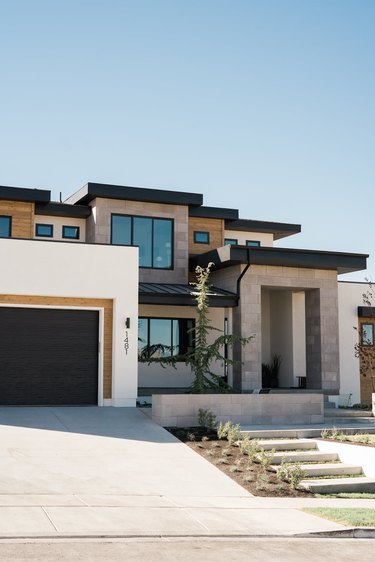 2. Consider an airy color scheme.
Although dark colors tend to be the choice du jour of contemporary exteriors, we're all for a white and airy facade as well. While embracing contemporary silhouettes and visuals, the team over at Tecture opted for a palette of light wood and white finishes, setting a breezy tone for the whole house.
3. Emphasize strong lines.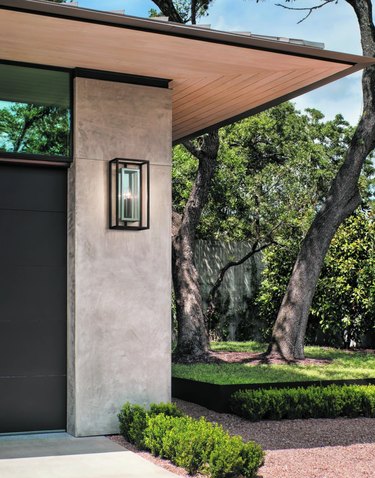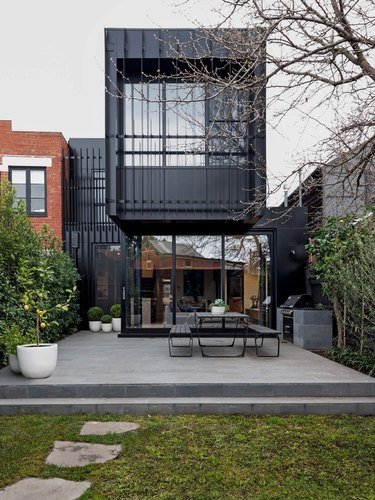 Black is one of the top color picks for contemporary home exteriors at the moment, and for good reason. It adds loads of drama and dreamy contrast, as proven by this two-story home designed by Techne Architects.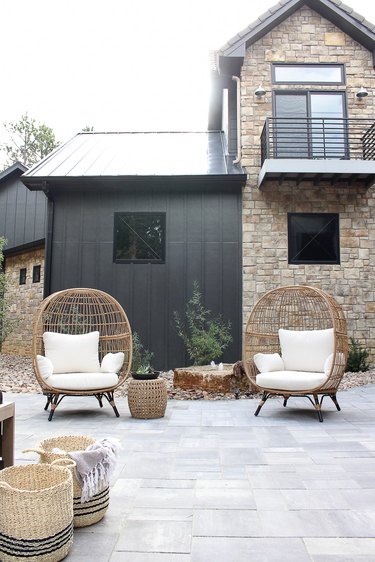 A contemporary home exterior is not afraid of a little risk here and there. Instead of sticking to just one material, consider combining a variety of finishes to make it more visually appealing. For instance, Shauna of The House of Silver Lining went with black siding and stonework in varied sizes for a look that's equal parts edgy and rustic.
6. Wrap in current details.
Even though you'll need to think about the big stuff when moving forward with a contemporary home exterior, don't overlook small details. From the house numbers to the mailbox to the privacy screen, this home featured by Design Within Reach shows that seemingly tiny choices do matter when creating a contemporary scene.
7. Incorporate the natural surroundings.
We particularly love seeing a contemporary home exterior in the midst of a wild, natural environment. The juxtaposition creates stunning and attention-grabbing tension, as witnessed by this home from Lindsay Hill Interiors.
8. Display unexpected touches.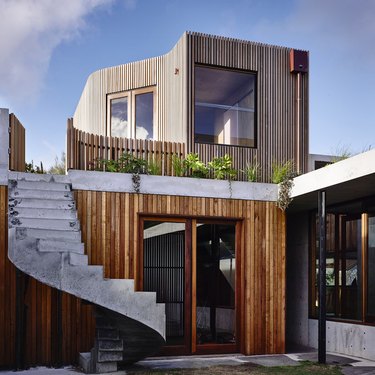 Be brave when it comes to your contemporary home exterior. For instance, this design crafted by Auhaus — with a winding concrete staircase and vertical wood plank siding — is a study in the power of combining unique, curated elements.
9. Install large windows.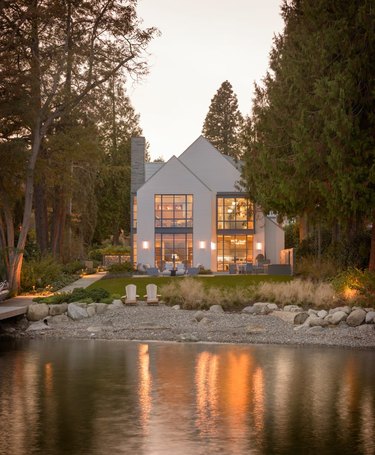 Many contemporary exteriors focus on glass, since it's generally seen as a modern-looking material. So when it comes to installing windows in your home, go for broke à la this beautiful dwelling designed by the team at Schultz Miller.
10. Embrace a minimal feel.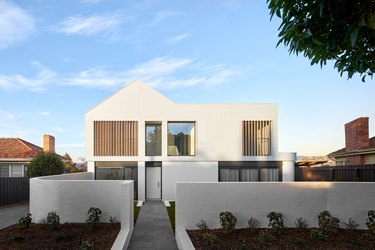 Contemporary style easily goes hand-in-hand with minimalism, something that can translate to an exterior, too. Instead of going with ornate or overwrought visuals, you'll want to go the less-is-more route. That's what the team at Tecture did when they designed this pared-back wonder.