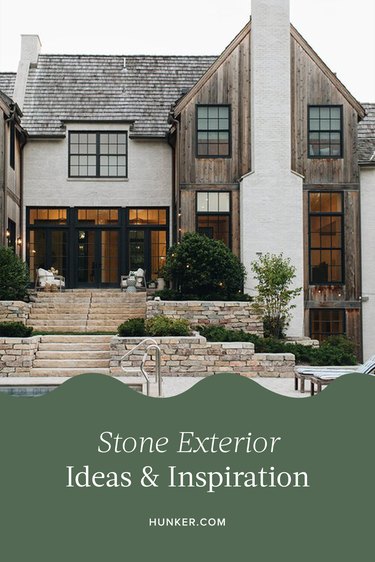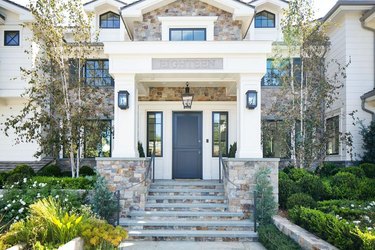 There's a reason the phrase "it's written in stone" is so popular. Stone structures have existed long before we have and will stand long after we're gone. (Stonehenge, anyone?) That's why stone exterior homes are timeless; the classic building look is both a nod to the past and a sturdy material of today.
What's not to like about this substance? It's durable, fire-resistant, and it can withstand weather of all kinds, including hail, wild winters, and steamy summers. Stone is particularly beneficial in hot climates, as the thick rock helps keep indoor temperatures low. Plus, you can cut it to any size and arrange it in different patterns for a one-of-a-kind look, no matter where or how you use it.
1. Pair stone with brick and wood.
2. Use it on your outdoor fireplace.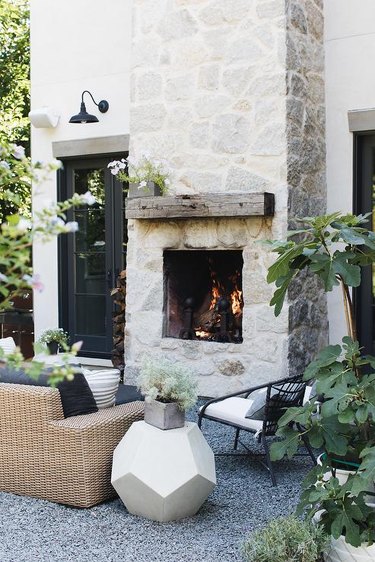 Break out the smores fixings. This stone outdoor fireplace by Grand Tradition Homes makes for a cozy spot to enjoy warm evenings. The tall, gray structure is anchored with a reclaimed wood mantel and sleek black French doors, while a mix of outdoor furniture materials — wicker, rattan, and clay — create a comfortable place to relax.
3. Carry the stone look to your driveway and garage.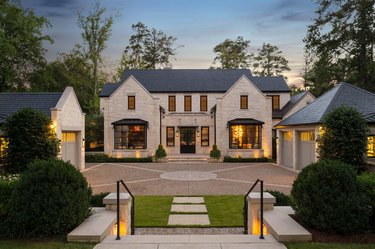 Not only is this stone cottage wonderfully regal, but the garages and paved driveway are also. The pale rock color pairs well with the black windows and beige garage doors. All kinds of neutrals match stone.
4. Mix and match different types.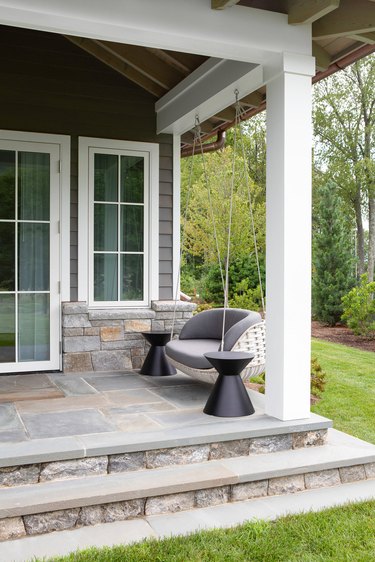 Chango & Co. used different stones for this home's back patio. While much of the structure consists of smooth and flat rocks, the steps and half of the exterior wall are rough. The varying colors and textures add interest to an otherwise neutral home. What a perfect spot for an afternoon swing.
5. Brighten up a stone exterior with white siding.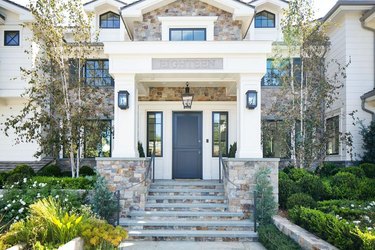 Can't decide between stone or siding? You don't have to, as evidenced by this ground-up construction in Newport Beach, California. Kelly Nutt Design selected a variegated stone, so it complements the home's accent colors, such as the white trim and black door, with ease. It's traditional without being boring.
6. Bring it into your interior.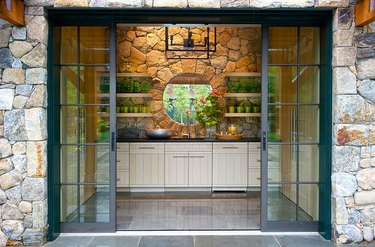 Why stop with the outer walls? This home by Pimlico Interiors continued the glamorous stone exterior into the pool house kitchenette. The paneled cabinets complement the tan colors of the stone, while a glorious circular window above the sink lets light in.
7. Embrace a little modernity.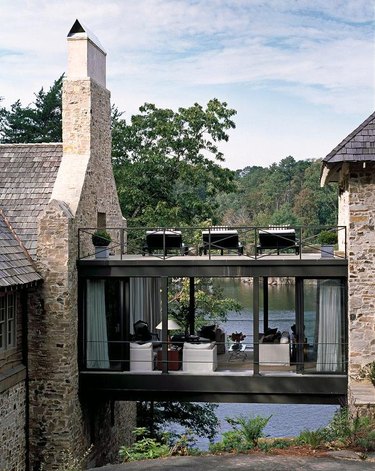 It's possible to have a modern stone home, and here's proof. Designed by Andrew Brown Interiors, this stunning structure features a sleek skyway that connects one wing of the house to the other. Mixing glass and stone makes for a traditional dwelling with a fresh twist. Just look at that view!