Hunker may earn compensation through affiliate links in this story. Learn more about our affiliate and product review process
here
.
After all, your personal tastes don't have to stay stuck within four walls. Here are nine exterior home style ideas to get you started.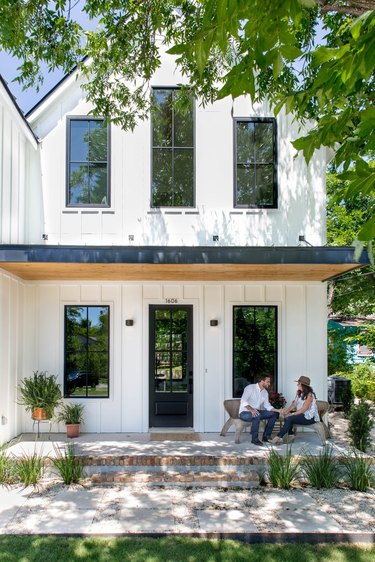 Dreaming of a house that makes use of natural materials such as wood and stone? A modern farmhouse could be perfect for you. Think simple exterior colors, easily accessible materials, and a large porch for outdoor hang sessions (because you'll need a place to admire the view). This Texas farmhouse exterior features intricate paneling, natural wood details, and a galvanized steel canopy — the ultimate contemporary take on the farmhouse style.
Traditional home exteriors can have a variety of features and often straddle the line between farmhouse and craftsman aesthetics. Simple facades (sometimes featuring shiplap), classic details such as shutters, and an inviting porch all work together to really make these homes feel welcoming.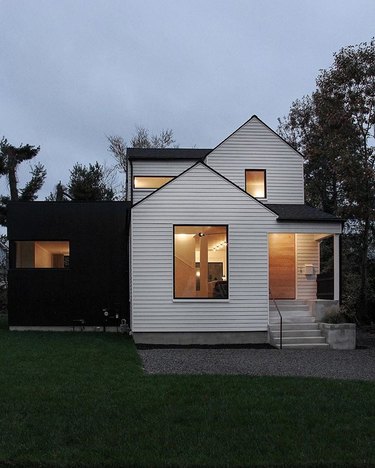 It's all about the silhouette when it comes to contemporary home exteriors. A clean color palette is a must as well as large windows and sleek architectural lines. They make a strong statement and can be experimental; you can play with steel, glass, and concrete to create something that feels bold and fresh. If you're after something a little more 21st century for your home, don't forget to add a modern exterior door for extra style points.
As with modern styles, minimal exteriors tend to focus on straight lines and large windows that don't add any unnecessary detail to the landscape. They also typically consist of just one material and color. The window and door trims are also inconspicuous. If your home has a pared-down aesthetic on the inside, this is the exterior home style for you.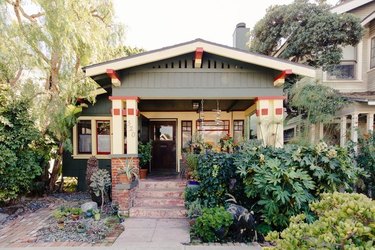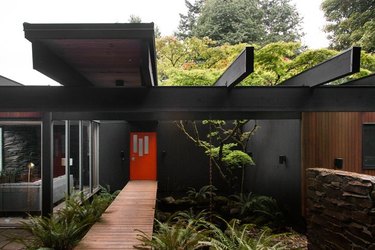 If you want to create a home exterior that is modern with a touch of personality, a midcentury modern exterior will combine the best of both worlds. It merges form and function to create interesting architecture without the need for excessive ornamentation. If you're a fan of Palm Springs, this style will get you really excited. Think back to the architecture of the late sixties, built by the likes of Frank Lloyd Wright, and opt for clean lines, geometric shapes, and large windows. A bold midcentury front door will welcome your guests in style.
If you've been lucky enough to land an art deco home, chances are you won't want to alter the exterior too much. And seriously, we're a little bit jealous. Highly stylized with curved facades, intricate window and door trims, as well as additional sculptural details and pastel pops of color, art deco architecture is the very definition of opulence. This beauty, owned by Lucy of Hunting for George, was given a facelift with a fresh lick of paint and a Palm Springs inspired garden.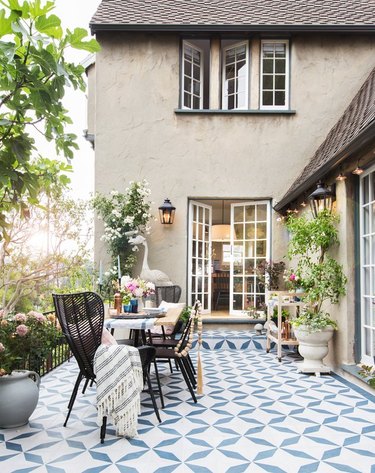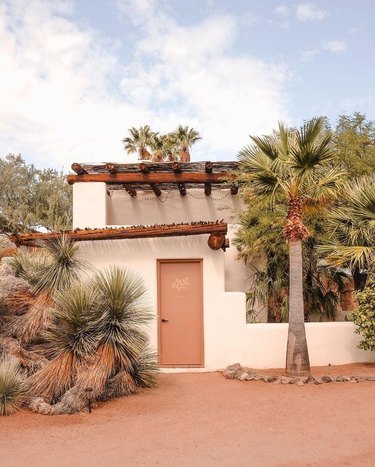 Last but by no means least, a desert-style home exterior is easy to get on board with. Typical features include exposed timber, an earthy color palette, a flat roof, and rounded corners. These types of homes were originally constructed with dried mud by indigenous groups over 1,000 years ago and were intended to blend in with nature. Take a lesson from the folks at The Joshua Tree House; they nailed the desert decor both inside and out.