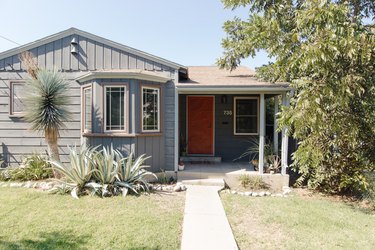 Buying your first home is easily one of the biggest markers of adulthood. Now that most millennials are well in their thirties, many of them are now embarking on the exciting (and sometimes intimidating) journey to home ownership. There are so many reasons to invest in a home: tax benefits, property appreciation, and the freedom to renovate and furnish your space as you please. With real estate markets more competitive than ever, it can seem impossible, but there are ways to do it. Sharaya Summers, a real estate agent in Medford, Oregon says millennials have their own unique challenges to conquer like student debt or sky-high rental costs in big cities, where some of the biggest employment opportunities exist in industries like tech and media. "The path to home ownership takes much longer than it used to, but this generation is more tech savvy and ambitious than previous generations ... despite their enormous hurdles, they still make up 36% of home buyers," says Summers.
Summers says aspiring homeowners will do almost anything to come up with the down payment, from dipping into their retirement savings and moving back in with their parents to save on rent. "Buyers get so focused on the down payment, but they also need to consider the added costs of closing costs, property tax, and the inevitable renovations needed to maintain the property," adds Summers. She encourages prospective home owners to get real about their financial health, like their income, their debt, and their credit score, along with future plans for a family or a career change. In some cases, buying a home can even be profitable. With apps like Airbnb, VRBO, and Peerspace, she says, millennials are finding new ways to offset their mortgage costs by monetizing their home. "Millennials are not only investing in real estate, but they're creating new business opportunities from their homes in creative and unprecedented ways," she says.
We asked new homeowners in their thirties, living in various neighborhoods of Los Angeles (plus one northern California dweller), about how they did it, what their experience was like dealing with the new and changing real estate landscape, and what advice they have for fellow house hunters. Lindsey T. (30) is a music video producer in Silver Lake; Mel and Kelcey A. (35 and 33) are creative professionals in Highland Park; Ryan (34) is a musician in the Mt. Washington; Jonathan (40) is a filmmaker in Glassell Park; and finally, Jana P. (30) works in hospitality in the Bay Area of northern California. Their biggest takeaways? Do your homework, find the right agent, find out ways to sweeten the deal, and be patient. Your dream house is out there, so start looking!
What were the factors you considered when buying your home?
Jana: I was looking for a home in a place where I felt a real sense of community. The people here love their town and care about what happens to it in a way that feels very communal and collaborative. The schools happen to be amazing, which was less of a consideration for me, but was a selling point in thinking about the potential for resale. The location was perhaps the greatest win, as it was a walk from downtown, but also on a quiet street on which one of my best friends already owned a home. We didn't investigate much into what renovations would be necessary, as we had so little time, and because the house was in such a prime location on a double lot. We knew no matter what work needed to be done, it was a sound investment.
Ryan: At first, I cast the net wide and looked at homes that were a little out of my price range just to get a better understanding of the market. I had specific neighborhoods in mind and was open to getting a fixer upper if the price was right. I knew I was also looking for a detached studio or garage on the property that I could rent out to offset the cost of the mortgage or turn into an office space. I had a very specific idea of what I wanted so I knew I had to be patient if I wanted to get my dream home.
Lindsey: As a new mom, I was looking for something on the Eastside of LA with a good school district. I also knew I wanted to be close to nature, somewhere private and safe. I wanted something weird and charming, and it absolutely needed to have a bathtub.
Jonathan: I wanted a home I could raise kids in in the future, even though we don't have kids yet, [but] we are planning to. So we really wanted to find a home with a big yard, maybe a pool. It needed to be at least two bedrooms and in a safe neighborhood, somewhere close to work. There's so many factors involved in considering a home that it can feel impossible to find one, but you just have to figure out what you're willing to compromise and what features are non-negotiable.
Mel: Location, price, and overall design and features were our main priorities. Also, having a large enough yard for our dog to run around in giant circles.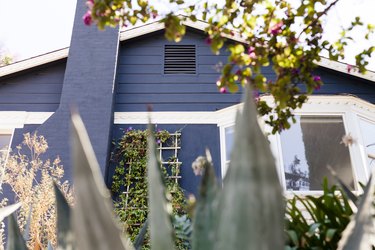 How long was the entire home-buying process, from finding an agent and attending open houses to closing on your home?
Kelcey: I'd been following the market by way of Redfin for over a year, just to get a sense of the listing price vs. the actual sale price in various neighborhoods in LA. Getting our pre-approval really set things in motion for us because it helped us learn exactly what we could offer. We had a short window of time to make a move happen, so we were looking online and touring houses for about four months. It felt like a full-time job. We started looking very seriously in January, and we got our keys to our home in May.
Lindsey: It took me three years of looking before I found my home!
Ryan: I was looking casually for about five years, then more seriously in the last year once I felt ready to take the leap.
Jonathan: We looked for about a year before finding one.
Jana: The process was incredibly quick. We had looked casually at a few places that were more investment properties than homes, but had really tabled the discussion. We were sent a listing for this place on a Sunday afternoon, we put in an offer the next day with no contingencies, paying in cash, and closing in two weeks, and our offer was accepted on Tuesday morning. From start to finish the process took two and a half weeks.
What tools did you use when searching for your home?
Lindsey: Finding the right agent is key. My agent was well connected and sometimes had access to listings before they went public, which was great for getting ahead of the competition.
Ryan: I would drive around the neighborhoods I liked and look out for for sale signs. I used all the apps but I also went old school and created a color coded spreadsheet of all the listings and kept track of open houses, asking price, location, etc.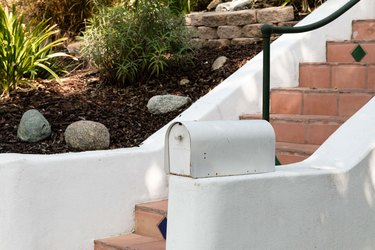 What surprised you the most about the process?
Jana: I think the speed is what surprised me most! Also, the power of a thoughtful offer letter. It totally depends on the seller, but our offer would not have been chosen if not for the letter I wrote the owner about me and my excitement about joining the community and loving this home.
Lindsey: The process can be demoralizing. Even if you have the money, it's an emotional experience. I was surprised by the amount of times I was outbid.
Ryan: I was surprised by the additional fees. I didn't know about closing costs or how much it cost to fix some basic structural elements of the house.
Jonathan: I was surprised by just how competitive it was. Buying a home in LA is difficult but actually seeing how many people attend open houses and place bids, it was surreal.
Any tips on how to navigate the whole open house experience? Should you make small talk with the agent, dress nicely, or come early?
Kelcey: If a house has an open house on both Saturday and Sunday, go both days to see how you feel again and again. It definitely doesn't hurt to chat up the agent. Don't be intimidated by the crowds. You never know what the sellers might be looking for in a buyer.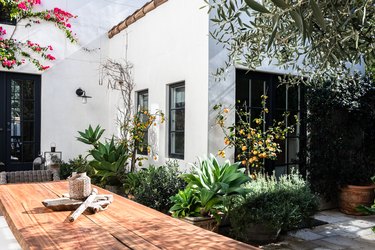 Did you ever get outbid on a dream home? What was that experience like?
Lindsey: Yes, I was outbid on three dream homes, but in hindsight who cares because they weren't actually my dream home.
Mel: Even worse. A lower, all-cash offer was chosen over our higher offer. It was a bummer. We learned that we had to think of other ways to be competitive in our offers. Our agent guided us through those options.
What were the biggest questions you had for your real estate agent?
Lindsey: My main question was about outbidding and how high I should and could go. The market is so competitive now so bidding wars are absurd; you really need your agent to hold your hand throughout that process.
Jana: The questions we asked our agent were, "What are the downsides?" and, "Would you buy this place?" We happened to have an agent we loved and trusted who had previously taken us to see a few places and had really told it to us straight. When he didn't like a place, he'd tell us, and give specifics why. So when he told us this was a real gem, we took him at his word.
What methods did you use to sweeten the deal when you put in your offer?
Lindsey: I put in a personal letter and I gave the former owners basically three months free rent in the lease back period. I also made the mistake of loving on their old bathrooms so hard that when inspections revealed that they needed $100K worth of work it was too late to get that money credited in our deal because, "Hey, you said you liked them..." (eye roll).
Kelcey: We definitely did some research and figured out that the sellers were friends of a friend, and we noted that in our letter, and asked the friends to put a good word in.
What advice do you have for other first time home buyers?
Kelcey: The best advice that we got was that we'd have to see over 100 houses to find the right one. It turned out to be great advice. The more you see, the more you learn why certain houses are priced the way that they are, and you'll be able to better identify a home's value.
Jana: Advice, again, would be to write a thoughtful offer letter. Show who you are, say what you love about the place, and how you plan to join the community. At least in a small town, that means a lot. The owner is likely leaving behind friends and neighbors and it helps to know a place they once loved is going to be loved again. Show your humanity; it can set you apart.
Ryan: Get approved for a home loan before you do anything. You want to go in prepared and ready to make an offer. Make sure you're in a good financial situation, too. Take care of any existing debt or loans before you commit. There will be so many surprise costs that come your way. I had no idea how much a new retaining wall would cost until it partially collapsed in my yard, and now I know.
Lindsey: Be patient and be easy on yourself. When you need a break take one. Nothing is worth losing your peace of mind over.