It's the little details that make all the difference in a home, both indoors and out. While it might not seem glamorous to choose between things like door handles and exterior window trim, these finishing touches can have a big effect on the overall style. And what's the first thing that people see when they arrive to your home? Your front door, of course! How you frame it is important. From near-invisible door trims to statement ones, the molding can make or break your aesthetic. Here are 9 exterior door trim ideas that will give your home all kinds of curb appeal.
1. Go for something discreet.
If you want the exterior of your home to be discreet, a door trim that blends in with the masonry is the choice for you. This subtle house by Willow Homes blends into the background, letting the trees and landscaping do the talking instead.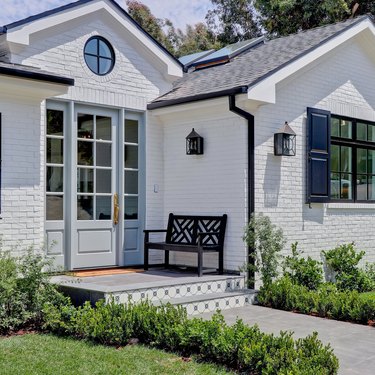 There's no need to make a song and dance with your exterior trim if you want the front door to be the true entryway star. This home puts all the focus on the statement, glass-panel front door — the thin trim matches the muted blue paint job and works so well with the white brick.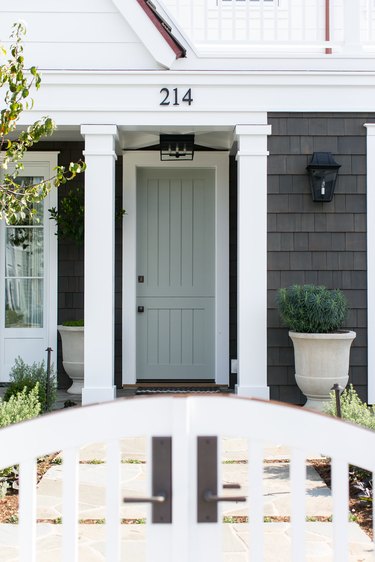 While a thin trim can look sleek and modern, a thicker one will frame your front door and make it stand out. For a farmhouse style, paint your door a muted shade of green, gray, or blue and use a white trim for the perfect amount of contrast.
A natural wood door trim will add texture and earthy tones to your home's facade while also creating intrigue. See how the white paint on this modern home makes the wooden accents stand out? The result is elegant and contemporary.
Not all exterior door casing has plain trim. In fact, you can actually match your exterior molding to the style of your home. Take this design from Kelly Nutt; the gray Dutch door is framed by a craftsman-style trim that complements the white paneled exterior. Galvanized metal planters have been placed on either side of the entrance for extra style points.
Creating contrast with your trim will help build a more traditional exterior aesthetic. This gray and white home features a dark oak door with a thick white trim that's classic but fresh.
7. Match your window trim.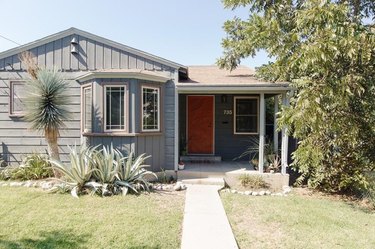 If you've gone through the trouble of making your exterior window trim stand out fully commit, and get complementary door trim. This dark gray home uses natural and painted wood to create subtle frames around the windows and bright front door. What a statement!
8. Add colorful curve appeal.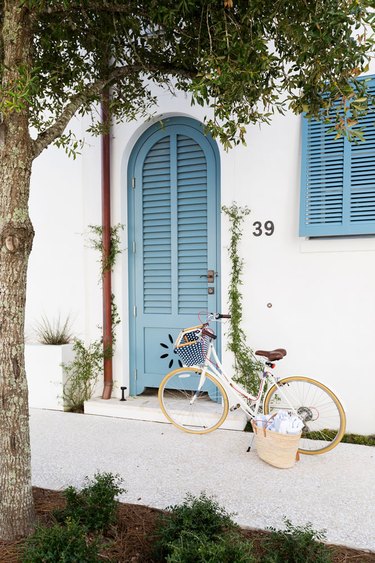 Arches are incredibly popular in the interior design world, so opting for a curved door and exterior door trim will be both trendy and timeless. Emulate this white beach home with blue shutters and a blue arched door for ultimate, elevated coastal vibes.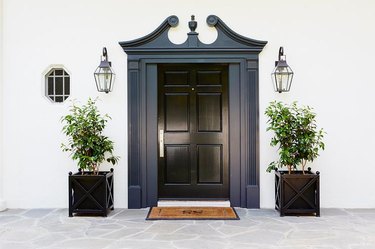 When you only have one chance of a first impression, go big or go home! This amazing exterior by Kishani Perera features a black front door accented with an ornate scroll pediment that adds a sophisticated curve. Fancy eh? The navy blue trim contrasts the white masonry and takes this door from standard to striking.