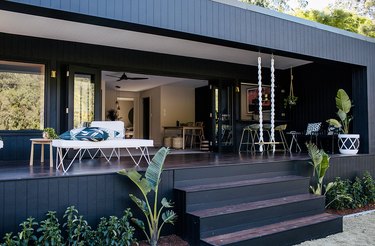 Looking for exterior back door ideas? Well, you've come to the right place. We've covered it all, from discreet backyard entrances to openings that take up an entire wall. So, no — you're not finished after completing the landscaping. The right door choice can really take a stunning home to new heights.
Here's our handy guide to exterior back door ideas for every space and style.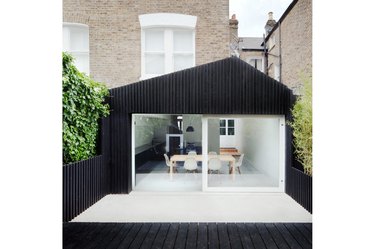 A set of sliding doors at the back end of the home is ideal for those who want natural light but don't have enough room for folding doors. One glass panel slides behind the other to create a minimalist effect. And if you don't have to worry about privacy, these doors can look great without window treatments.
Dutch doors (also known as stable or half door) are the perfect backyard choice thanks to their ability to open partially (Note: they were originally created to keep the animals outside and the children in). You can even keep the bottom half shut while letting in a fresh breeze or keeping an eye on the garden. Got an existing door that you want to change up? Jenny of Juniper Home DIYed her existing door to create the perfect farmhouse style.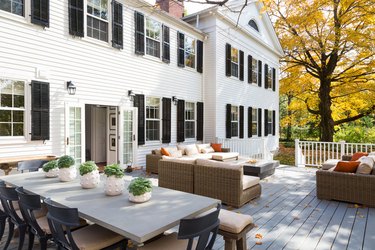 For a simple exterior solution, go with French doors. They're easy to install and aesthetically pleasing. Plus, they can fill your home with natural light as well as provide a symmetrical opening, unlike a sliding patio door. We think they work particularly well with exteriors that feature window shutters too, as seen in this traditional outdoor area designed by Chango & Co.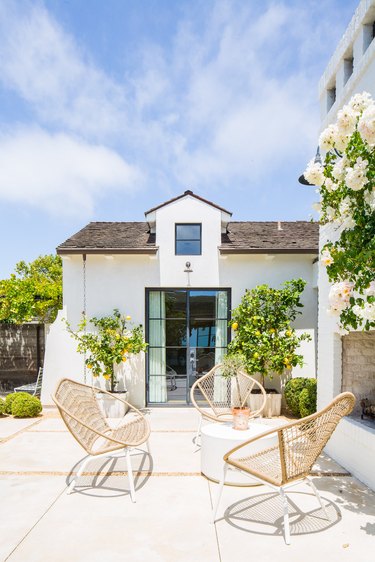 Similar to the French variety, Crittall doors open outwards but they're made of glass panes with thin steel frames. This sleek and elegant style will create a seamless transition between outdoors and in; just one glance at them in this design by Kelly Nutt proves our point.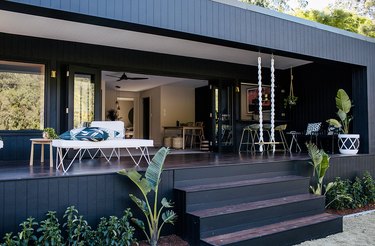 Bifold doors have been increasing in popularity, thanks to the fact that they can offer a completely unobstructed view when open and can span wide areas. The doors slide along a track to stack at either side of the entrance and almost act as a movable wall. In this contemporary deck design, Three Birds Renovations shows exactly how seamless the blend of indoor to outdoor space can be.
We've mentioned our love for this pink pivoting door by Nimtim Architects before, but seriously, it's the crème de la crème of exterior back door ideas. Unlike standard options, pivot doors hinge from the center of the top and bottom of the frame, opening to form two entrances. Bear in mind that you'll need ample room for this one, but the overall finish will be contemporary and pretty unique.