Not to sound super obvious, but London is a very old town — which is lovely when it comes to architecture, but not always lifestyle. "Many Londoners live in Victorian dwellings which were designed around the principles of hierarchy and privacy and can clash with the lifestyles of contemporary households," says Nimi Attanayake of Nimtim Architects. So when Attanayake's team took on a family's Victorian loft, they sought to modernize within the old-fashioned framework.
"We wanted to unlock the flexibility of Victorian houses — unpicking and reimagining the original layout to bring in light, creating a better connection with the natural landscape of the garden and responding to the client's contemporary requirements," Attanayake says.
But the most surprising move is the home's defining feature: cork, which appears on the walls and parts of the exterior. "It's naturally water resistant, recyclable, and will weather to a silver-gray color over time," Attanayake explains.
1 of 9
Garden Entrance
Cork, apparently, is a highly functional and sustainable material. Attanayake enlightens us on its versatility: "It has inherent insulating properties, so that meant we did not require any additional insulation on the external walls. It ticks all the boxes when it comes to thermal and acoustic performance but is also breathable, free from chemicals, synthetic resins and carcinogenic materials, and creates a healthy environment inside the house."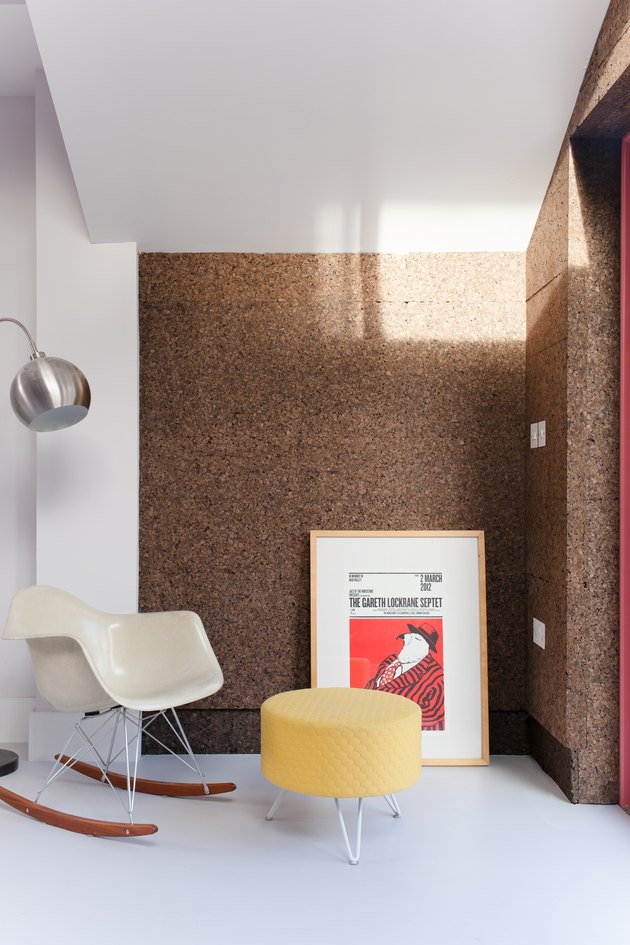 2 of 9
Living Room
In this midcentury-inspired sitting room, you'll find an Ercol coffee table and Eames rocking chair. The yellow hairpin stool is from U.K. retailer Swoon Editions.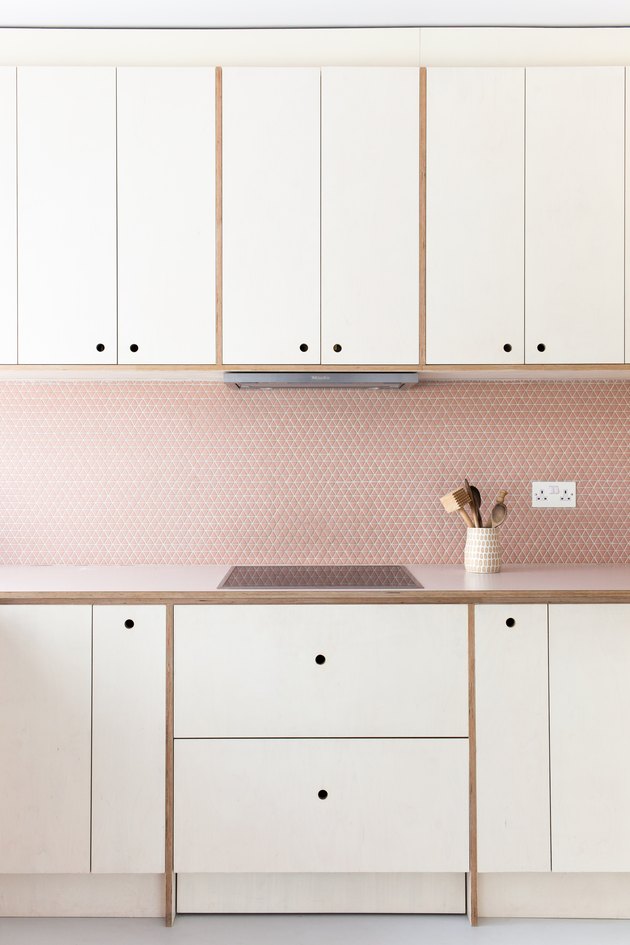 4 of 9
Kitchen
The updated kitchen now feels thoroughly modern thanks to hardware-free cabinetry and a pink backsplash made of tile from Claybrook.
5 of 9
Staircase
Nimtim designed a custom wood staircase and bookshelves. The original floorboards were left alone to preserve an essential part of the historic house.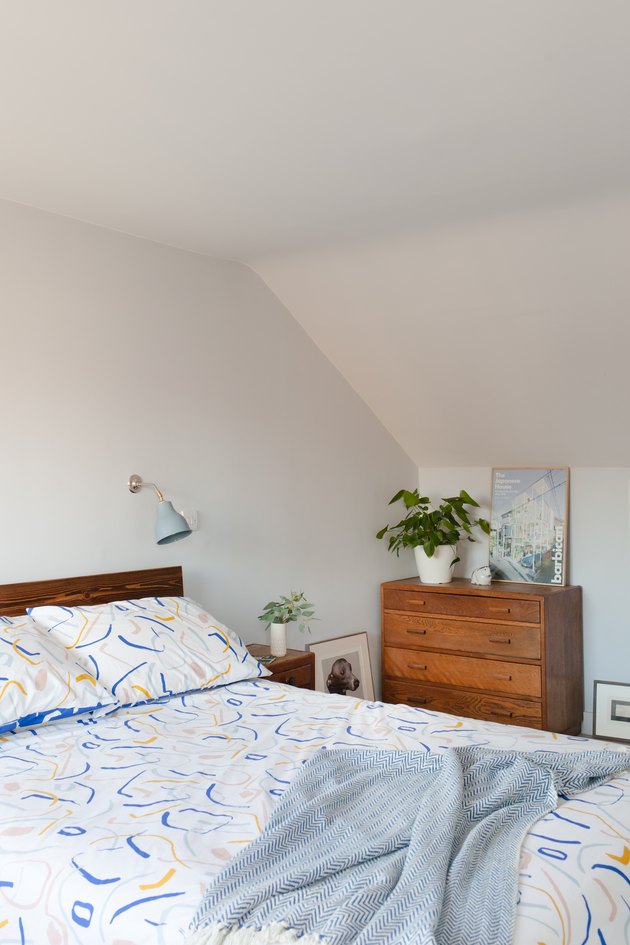 6 of 9
Bedroom
In one of the kids' bedrooms, furnishings are pared down to the essentials: a space-saving bed, a vintage dresser, and small side tables. Sconces with blue shades pick up the fun tones in the bedding from John Lewis.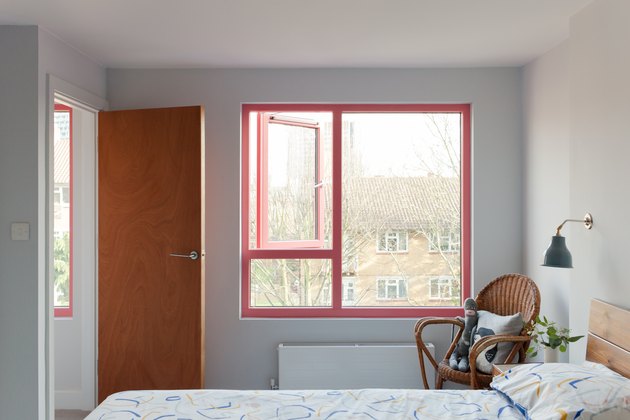 7 of 9
Bedroom
Pink trim on the windows and downstairs door adds a bit of fun and whimsy to the design.
8 of 9
Master Bathroom
Mirroring the color scheme in the kitchen, the bathroom incorporates a light-pink Formica countertop with whites and creams. The sculptural tiles and hexagon mirror add cohesion to the design.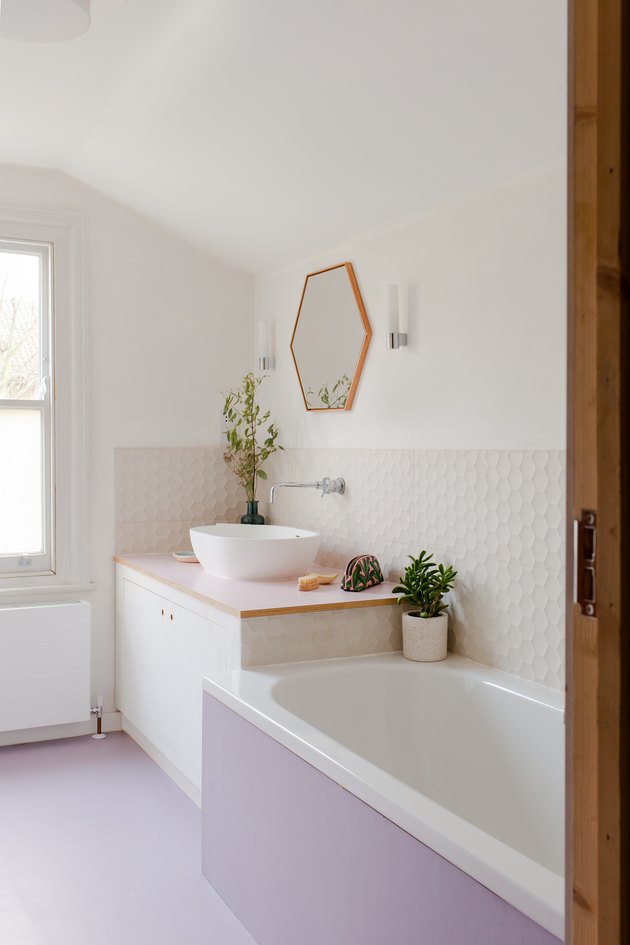 9 of 9
Master Bathroom
Pink and purple is no longer a color combo for little kids — this fun bathroom proves the duo can be fresh and modern.
---
After interning at Dwell magazine in San Francisco, Kate began writing about arts, design and culture for other national publications. She is based in Los Angeles and San Francisco.
View Work