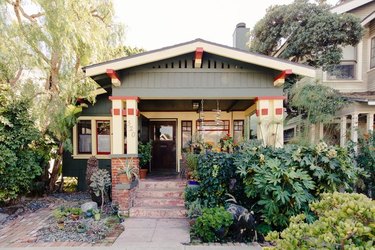 If you love the warm and relaxed look of farmhouse architecture, but are longing for something a bit less played out, may we introduce you to Craftsman style? After he promoted the English Arts and Crafts movement here in America in the early 1900s, Gustav Stickley, an English furniture maker, became known as the father of the architectural style known as American Craftsman. Word spread through a magazine he published named, you guessed it, The Craftsman, and the rest, as they say, is history.
Characterized by its simplicity in form, use of local materials, and honesty in construction, Craftsman-style was viewed as a direct backlash to the more ornate design of Victorian style, which was popular at the time. Telltale design features include overhanging eaves, which lend themselves to covered porches, low-pitched roofs, heavy, tapered columns, and patterned window panes. And although the aesthetic has some pretty defined guidelines for achieving that classic look we all love and adore, you can add personality and flair to your exterior with a unique color palette and a Craftsman-style door. Read on to discover exactly what we mean.
1. Make it Dutch.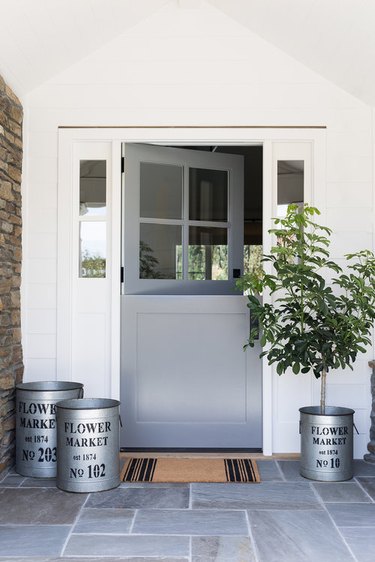 The Dutch were onto something practical and endearing when they created the Dutch door in the 17th century — allowing the infiltration of plenty of air and natural light while keeping pets and children safely in or out. Shea of Studio McGee creates a charming yet sophisticated entry by painting this farm door a timeless gray and pairing it with plenty of windows and bluestone tile on the porch.
2. Don't be afraid of color.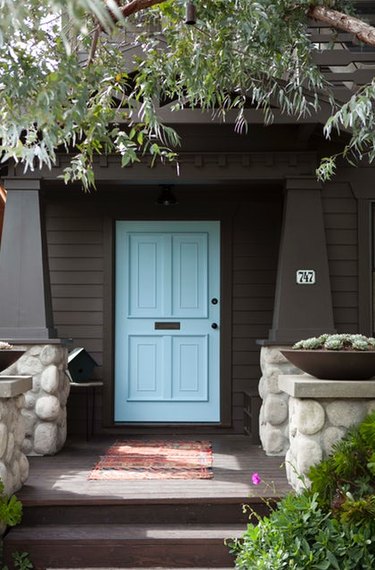 Innovative color choices are a great way to distinguish your home and add personality. Take inspo from this Craftsman-style home, by the design duo Nickey/Kehoe, replete with telltale details like a stone wall, tapered columns, and an eye-catching brown and robin's egg blue color combo.
3. Add lots of windows.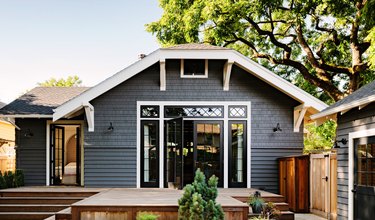 A double set of French doors and accompanying detailed transom add plenty of character to this bungalow in Portland. Jessica Helgerson retained as much of the home's original details while updating and expanding its footprint. An expansive natural wood porch adds warmth to the monochrome color scheme.
4. It's all in the details.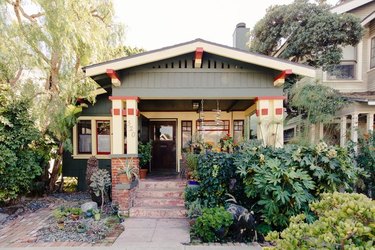 Craftsman-style homes emphasize horizontal lines, simplicity, and a oneness with nature. Make your front door the focal point of your exterior by highlighting the unique architectural details surrounding it with different colors or materials, as seen here with this Venice, California bungalow.
5. Opt for an unexpected combination.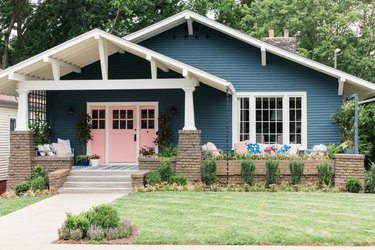 Make like the 2017 HGTV house and temper, a fun and flirty Craftsman-style door in millennial pink with a grounding blue tone. White accents keep the look fresh and highlight architectural details. The feminine hue ups the home's curb appeal and highlights the door's double set of windows.
6. Go for high contrast.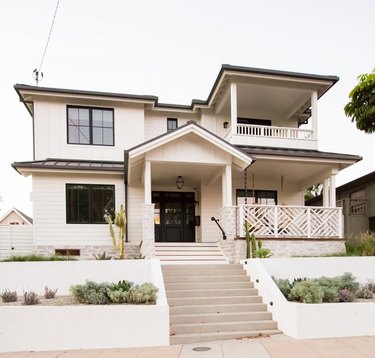 A crisp, white coat of paint is the perfect backdrop for black trim and a masculine front door idea as demonstrated by this Craftsman-meets-farmhouse design by Amber Lewis. A pair of hanging rattan chairs, a geometric banister, and rain chain are thoughtful details that add dimension and personalize the look.
Where to Buy Craftsman Style Doors
If you're longing to bring some Craftsman style to your home in the form of a new front door, there are plenty of outlets where you can go to retain the look.
Known for their vast selection of furniture and accessories, Wayfair also sells an array of doors, including Craftsman.
Simpson sells its doors to third party resellers that can be found based on your location. They have a wide variety of authentic Craftsman-style doors to choose from.
This big box store has a large selection of Craftsman-style doors in natural wood tones with various window configurations that look surprisingly bespoke.