Raise your hand if you don't love the look of a traditional stucco home. Anyone? Not only is the material a perfect blend of timeless (but not boring) and classic (but not passé), but it's also one of the oldest building substances around, and for good reason.
What is stucco, exactly? It's a wall coating similar to plaster — a mixture of cement, fine builder's sand, and water. In addition to its textured, traditional look, stucco has many sustainable features: The ingredients are easily obtained from local sources. The long-lasting pigment keeps its color so you won't need to repaint your home so often. And depending on your local climate, the finish can last 80 years or more.
Still not convinced about traditional stucco homes and not sure how to accentuate them? These beautiful houses will help you out.
1. Pair white stucco with desert landscaping.
Laura Genevieve of Turquoise + Tobacco is restoring this Spanish bungalow in Long Beach, California. And, lucky for us, we can follow along with her home updates on the Blanco Bungalow. The crisp white stucco lets the desert-style landscaping pop, while the hanging macrame planters fill in the greenery gaps along the side archway.
2. Choose a beige stucco exterior and accentuate with color.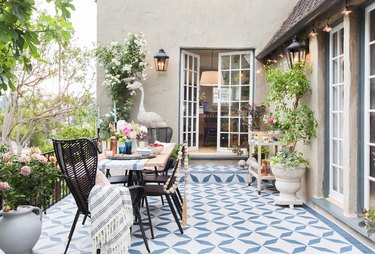 When working with a neutral stucco home, like Emily Henderson's beige beauty, you can go wild with outdoor patio design. How about climbing roses and flowering trees? And whimsical accents, like that oversized wooden bird? Don't forget about the showstopping tile, either, which brings a healthy dose of color to a neutral backdrop.
3. For just a pop of color, paint your front door.
This stucco beauty, photographed by Patti Wagner, is small but mighty with a few charming adornments that make the house stand out. The robin egg blue door adds a delightful pop of color, while the Spanish-style roof is grounding. This is proof that streamlined design pairs perfectly with a stucco exterior.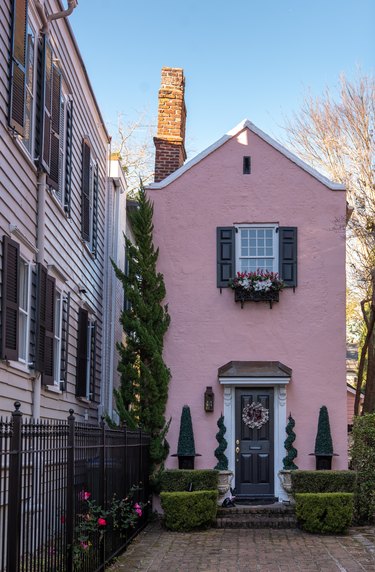 We almost don't believe this slender pink house is real, but we're delighted it is. South Carolina-based photographer Kristin Lee captures the historic city's one-of-a-kind homes, including this cheerful one. Its exquisite, slightly Dr. Seuss-reminiscent landscaping and simple black shutters complement the bubblegum color and add curb appeal.
Small houses can have big personality. Take the simple white exterior of this Sans-Arc Studio space with an arched doorway and window that let in ample amounts of sunlight. The sleek exterior leads to an art deco interior and makes for a chic home inside and out.
6. Get inspired by your surroundings.
7. Play up traditional characteristics.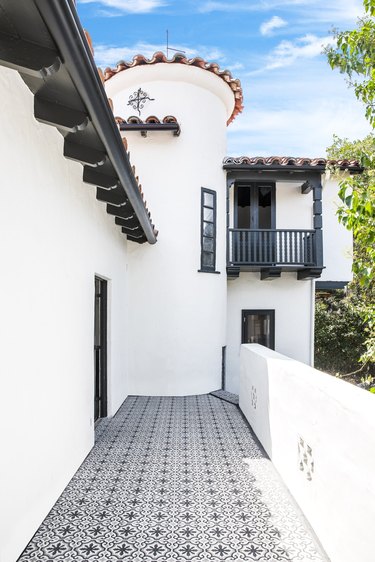 Colette Shelton, who you may know as Los Angeles-based interior designer Cococozy, brought this 1929 Spanish Colonial home back to its full glory, highlighting the innate flair with intricate tile and curved roof slats. Good news for us all: You can now watch Shelton renovate this house step-by-step on her Amazon Prime mini-series.
8. Add a healthy dose of black.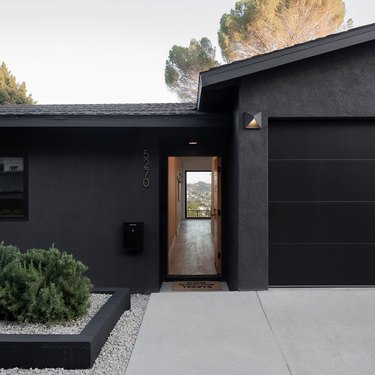 This is the little black dress of the house world. From the black stucco to the black garage door to the black mailbox, the monochromatic look is sleek and sophisticated. Add a cheeky doormat for humor and modern house numbers for elegance. If you have a view that breathtaking, even better.
San Francisco houses aren't shy about color, and why should they be if they can look like this yellow stucco home? Simple white trim adds definition to the garage and windows, while the buttery tone cheers up rainy Bay Area days. Plus, it looks oh-so-good next to its pink neighbor.