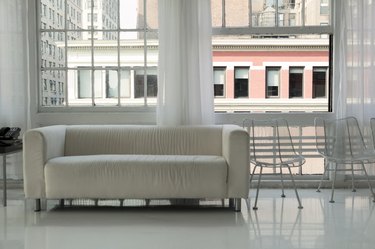 Cream, that buttery, yellow-based neutral, is white gone high-calorie and extra-rich. It softens the decor mix of old and new things, warms a room as a background color, and works as well on ceilings and trim as it does in upholstery and on walls. Cream is an almost-everything color, but it can go sour when you don't mix it properly, and it can be too much in some color schemes.
Whipped Cream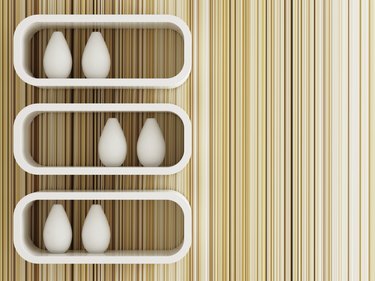 The Pantone Color Institute suggests a whole menu of frothy colors to match up with cream. Paint your pastel paradise with buttercream, cream puff, strawberry cream, almond cream, apricot cream, banana cream, key lime cream, vanilla cream, double cream, caramel cream, and even a creamy jade, a shade paler than creamy celadon green. Cream has warm undertones -- more yellow than blue -- so pair it with like shades that have a hint of golden light under the soft colors. Swirl a floral garden of creams and pastel pinks and greens over the sofa in a room with cream walls and carpet. Sweeten a vanilla cream-painted kitchen like a jar of homemade fruit jelly with banana cream and creamy apricot accents. Almond cream trim in a cream-walled entry picks out the faint darker pattern in the limestone paver floor.
Mellow Yellow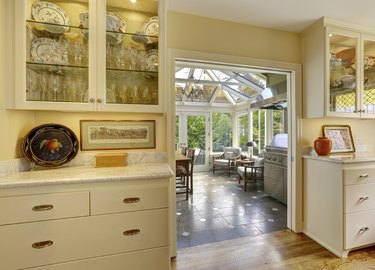 A sunroom is pure light when you decorate it in cream and shades of sunshine. Matte honey-gold walls, glossy cream trim, mantel, below-window wainscoting, and crown molding and a buttery parchment ceiling flatter the warm, rich wood tones of the hardwood floor. It's a relaxing, cheerful space that welcomes the edgy tartness of a chartreuse and cream carpet and a black tile firebox and hearth. Upholster chairs in cream brocade or linen with tossed pillows in dark golden mustard linen or silk. Translucent linen shades in cream to match the trim diffuse the light in the room while providing some privacy.
Festive Cream Topping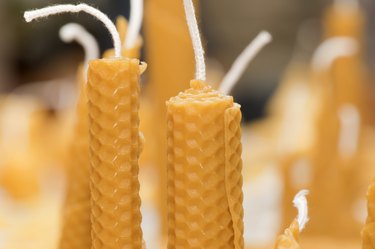 An elegant approach to holiday decorating pairs accents and temporary installations, like a Christmas tree, with the dominant creams, beiges and ivories in a monochromatic or neutral room. With a pale honey carpet, ivory upholstery, cream walls and drapes and ivory trim, add sparkle to a holiday tree with gold and silver ornaments, interspersed with cream-colored baubles. Crowd creamy beeswax candles across the mantel and hang a wreath over the pier glass, wound around with wide cream silk ribbon tied in a big floppy bow. For Halloween, paint real pumpkins cream, stacking large ones up the front steps and scattering small ones amid colorful fabric autumn leaves on a party table in a cream-colored dining room.
A Dab of No-Color in the Cream
Your Zen soul rests in the tranquility of a neutral color scheme, but, in truth, it's a bit of a yawn. Endless cream and beige quickly escalate from bland to boring. Like life, you need some conflict and contrast to keep things interesting. Black is your friend in a sea of cream. Think of the tip of a bird wing, the delicate border of a silk scarf, the skinny scribble on a whiteboard. Add black accents judiciously to your heavy cream -- slender black figures in a cream-and-parchment oriental rug, a simple black border on the cream drapes, a black lacquered coffee table nestled into the cream leather sectional. Contrast, handled confidently, contributes to the calm focus in a room by waking you from the dream state without introducing the hyper-energetic cacophony of the outside world.