Imagine your favorite things about summer. Savoring fresh pineapple. Watching kaleidoscopic sunsets. Seeing a thousand colorful beach towels lining the shore.
Now, imagine that you can bring these summery elements right into your own home. Whether your happy place is a desert scene punctuated by pink hues or a red-and-orange sunset cresting the ocean, warm colors can help you hang onto that feeling, all year long.
Color theory tells us that when a color wheel is divided in half, one half is considered "warm"— red, orange, yellow — and the other half is thought of as "cool" — green, blue, violet. When woven into a palette, these shades can visually warm up or cool down any room.
Scroll on for six warm color ideas that'll turn up the heat before those chilly temperatures hit.
1. Create a tropical vibe.
Warm colors naturally lend themselves to tropical interiors, and they look even more island-ready when they're paired with beachy decor. For example, in this boho bedroom belonging to Erika Carlock, warm orange and pink bedding is paired with a woven bamboo pendant light, pampas grass, and greenery, setting a vacation-inspired tone throughout the entire space.
As you search for color ideas, you may have come across several color blocked spaces, and for good reason — they are very on-trend right now. We recommend trying the look with warm colors to really punch up a room. Brittany of The House That Lars Built color blocked her guest room in pinks and yellows, resulting in a space that's guaranteed to lift your spirits.
3. Tone it down — slightly.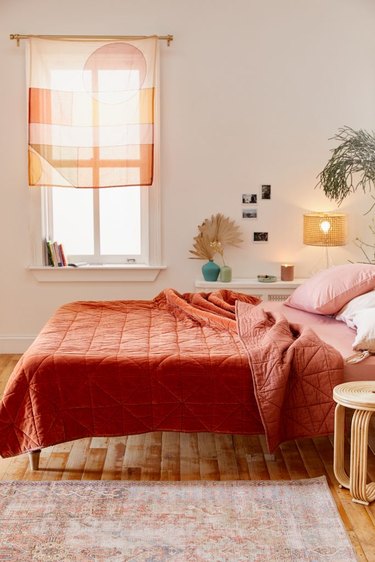 Guess what? You can still achieve a warm palette without bringing in bright, saturated colors. Just tone it down a tad like this bedroom spotted on Urban Outfitters flaunting a rust-colored quilt and vivid wall hanging in subtle shades.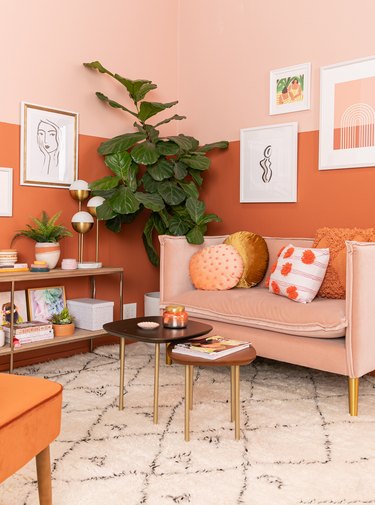 To offset all those warm colors, you can always anchor them with a few neutrals here and there. For example, in this living room styled by Joy of Oh Joy!, the orange-and-pink walls and blush sofa pair quite nicely with a cream area rug and wood-finish furniture.
5. Pair two shades together.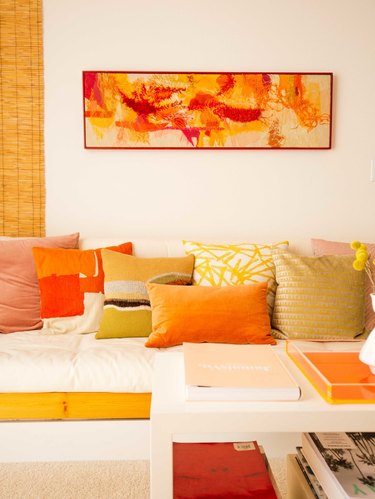 The convenient thing about warm colors is that they automatically go together. We particularly enjoy orange and yellow as a pair, and clearly we're not the only ones. Dabito of Old Brand New crafted an eye-pleasing living room with the help of orange-and-yellow throw pillows and an abstract painting that matches perfectly.
If you want to incorporate warm colors but don't want to embrace it top-to-bottom, simply hang a piece of artwork that showcases the palette you're craving. Color theory would surely approve of this Anewall tapestry, popping alongside rattan furniture and boho decor.
---
Shelby Deering is a lifestyle writer who contributes to national magazines and websites, including Country Living, Good Housekeeping, Well+Good, and more. When she's not writing, you'll find her shopping flea markets, hiking, and going for walks with her corgi.
View Work