If you want your home to feel fresh, cool colors — like shades of green, blue, and purple — are what you need. Plus, they can be perfectly inviting when styled with complementary hues and fun decor.
You can make cool colors work in any room of your house, too. So don't hesitate to take a paintbrush to your kitchen cabinets or your bedroom walls. Whether you want to go floor-to-ceiling with a single hue or have a color block moment, there are options.
Check out these cool paint color ideas, and get ready to tackle your next room makeover.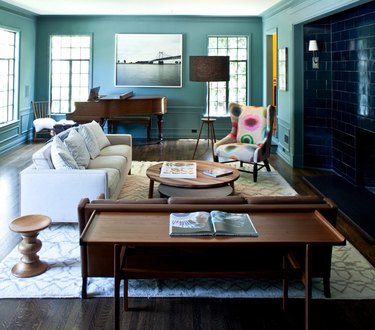 There is a lot of texture in this room, but nearly everything is neutral until you get to the teal walls and the polka dot chair. The splashy paint shade makes the midcentury modern space feel a lot more fun and youthful.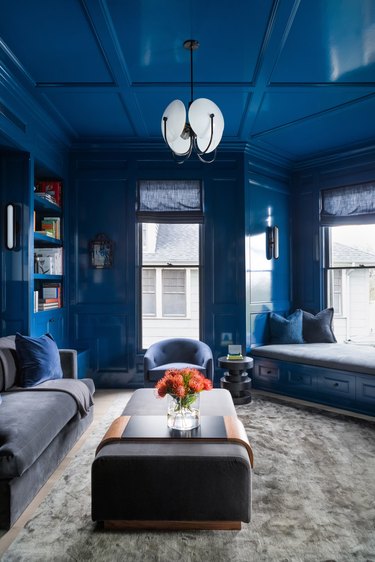 Go all out with your favorite azure blue, and coat the walls and ceiling in the same shade. This elegant living room is splashed with a glossy paint that makes the gray flooring really stand out. A richer shade like this won't feel too overpowering in a room with so much natural light and a bay window.
The purple stripes on the accent wall in this bedroom just work with the somewhat traditional headboard. In fact, purple hues are peppered everywhere, but none of them are exactly the same.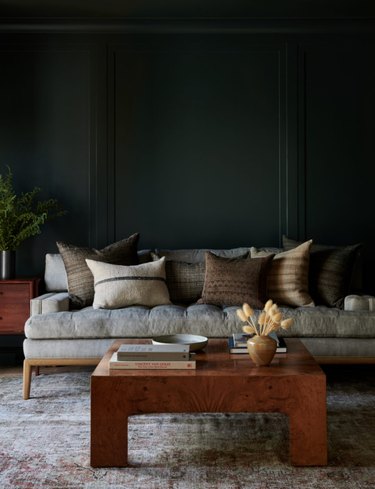 The walls in this den from Amber Interiors are so dark green that they're nearly black. In fact, the shade makes the space appear endless. And who wouldn't like to incorporate a visual trick like that? The neutral pillows and burlwood coffee table make things feel a little warmer.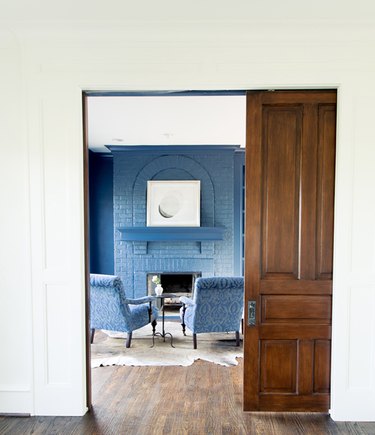 The traditional fireplace in this room blends right into the walls. Add in the matching chairs, and you've got a monochromatic look that's far from stuffy. We especially like the cowhide rug that feels unexpected but right.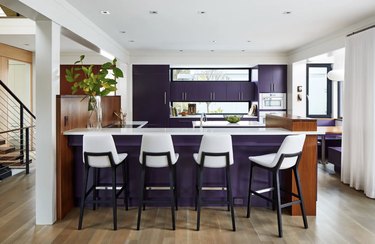 This rich shade of eggplant acts like a neutral in an open kitchen from Christie Leu Interiors. The rest of the modern space is purposefully devoid of color and is versatile enough for any house or family.