Going beyond its functional standpoint, fireplaces invite an undeniable cool factor to any space, regardless of their style. As the hearth of a home, a radiant focal point, and — for those who live in a small space — sometimes just another way to squeeze out a few extra inches of storage, they're about as classic as a design element can get.
While we've seen our fair share of fireplaces — we're talking farmhouse, craftsman, and Scandinavian — we can't help but take it back to the basics with traditional style. The celebrated aesthetic hails from 18th century Europe, and often features neutral tones and elegant details but, don't confuse it with an opulent vibe. These days, traditional fireplaces come in all shapes and sizes, ranging from the intimate and cozy to the refined and luxe.
1. Harmonize styles.
Strike a balance between the old and the new by pairing a traditional fireplace with contemporary elements, like the custom-built shelves in this Aussie home. The functional add-ons that flank the hearth — a home office desk on one side and closed-door storage on the other — invite a streamlined touch to the classic details and crown molding above.
2. Keep it old-school.
A fireplace that comes with a Baroque mantel is about as swoon-worthy as it gets and this D.C. rowhouse, designed by Zoe Feldman, is all the proof we need. The antique mirror up top, combined with the timeless gray walls, channel a golden, bygone era, while the matte black-painted firebox offers a hint of contrast with a contemporary touch.
3. Build on top.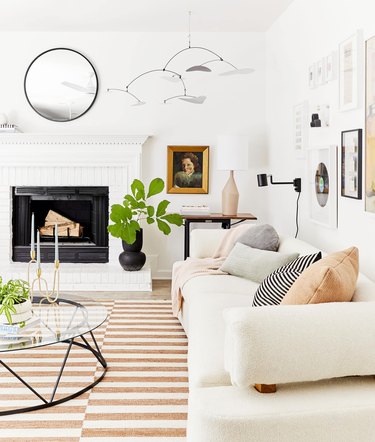 4. Look inside.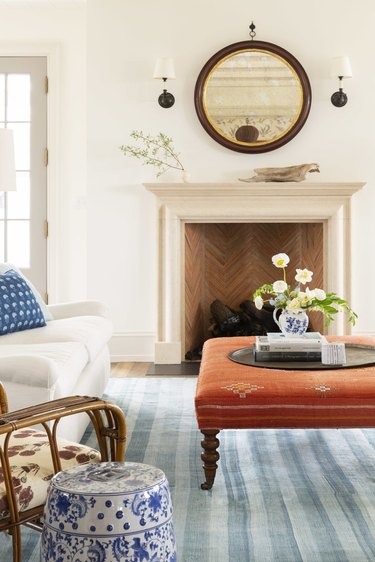 If you're all about the details you know that the inside wall of the firebox can be just as important as the mantel itself. The traditional fireplace in this cozy Nantucket home, by Katie Martinez Design, features herringbone patterned tile that complements the earthy hues, delicately framed by the stunning stone surround.
5. Go for gray.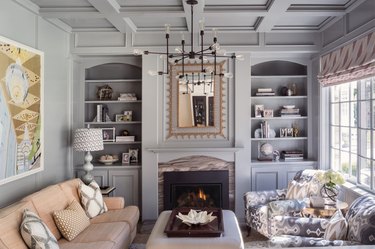 Traditional style isn't always about decorating with white and beige. Enter this luxe living room by design firm Massucco Warner where bold gray walls and a daring mix of patterns give the timeless aesthetic a modern breath of fresh air. From the slabs of marble, located at the base and the surround, to the elegant molding that makes up the mantel, this one is pure perfection. And the coffered ceiling doesn't hurt either.
6. Create subtle contrast.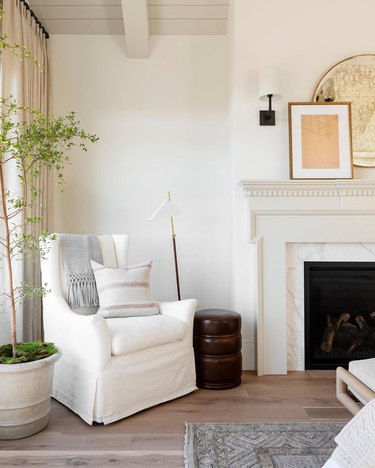 A graceful marble surround, or similarly textured stone, is a foolproof recipe for mastering a traditional fireplace. Creating a cozy design, grounded in a complementary palette of neutrals, is the next best step. Take Studio McGee's lead and paint the frieze (the horizontal frame below the mantel) and legs in a darker tone, allowing it to softly pop against the lighter walls.
7. Keep it simple.
The mantel is an unrivaled location for creating a showstopping vignette and bonus points if your traditional fireplace features sophisticated molding like the one in this Brooklyn townhouse. Dress it up with a lustrous framed mirror, fresh-cut florals, and a tchotchke or two — think taper candles in chic holders or decorative sculptures and boxes.
8. Add glass doors.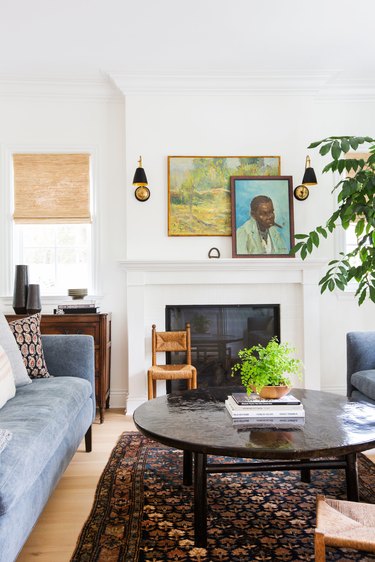 Amber Lewis's version of a traditional fireplace involves an au courant twist that we can definitely get behind. While the frame itself is a classic silhouette, with a painted wood mantel and detailed legs, the whitewashed brick surround welcomes modern glass doors that offer a refreshing touch and reflect light, elevating the whole scene.