Your fireplace is brimming with design potential; it just takes the right paint color. "Painting your fireplace is a quick and cost-effective way to give your space a major facelift without having to call in a contractor," says interior designer Marie Flanigan. "There are many ways to paint your fireplace that go beyond covering the facade or over-mantel with a standard white."
Searching for some DIY-style inspo? We reached out to some of our designer friends for tips on how to paint your fireplace, and here's what they had to say.
1. Make a decorative statement (if the fireplace isn't working).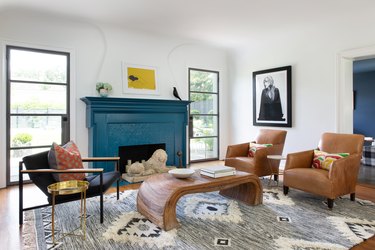 "If the fireplace is not functioning, you can do whatever you want and fill the inside with birch logs or candles," says Mary Patton of Mary Patton Design. "If it is functioning, you need to use a special heat-resistant paint on the interior. An oil-based enamel should be able to cover any outdated tile on the exterior."
2. Create a cohesive look.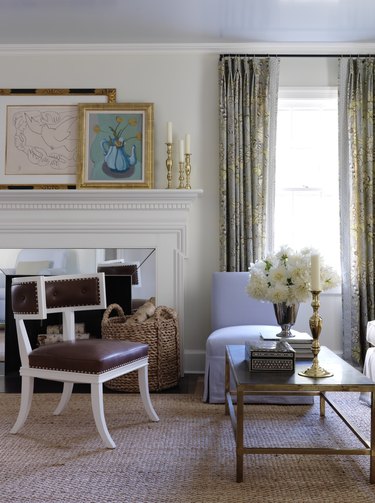 "In the rare instance that you do not want the fireplace to be the focal point of a room, paint it the same color as the walls, in a satin or gloss finish," says Kevin Isbell of Kevin Isbell Interiors. "This will help to harmonize the space and minimize the visual impact of the fireplace."
3. Create contrast.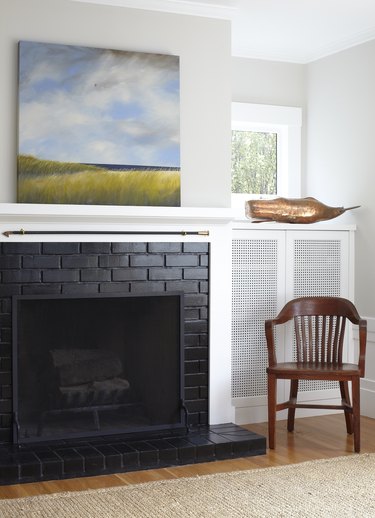 "A painted fireplace allows for a pretty compliment to a contrasting fireplace surround of wood, marble, stone, or tile," says Elizabeth Cooper. "There are also seemingly endless color options with a painted fireplace, so you can really have fun with it!"
4. Fake a finish.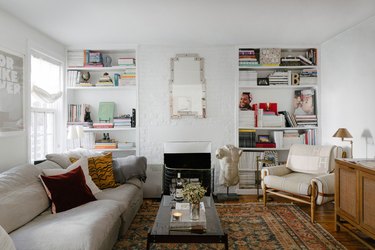 "If you're working with an existing fireplace and not wanting to renovate, look into hiring a decorative painter," says Ariel Farmer. "There are so many talented artisans out there who can transform a tired mantle into something spectacular. Whether you would like to mimic exotic woods or rare marbles, the possibilities are endless!"
5. It's a crime not to prime.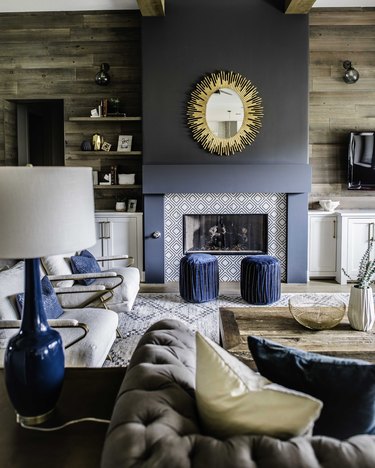 "Using a latex primer is so important when painting a fireplace," says Sara Barney of Bandd Design. "I recommend using an interior/exterior primer because it enables the paint to adhere so that it's more durable and will last longer on your fireplace. Use the primer to both prime and seal the fireplace, and this will help give maximum coverage especially on porous materials such as brick and tile."
6. Let your mantel do the talking.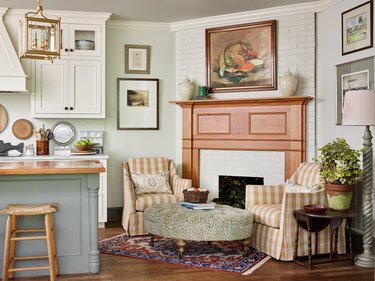 "Refacing a hearth and firebox can be costly, while a little painterly skill can achieve a new look quickly," says James Farmer. "By painting your fireplace, it can also allow more significant architectural elements to shine, such as your mantel."
7. Paint a bold surround.
"Repainting a surround is an affordable way to instantly revamp a fireplace, especially when you aren't looking to do anything beyond minor cosmetic updates," says Caitlin Murray of Black Lacquer Design. "This way you can create a strong focal point in a very tight, open floor plan that brightens the whole space."