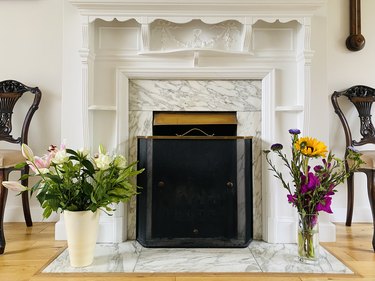 Things You'll Need
Sponge

Dish soap

Microfiber towel

Paint
How to Paint a Marble Fireplace Surround
Step 1: Clean the Surface
Fireplaces get covered in soot, dirt, dust, grease, and other grime, all of which will not allow your paint to stick properly, so always fully clean the surface before painting. You may be able to clean it with a sponge, dish soap, and water, but for dirtier projects, use a natural stone cleaner according to the manufacturer's instructions since other cleaning products can damage marble.
Step 2: Sand the Surface
Marble tends to be very smooth, which makes it difficult for paint to adhere to the surface, so prepare the surface by going over it with 100-grit sandpaper. You don't need to sand too deeply, but make sure the shine is removed from the surface. Use a wet sponge to wipe away the dust and then dry with a microfiber towel before going over the surface with a tack cloth to ensure there is no remaining dust that could damage your paint job.
Step 3: Protect Your Walls and Floor
Use painter's tape and plastic drop cloths to protect your walls, mantel, floor, and other surfaces.
Step 4: Apply Primer if Necessary
Chalk paint is often used without primer, but it was not typically formulated for use on products as smooth as marble, so adding primer can help improve adhesion so your paint won't peel or crack later. If you're using a high-heat paint, pair it with a high-heat primer, but for chalk paint, standard primer should be fine.
Apply the primer with a foam roller, starting with the top of the surround, then the sides, and then the hearth. This should reduce drips. Allow it to fully dry.
Step 5: Paint the Surround
Stir the paint well with a stir stick and then paint the surround the same way you applied the primer. Chalk paint dries reasonably quickly, so be sure to work quickly and wipe away drips with your roller as soon as you see them. Let the first coat dry for an hour and then apply a second coat.
Step 6: Apply a Topcoat if Needed
If you used a high-heat paint, skip the topcoat, as there are no high-heat topcoats that will work on fireplaces. But because chalk paint chips easily, it needs to be protected with a few layers of topcoat, especially if you use your fireplace regularly or store heavy, hard items on it, such as a fireplace screen, fireplace tool set, or firewood holder.
Stir the topcoat with a stir stick before applying it using the same method as the primer and paint. Allow it to fully dry before applying additional coats. Apply three coats to provide optimal protection.
Step 7: Clean up the Mess
Remove the painter's tape and drop cloths. Allow the topcoat to fully cure for three days before using the fireplace.