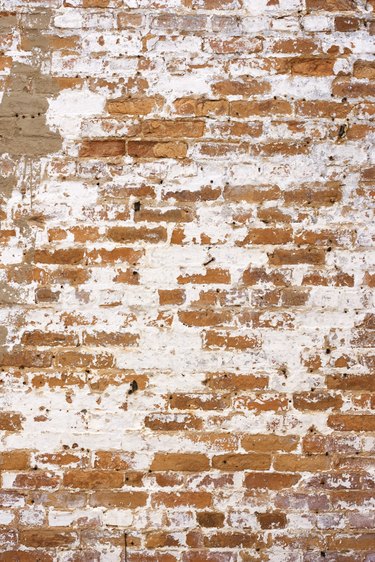 Weathered brick has a rough exterior that shows the wear and tear on every brick. The chips and damage on the brick peels away the newer layers of paint, which reveals the other paint colors and the original shade of the brick. As long as you have paint and a few tools, you can give your fireplace the same weathered look. Use multiple paint colors that have a realistic brick look and lightly distress each layer of paint.
Step 1
Clean the brick with trisodium phosphate cleaner, also known as TSP. Rub the cleaner on the brick with a scrub brush and rinse the brick with fresh water. Dip the scrub brush in fresh water and wipe across the brick. Rub the fireplace with old rags and let dry overnight.
Step 2
Paint the fireplace with a primer tinted to the same color or a similar color as the original brick. The primer masks any chips or other types of minor damage to the brick. After painting with the roller, paint over any areas you missed or smaller areas with the paintbrush.
Step 3
Pick two neutral colors, such as cream or rust. Opt for lighter shades that show signs of weathering or distressing better than darker colors. Paint the lightest shade on the fireplace and after the first coat dries, add a second coat.
Step 4
Sand the fireplace once the paint dries. Gently rub the sandpaper over the surface of the bricks and use more pressure on the edges of the brick. The more you sand the fireplace, the more weathered it looks at the end.
Step 5
Apply your second paint color on top of the fireplace. After the paint dries, weather the finish with more sandpaper. Wipe off any brick dust and apply a final coat of paint. If you want more weathering on the fireplace, then sand more of the paint off the final coat.