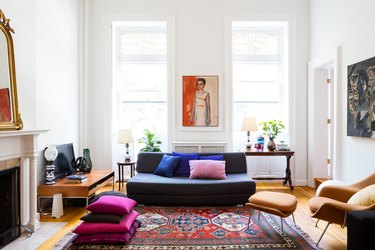 An all-white space can feel bright and modern. But, let's face it, it can also feel a little boring. After living in a small, immaculate space in lower Manhattan, an architecture professor was ready to bring color into her next home. An architect by training, she joined forces with MAN Architecture and Hatchet Design Build to make over the new loft in Brooklyn Heights that she shares with her teenage son. "She wanted something that had somewhat of a more Mediterranean feeling," says Hatchet Design Build project manager Eric Springer.
The space itself had amazing period details, but needed some serious reorganization. The firm rearranged the central core of the apartment to create a functional kitchen for the avid cook and entertainer and added storage underneath the staircase. The client picked out cement tile to accompany the custom white cabinets and chose bold wall colors for the bedrooms. "Of all of the clients we've had, she was the most decisive we'd ever experienced when it came to color," says Springer. "Any option we presented to her she knew immediately which direction she wanted us to go. The rules were to remain warm and vibrant, and 'nothing flat and boring."
---
Elizabeth Stamp is a freelance writer in Los Angeles. Her work has appeared in Architectural Digest, Elle Decor, and CNN Style.