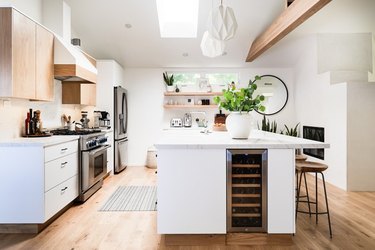 Styling the kitchen window doesn't typically top one's list of interior decorating to-dos, but it probably should. If you're like most people, you spend most of your waking hours in the cooking space or living room — which, in open floor plans, are often joined. So your connection to the outside, visually or even physically, often hinges (so to speak!) on the windows in those spaces.
Whatever your particular architecture allows, it's worth exploring just how much you can maximize this under-considered aspect of your home's design.
1. Double down on the farmhouse features.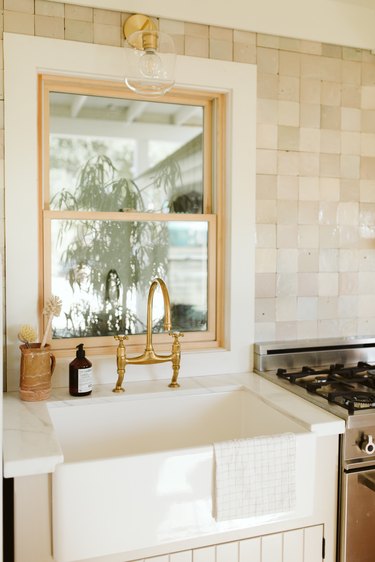 Modern farmhouse vibes are everywhere in this petite kitchen from a chic Airbnb in Los Alamos, California, including in the large apron sink and the vintage-look brass faucet. The traditional, single-hung window above the basin feels original to the guest house, which dates back to the 1920s. And a simple paint job helps it blend in with the gorgeous mosaic of Cle Tiles.
2. Let the light pour in with floor-to-ceiling glass.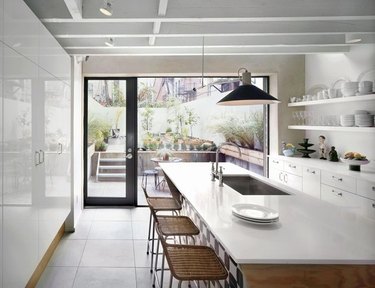 In this re-imagined Brooklyn brownstone, the modern, minimalist kitchen eschews traditional windows in favor of dramatic floor-to-ceiling panes that directly connect the cooking area to the outdoor garden. Light also pours in beautifully.
3. Stick to the classics.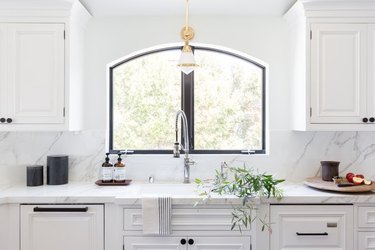 4. Don't be afraid to add shelving.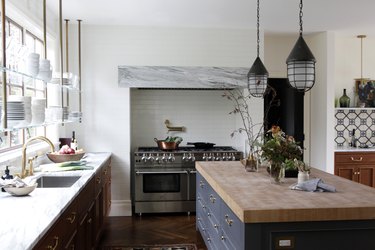 In this Washington State brownstone, with its sophisticated vintage-modern touches, designer Katie Hackworth hung open shelving in front of the traditional, Colonial-style windows. Because they're glass, the overall feel is still light and airy.
5. Add some vintage flourish.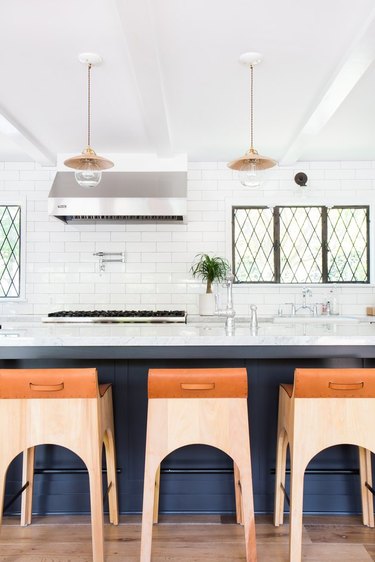 The diagonal muntins on the kitchen windows emphasize the vintage of vintage-chic in this kitchen by Amber Interiors. It's a decorative flourish that contrasts beautifully with the of-the-moment blue island and leather bar stools.
6. Keep it simple.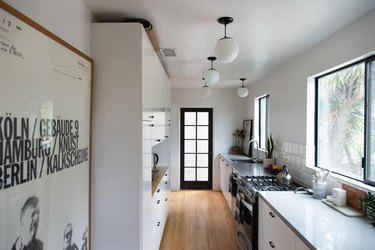 In this chic 1930s cottage nestled in Mt. Washington, on the outskirts of Los Angeles, the details are kept simple. Wide, black window panes sit atop the sink and counters in the galley-style food prep area. There are no kitchen window treatments, just the frames and white sill that coordinate with the rest of the minimalist, masculine vibe.
7. Use the ceilings.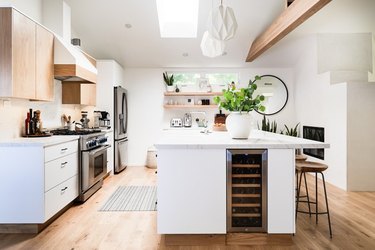 If there's no room to spare for kitchen windows in your oddly-shaped or small cook space, look up. Chances are, there is plenty of real estate in the ceiling. A skylight can work wonders in a kitchen, bathing the sink and island in gorgeous natural sunshine.
8. Just add plants.