Not known for shying away from the grandiose, Parisians have a knack for embracing luxurious details. Simply put, the French know how to do decor right — just look at their apartments. Since the majority of flats in Paris were built by the early 1900s, they often feature ornate architectural accents, such as crown molding and trim.
But that doesn't mean you have to pack up all of your belongings and move to France to get the look. Take matters into your own hands and give your pad a Parisian makeover. They say imitation is the sincerest form of flattery, so scroll on for nine crown molding and trim ideas that will look très chic in your humble abode.
1. Accent existing details.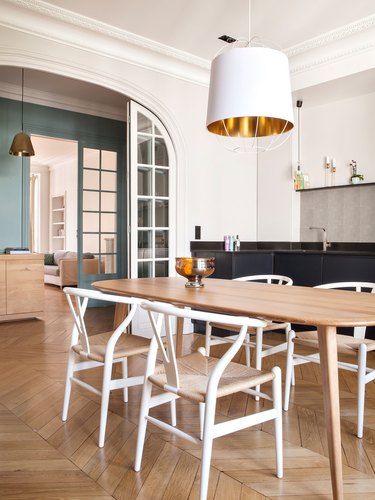 If your home already has cool architectural details, like arched windows and entryways or high ceilings, help them shine. Accent these drool-worthy elements with Parisian-inspired crown molding or trim, as captured by photographer Hervé Goluza in this modern home, to make them look even more luxe.
2. Add modern accents.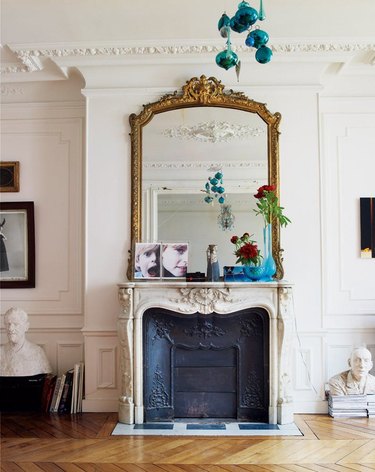 The extravagant molding in this space captured by photographer Lars Ranek, could easily end up looking too ornate. However, when accented with bright, playful colors and modern details — like this shiny mobile made from Christmas ornaments — it avoids looking stuffy.
3. Don't forget your walls.
We love the crown molding and trim idea in this Parisian-inspired bedroom. Gwen Hefner of Makerista took decorative trim to the next level by installing custom millwork and painting it a soft, gray-toned pink, to create a textural finish on previously bare walls.
4. Think like a minimalist.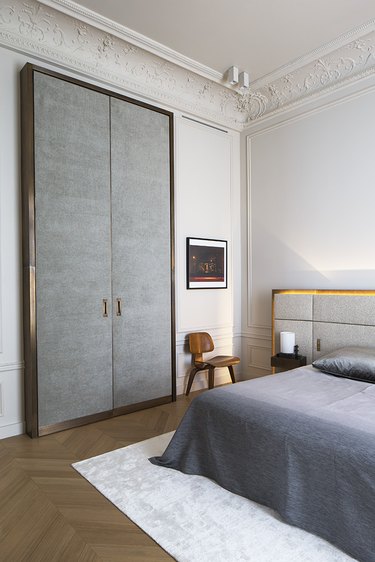 Parisian-inspired crown molding and trim are often ornate, which is why it makes such a statement. But in order to keep your room looking modern, keep the rest of your design simple. Stick with minimal decor, sleek furniture, and a mostly neutral color palette like this apartment designed by Rodolphe Parénte.
5. Make an entrance.
Make every doorway look even more grand with this crown molding and trim idea. The team over at Gilles & Boissier did a beautiful job designing this Parisian pad, complete with ornate trim on the ceiling and the doors, while modern decor keeps the space feeling fresh.
6. Choose classic lines.
The grandeur of this apartment could easily begin to feel like a museum or a ballroom. But thankfully the team over at FESTEN Architecture mastered the art of blending "traditional Parisian style with purist contemporary design."
7. Make it an accent, not the main affair.
When it comes to your home, Parisian-inspired crown molding and trim ideas don't have to steal the show if you don't want them to. Instead, follow the lead of event planner Darya Kopp and opt for less ornate options and paint them white so colorful accents or an interesting light fixture can be the focus. Can we talk about that sculptural copper pendant light? Insert heart-eyed emoji here
8. Opt for all-white trim.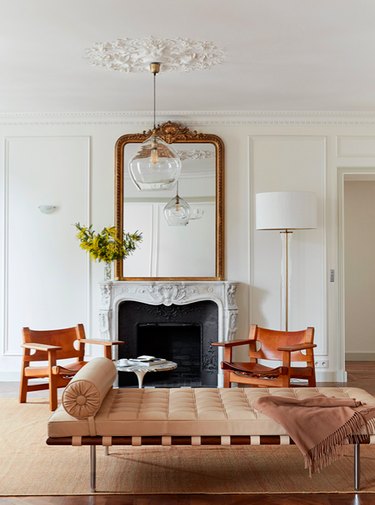 Keep ornate crown molding and trim looking modern by painting it white, so it will seamlessly blend in with the white walls. It'll complement your contemporary furniture and natural color palette, rather than detracting from your space's otherwise modern style.
9. Or create contrast.