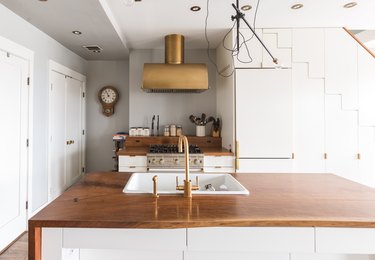 Whether delightfully midcentury, rustic, or bohemian, there's one thing that each and every kitchen absolutely must have: a really good sink. And while there are a variety of different options out there to choose from, more and more homeowners are going with single-bowl sinks instead of double-bowl in the kitchen, because of their good looks and practical benefits. What are those you might ask? Well, the biggest of which is that they take up a lot less precious counter space.
Here are seven kitchens with single-bowl sinks that are inspiring us all to make the switch.
1. Fresh, simple, and clean.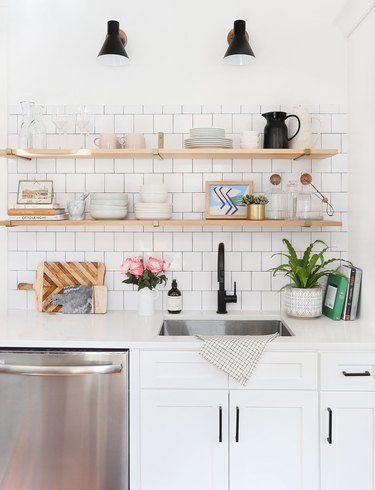 A single-bowl sink won't detract from any of your lovely kitchen decor, proven here in this breezy kitchen belonging to Erin Wheeler of Sunny Circle Studio. The stainless steel sink quietly plays a guest role among the decorative objects, chic kitchen essentials, and white subway tile.
2. Cool and modern.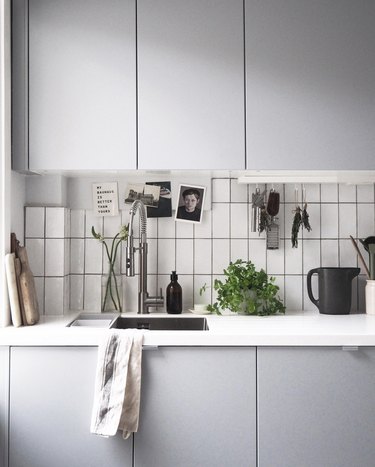 3. Farmhouse beauty.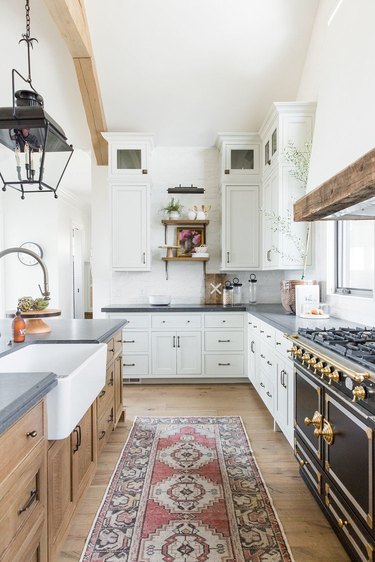 An apron sink is pretty much essential to a modern farmhouse kitchen, as seen in this space designed by Shea of Studio McGee. In addition to being large enough to wash those big pots and pans, the apron sink is visually pleasing when paired with other rustic accents like exposed wood beams, a vintage-inspired French stove, and a mix of white and wood cabinetry.
4. Small and stylish.
Designed by Architect Prineas, this understated single-bowl sink allows for a near-seamless view of the verdant palms outside. The black accents throughout are a striking and modern touch.
5. Subtly decorative.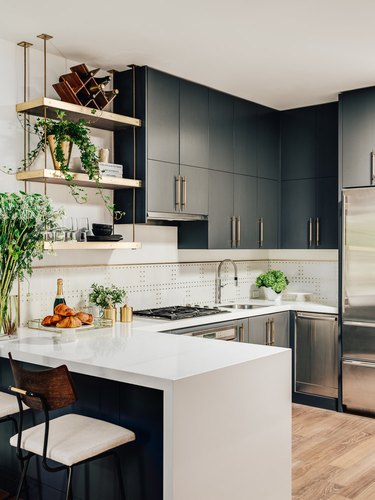 The single-bowl sink in this kitchen — designed by Deniece Duscheone — matches the stainless steel appliances throughout. However, it also blends well with the other metallic finishes, such as the brass elements that are cleverly woven into the overall design.
6. Loaded with personality.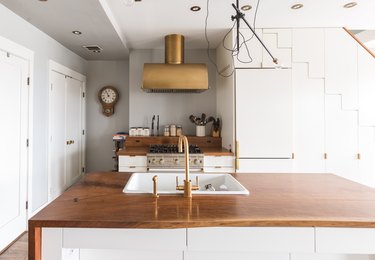 You can easily punch up your single-bowl by surrounding it with distinctive materials, textures, and finishes. For example, the porcelain top mount sink in this kitchen looks downright swanky thanks to the brass fixtures and gorg live edge waterfall countertop. Obsessed.
7. Oh-so-airy.