Who: Joseph August, Justine Bennett, and Andrew Uhlhorn
Where: Joshua Tree, California
Style: 1940s bungalow
Behold, one of the original Joshua Tree homes — block construction, 1-bed, 1-bath, built in 1947. This one sits in the heart of Joshua Tree Village, walking distance from the iconic Joshua Tree Saloon and minutes from the gateway to the national park.
It has been updated by three friends who have a knack for design and bringing together vintage finds.
The trio—singer/songwriter Bennett; along with Andrew Uhlhorn, a personal chef; and Joseph August, a professional drummer—spent seven months, spread out in one and two day bursts, transforming the space themselves. They kept the original footprint, but blew out walls and completely revamped the kitchen. They also purchased the lot next door and enclosed it all in a corrugated steel fence that ensures the type of privacy desert-minded people desire. August sanded the poured cement floors himself. And they each added one-of-a-kind thrift store finds that reflect their collective sensibility.
"Our look is a total collaboration," says Bennett. "We all have a thrift store addiction and frequent the local ones if not every day, every week. We would get a piece and see how it fit, and if it did, work off it for the next piece."
The result—available to rent on Airbnb—is a pitch-perfect, high-low, vintage-modern, spare-yet-cozy collective effort. "We believe in the power of people gathering and thinking together," they say. And it shows.
1 of 9
August, Bennett and Uhlhorn convene in the living room, which features a sofa and chairs sourced locally, and a robust fiddle-leaf fig.
Image Credit:

Paul Anderson
2 of 9
The kitchen was a complete remodel, with its poured concrete floors, custom banquette, and hand-built counters. The vintage General Electric refrigerator pairs well with thrifted green milk glass.
Image Credit:

Paul Anderson for Hunker
3 of 9
A farmhouse sink looks gorgeous against the hand-built cabinets painted 50s-era green.
Image Credit:

Paul Anderson
4 of 9
Throughout the home, there are delightful vintage touches mixed with rougher, hand-done elements.
Image Credit:

Paul Anderson for Hunker
5 of 9
The shelves that sit below the record player display simple materials (cinderblock, wood) mixed in savvy ways.
Image Credit:

Paul Anderson
6 of 9
One of Bennett's favorite pieces in the home is the piano. "We love the little vintage piano," she says. "It fits perfectly in the music nook and sounds incredible.
Image Credit:

Paul Anderson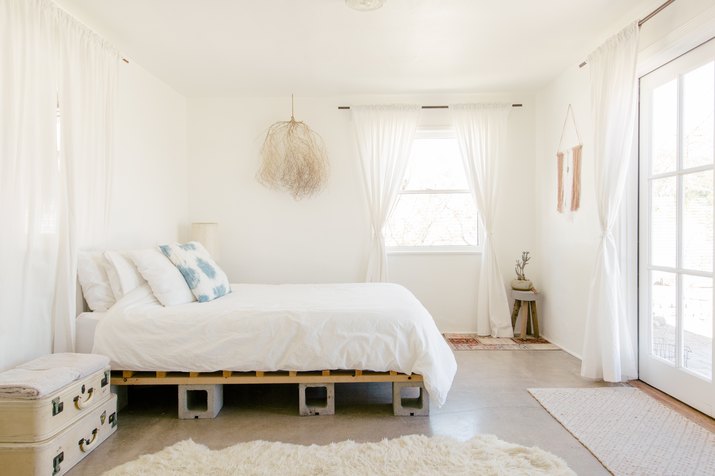 7 of 9
The bedroom is another favorite, and another signature mix of hand-built (the bed frame), vintage (the stacked suitcases that serve as a bedside table), modern comfort (the Casper mattress), and the natural (the tumbleweed)
Image Credit:

Paul Anderson for Hunker
8 of 9
Outside, the three friends expanded the lot and made it more private, adding fun touches like a bocce court, a hammock, a hot tub, and an outdoor clawfoot tub meant for cold plunges.
Image Credit:

Paul Anderson
9 of 9
Found objects, like this rusty mattress spring, echo the work of high desert artist Noah Purifoy, who transforms discarded everyday objects into sculpture.
Image Credit:

Paul Anderson
---