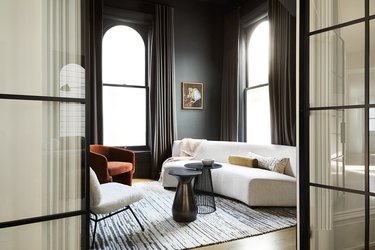 Even if you're not a fan of dark interiors (but seriously that trend is in for a reason), you can probably appreciate a sprinkling of deep colors in your home. Rich shades ground even the airiest of spaces. And that's especially why black window frames work.
Whether your home is minimal, art deco, or California cool, try giving your casement trim a coat of inky paint. Now we say lean in, and sprinkle the soulful shade other places, too (think your interior doors, your living room walls, or even your kitchen floors). But even if you refuse to incorporate the hue anywhere else, black window frames will still do the perfect amount of decor heavy lifting.
Here are a few ways to decorate around them.
1. Cover your black window frames with neutral shades.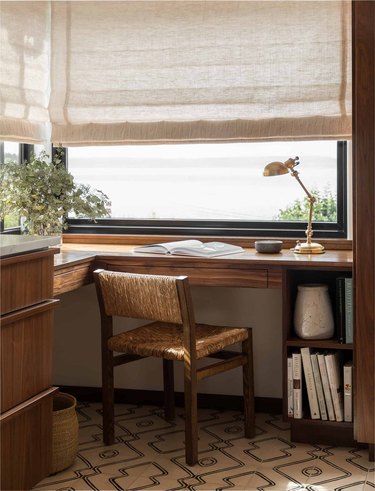 Who knew a monochromatic office could look this good? Heidi Caillier knew, obviously, and totally decked out this small corner with rattan, warm woods, and neutral accessories. She chose black window frames for this space, though. And they stand out perfectly. To keep the apertures from creating too much contrast, the designer outfitted them with natural-toned Roman shades.
2. Paint the entire room to match the window.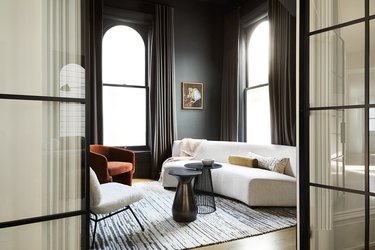 3. Go heavy on the contrast.
This is one classy kitchen. There's glossy tile, a blue stove, and a brass faucet. But the black window frame is the real star, in our opinion. It's somewhat unexpected because everything else is white and light (wood floors, we're looking at you). But that's why it's good. The contrast completes the room.
4. Skip the window treatments.
When you have black window trim with arches, don't bother covering them up. Here, Erin Hiemstra left her panes completely bare, and they're stunning. If privacy is an issue, this look might not work (unless you add a semi-sheer window film). But for top floor apartment dwellers or homeowners who don't have nearby neighbors, this idea is perfect. Add a few more dark accents to your space — like a coffee table and pottery. And you're finished.
5. Keep everything else sleek.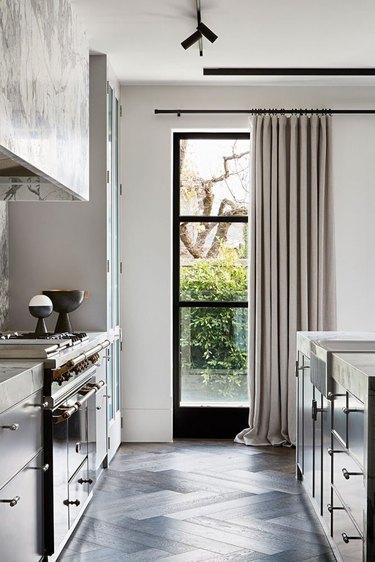 Want your space to feel pulled together and only minimally styled? Take a few cues from this sleek kitchen. The black window frames make a statement, but the chevron flooring, simple cabinetry hardware, and even the range hood are all sophisticated. Subtlety is the name of the game. And we're playing.
6. Use complementary shades.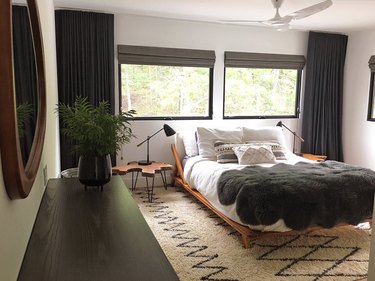 Don't leave your bedroom out of the fun. Go ahead and install black windows (or simply paint the existing frames) in your sleeping zone. And for a masculine boho look like this one from Dichotomy Interiors, use other rich shades to complement the black. Dark green or gray curtains, a charcoal throw, and a rich wood dresser will work perfectly.
7. Add one pop of color.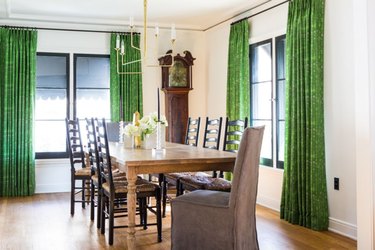 Now kelly green fabric might not be your first choice for dining room window treatments. But if you don't mind a little eclectic style or a sprinkle of maximalism, you can pull it off. Interior designer Martha Mulholland covered these black window frames in the verdant material, and the color combo pops.