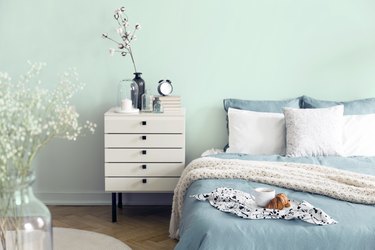 Some of us wait with bated breath around this time of the year to see what hues make the cut for color of the year. Others just stick to their usual palette. But no matter what camp you fall into, there's no denying that we make specific associations with color. One person's gorgeous hue is another person's "ew, I hate that color."
From a more general view, all these color of the year trends offer an opportunity to reflect on what we want from our interiors. We're taking a look at the 2020 colors of the year so far and breaking down what they have in common, and how they might differ.
Light Colors That Promote Wellness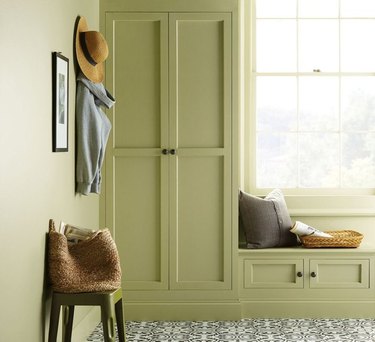 According to Pinterest, searches for items like organization and positivity spike both during the new year and right before fall. Between June 2018-2019, searches for "healthy mindset" and "radiate positivity" were up by 71% and 103% respectively. We're noticing colors that inspired a subdued, tranquil vibe, like light greens and blush pinks.
This wellness angle definitely played into Behr's 2020 Color of the Year, the light green hue Back to Nature. The company says the color is "a great option for adding peace and tranquility" to a space. It can also "purify and promote a space."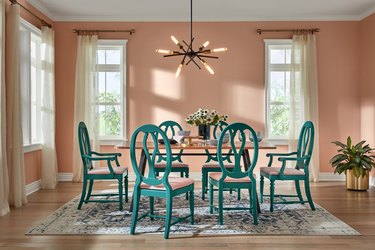 HGTV HOME® by Sherwin-Williams named Romance its 2020 Color of the Year, and while it might seem like a close cousin of Millennial Pink, there's more than meets the eye. Described as a blend between blush pink and apricot, the hue is also part of the brand's Simply Blissful Color Collection. It's all about thinking of the home space as one where "we choose to restore ourselves." The hues range from a bright Coral Reef to a subdued Fundamental White; the darkest is a Blue Endeavor, with most colors leaning toward the pastel side.
"Putting an effort in making our home a serene sanctuary has become a priority to take care of ourselves," Ashley Banbury, HGTV HOME by Sherwin-Williams senior color designer, tells Hunker. "Color can make a large impact on a room's overall environment; hues that help us unwind from the chaos of the everyday are at the forefront of color trends."
Dunn-Edwards' Minty Fresh 2020 Color of the Year focuses on channeling the "enthusiasm and optimism of a new decade." While the 2019 Color of the Year was "grounded and earthy," this year's hue goes more on the "light and airy" end of the spectrum.
"These lighter hues have been relegated to the back of the line for the last couple years as saturated, deeper hues have moved forward," Sara McLean, color expert and stylist for Dunn-Edwards, tells Hunker. "From peaches, which are a movement forward from Millennial Pinks, to lavenders and sky blues, 2020 will see pastels trend forward in force."
That also seems to be the case when it comes to Benjamin Moore's Color of the Year, First Light, a light pink hue. The hues in the company's 2020 palette, including First Light, are meant to "combine optimism with understatement."
Neutral Hues That Go Beyond Beige and Gray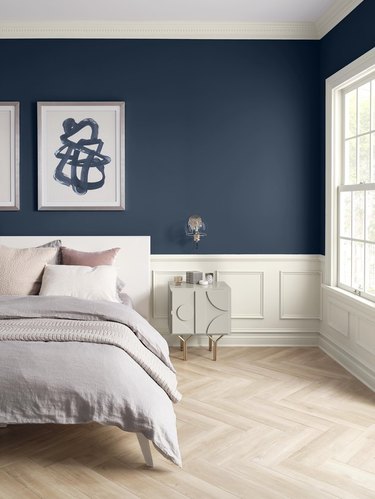 The Sherwin-Williams 2020 color of the year, Naval, shows a shift toward richer tones. Unlike other colors of the year, it sits more on the deep, jewel tone side than the light, pastel one.
Sue Wadden, director of color marketing for Sherwin-Williams, predicts a "greater appreciation for moodier, deeper hues" in 2020.
And despite their differences, both Naval and Back to Nature have been described as a "new neutral." This emphasizes the shift away from more classic tones but also suggests that in 2020 there might be less of an inclination for bright colors and more interest in hues that bring in mellow vibes.
"The palette of neutrals has expanded outside the typical gray and beige and we have begun to embrace colorful shades that are soft and welcoming," Banbury says.
Valspar also took inspiration from nature for their 2020 color picks. The hues "invite serenity into your home." The picks include Pale Powder, a "fresh take on a warm neutral" that is somewhere between a beige and blush shade. Valspar, however, chose 12 colors of the year instead of one — in order to accommodate a variety of aesthetic styles.
In the end, it comes down to personal preference, but we see 2020 as the year in which the home space will offer an opportunity to create a soothing, laidback escape from whatever the new year might bring.
---
Eva Recinos is an associate editor at Hunker. You can reach her at eva@hunker.com

View Work