When Kate Lester first sat down with her clients — an active couple, both in real estate, with two young children — they threw around a lot of different concepts for the renovation of the expansive home they just bought in the highly-desirable Hill Section of Manhattan Beach, California. Spanifornia (a term Lester coined herself). Modern French Chateau. Whichever the direction, they all knew one thing for sure: The '90s Mediterranean style had to go.
"The moment I walked in, I had the vision to transform the home into something that was modern California Spanish and less, well ... brown," says Lester. "I couldn't believe how dark and dated it felt."
The home was Mediterranean through and through: travertine tiles, scrolled metalwork, over-molded cabinetry, heavy, dark wood, and lots of beige. It had been redone when Mediterranean was on-trend — and while the craftsmanship was high-quality, the look itself did not stand the test of time.
To avoid something that, too, would look dated in 10 short years, Lester opted to keep the new design simple and timeless — think: natural wood tones, white-based marbles, and a neutral palette. And while they planned to keep some of the home's more interesting details — like a curved precast window in the upstairs hallway, or an arch in the kitchen — everything else would be crisp, clean, and classic. The three Cs.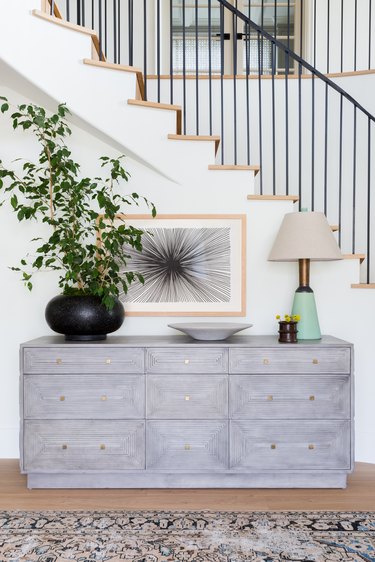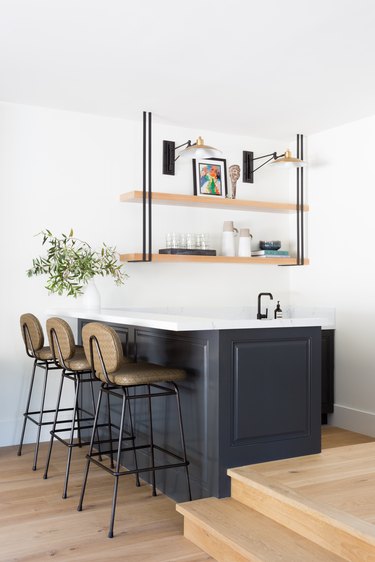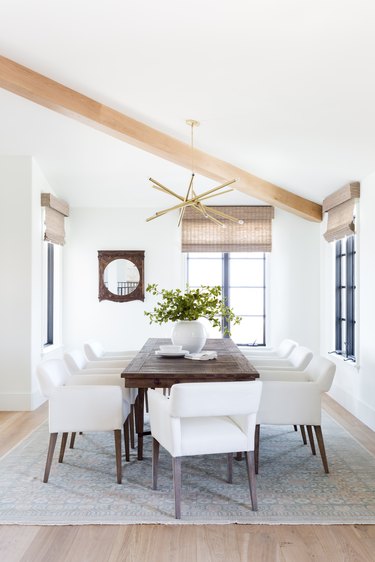 "Getting the bones of the house right was a priority for everyone," says Lester.
The first step was to streamline and simplify. Goodbye, heavy crown molding. Later, outdated columns. Lester removed and replaced the home's over-scaled fireplaces.
"Making a 6,000-square-foot home feel warm and comfortable is always a challenge," says Lester, "but I knew starting with these items would go a long way."
The process proved to be extensive, spanning an entire year as they renovated each of the eight bathrooms and six bedrooms, plus the living areas and basement. In the kitchen, Lester opted to keep most of the core cabinetry, just updating the hardware and molding. But then they splurged on lighting and warm-toned European bleached oak flooring throughout.
That set the stage for tasteful furniture and accents, a mix of vintage, custom, and new, and accessible pieces from the likes of Anthropologie and Rejuvenation, as well as Lester's own store, Kate Lester Home.
"What once was a cookie-cutter pigeon-holed Mediterranean is now comfortable and collected," she says. "This is exactly who I am as a designer."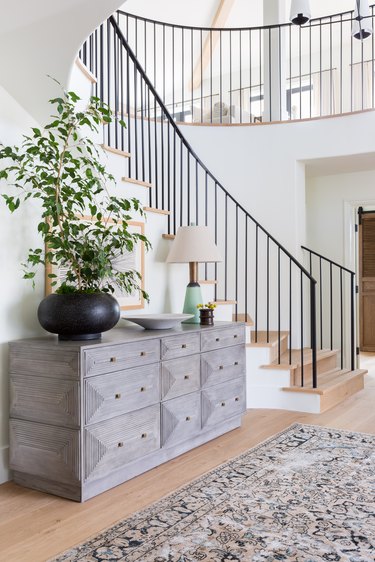 Lester's challenge was to transform a dark, dated 6,000-square-foot house into a home that felt both fresh and warm.
"When our client first came to us, she was convinced that just a few coats of new paint would completely change the look and feel of the house, and I totally understood," says Lester. "But then I reminded her that I am a designer, not a magician."
Lester spent time refining the bones of the house before creating a nice, neutral canvas with Benjamin Moore's Simply White and European oak flooring throughout.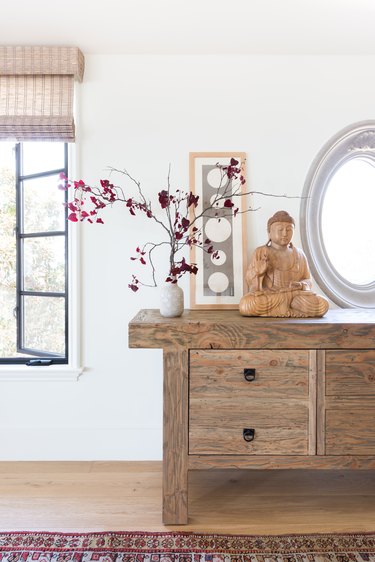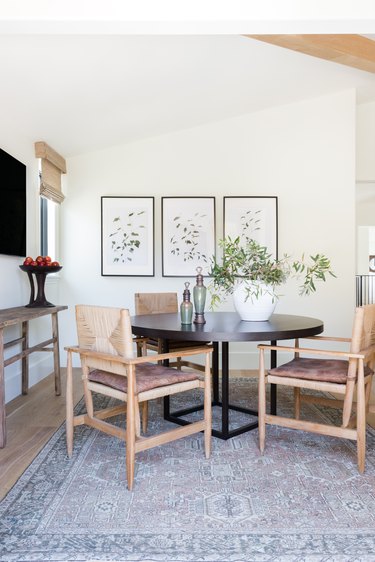 The oversized vintage butcher's table in the hallway is one of Lester's favorite pieces, along with the woven chairs around the breakfast table.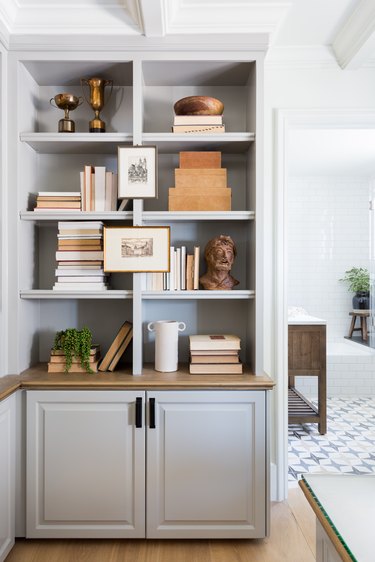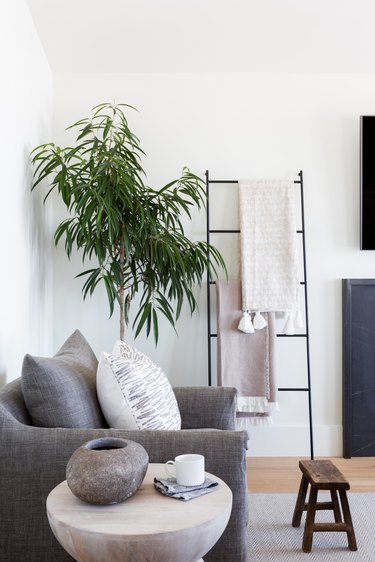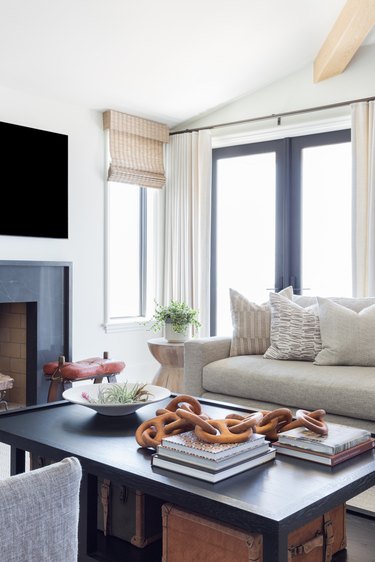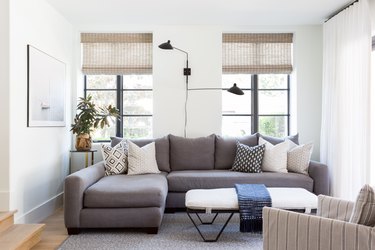 The living areas have a bright, open feel, with a thoughtful collection of furniture and decor tied together with a cohesive palette.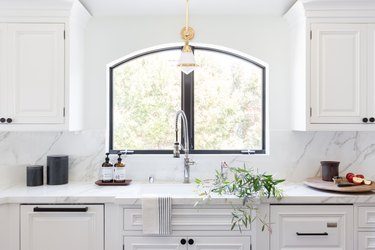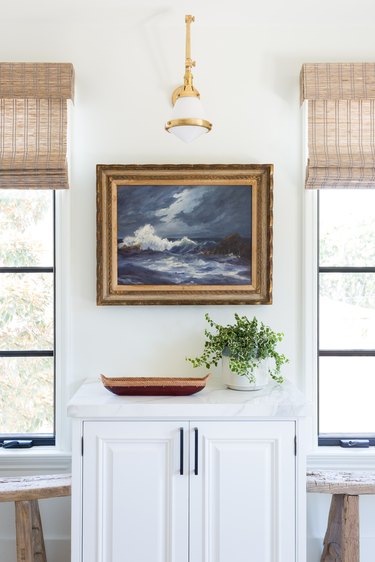 Lester was able to save 90% of the cabinets in the dated kitchen by updating hardware, molding, and paint.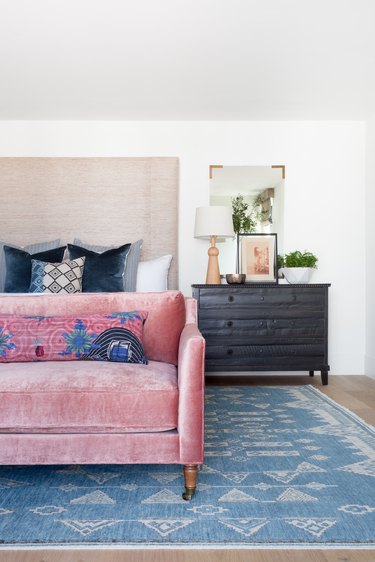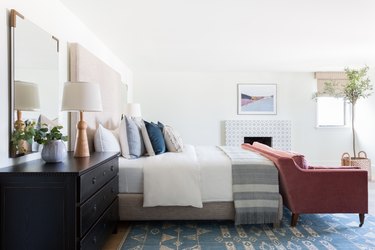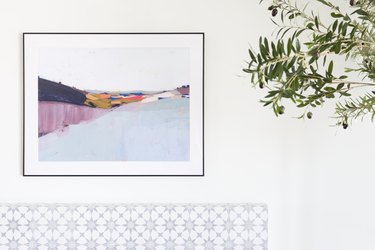 In the master bedroom, the pink Anthropologie couch offers a refreshing pop of color, echoed by the art above the new fireplace.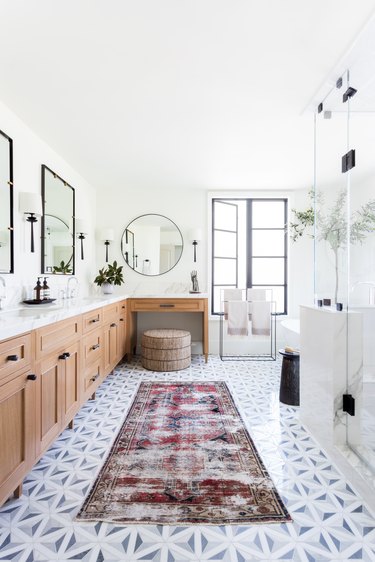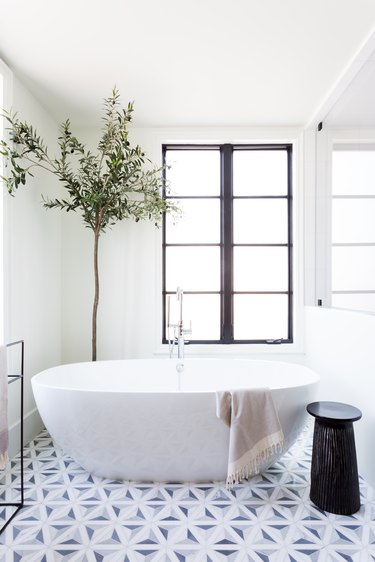 The massive master bath is simple, but chic, says Lester. "I love that we were able to include the stone mosaic to keep things from feeling too serious, but that it still feels sophisticated and warm." The tile is from Artistic Tile.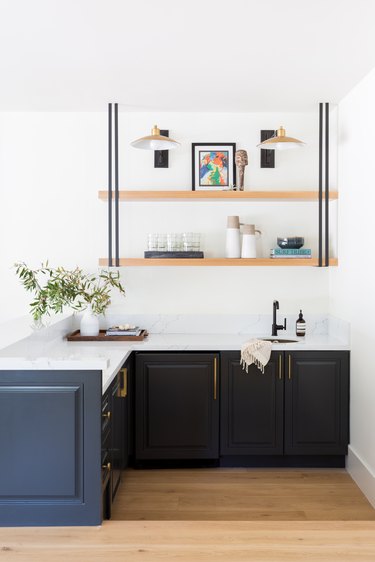 Lester designed the steel and wood shelf detail in the first floor bar area. Like other moments throughout the reimagined home, it's unique and a little contemporary, considered but not overly refined.
"Perfect is boring, and everything stiff and matching is passé," says Lester. "My style is about mixing old and new, high and low, and keeping things fresh. In this case, we were able to breathe new life into a home that once felt dark and dated."