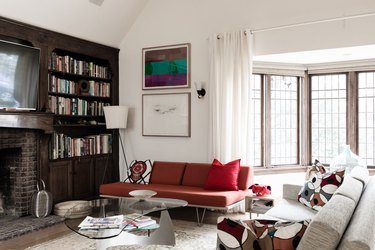 Bay windows — we know them and we love them, we're easily intimidated by them. When it comes to decorating these apertures, even the savviest designers may err on the side of caution and leave them uncovered because of the sharp angles, varying sizes, and particularly unique architectural appeal. Finding just the right bay window curtains for your room might take a little extra thought, but it will, without a doubt, be well worth the effort.
No matter your preference, here are seven different bay window curtain ideas to help you get started.
1. Embrace the flexibility of pull-down blinds.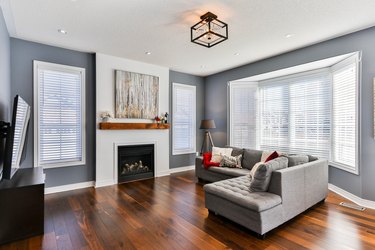 If you're working with walls that aren't particularly tall or you have especially narrow bay windows, a classic set of pull-down blinds can be a great option. They're super lightweight, come in a wide variety of colors and materials, and can offer you the perfect combination of privacy and filtered light during your midafternoon couch nap in the living room.
2. Use curtains to create a window nook.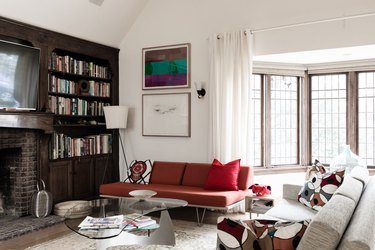 Oftentimes when we consider a new bay window curtain treatment, we immediately think about which materials will look the best right against the panes. But why not mix it up a bit and mount curtains farther away from the glass to divide your space? That way you can maintain some privacy after sunset without shuttering your bright nook with heavy fabric panels during the day. Plus, you'll create an extra secluded space for reading or lounging. We recommend adding a window seat cushion, too.
3. Add long blackout drapes for privacy.
Sometimes the best decor option also happens to be the most obvious. Find yourself a set of blackout drapes that are either neutral in color or complementary to your wall paint. This is an especially good choice if your bay windows happen to face a public street with a lot of foot traffic — blackout drapes will let you sleep in while also keeping curious eyes out.
4. Install Roman shades with a playful pattern.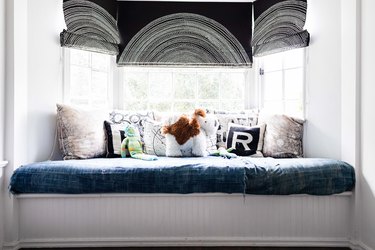 There's something to be said about the versatility of Roman shades. They come in a variety of colors and, more importantly, they can be cordless, which makes them a great, safe option for rooms frequented by children and pets. You can easily add a little extra personality to any room with a set of playfully patterned Roman shades hung above each pane of the bay window.
5. Combine shades and drapes
If your bay window happens to be a focal point in your room, why not make it stand out even more with a combination of Roman shades and drapes? This look can work in coastal bedrooms or traditional ones. And you'll never have to worry about privacy.
6. Go for sheer shades that let your molding shine.
This option really could be a match made in heaven. Pair the simplicity of the Roman shade with a lightweight, semi-transparent fabric, and you might just have the perfect bay window treatment for any minimal space. The best part is that this shade allows you to emphasize other stylistic or architectural details in the room, such as gorgeous crown molding or standout window frames.
7. Try a classic look with wooden shutters.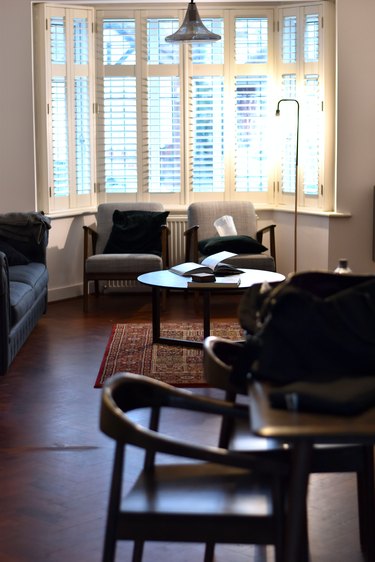 Wooden shutters might not be the first thing you consider when contemplating options for your bay windows. But they can add a classic touch to any traditional room. They're definitely a more substantial style, but if the rest of your room has particularly delicate decor it might be a nice way to add some depth. Plus, what's better than opening wooden shutters in the morning and gazing out at a new day?