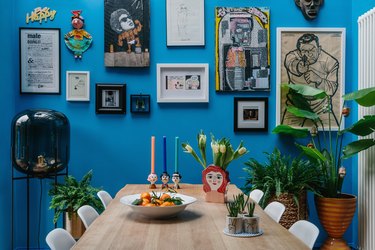 Hunker may earn compensation through affiliate links in this story. Learn more about our affiliate and product review process
here
.
Let us not underestimate the impact that color has on our space. We've explored it for your kitchen, we've brought it into the bathroom, and goodness knows we love to look (and look) at colors for the living room (white, gray, blue ... we could go on and on).
So, if you're currently contemplating which color(s) is best for your dining room, you've come to the right place. Let's take a look at some ideas, which will then help you figure out the perfect shade for your eating space.
Dining Room Colors: An Overview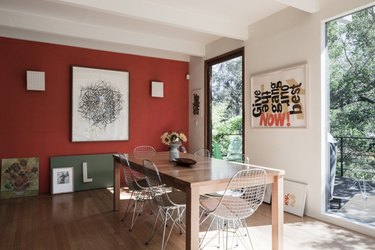 First we'll discuss the importance of color in your dining room. If you choose a hue that's too dark, it might make your room feel smaller — or perhaps it could evoke a cozy feeling (dinner for two, anyone?). If it's too bright, it might not feel very calm in the room — or might be the perfect way to create a backdrop for lively dinner parties. A white or neutral palette might be too plain for your tastes — or could create the soothing space you've been craving.
What we're saying here is that there is no right or wrong answer. The right color for your dining room is really whatever makes you feel the best, resonates with your personal style, and simply just feels right.
Things to think about include: the mood you want to set, the size of your space, if you want to paint every wall or just an accent wall, and your personal style, be it bohemian, modern, contemporary, farmhouse, rustic, Scandinavian, or traditional. (Also, if you don't actually have a dining room but want to somehow designate a dining area, these simple tricks can help you set one up.)
Trends in Dining Room Colors
Right now, there are a number of colors trending in dining rooms. Designers are loving white and greige, embracing the popularity of minimalism. Bright greens are making a splash in boho, California-chic dining rooms, and pops of color (or shall we say, colors) are perfect for maximalist dining rooms. Sea foam, a light blue-green, is popular among designers along the coasts for its ability to evoke a calm environment. And, currently, some people are choosing to go bold with a millennial or quartz pink color.
And, while trends are fun to watch and follow, they're not the end-all, be-all. Just choose one that helps you create an atmosphere where you want to eat, drink, and be merry.
Dining Room Colors to Consider
Can't really make up your mind on which color, or colors, to choose? You may want to stick to a more neutral palette, which includes white, gray, and greige. Though white paint may seem plain to some, it can make a dining room look quite chic, modern, and minimalist (which is super on-trend right now). Plus, using white or another neutral color will allow you to make a statement in other ways, like with light fixtures, tables and chairs, storage, and decor. In this way, white is very freeing.
Let's say you're a little more adventurous and want to go for something bold. Why not try shades of black, green, or dark blue? Deep green shades are very popular and can be properly utilized in midcentury modern, bohemian, or Parisian-style dining rooms. Dark blues are also known to be incredibly classic. In some cases, these colors may make your room feel a bit smaller (depending on the size of your space), but they will also make quite a statement that your guests will surely notice.
If you like to look on the bright side of life, choose a more vibrant color palette instead. Why not go for lively reds, yellows, oranges, and lighter blues? These colors can liven up your dining room and put you and your guests in a good mood. Also, your room will look more open and bigger, especially when the sun hits it.
Expert tip: Before painting an entire room, pick up a paint sample from your local hardware store and paint a small portion of your wall that color. Then, you'll be able to visualize how it's going to look in the room. Be sure to view it at different times during the day and evening, since the light in the room will change.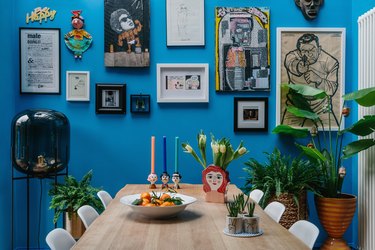 Along with the paint, consider adding some colorful wallpaper onto one of the walls. If you live in a rented space, make sure you get the kind that you can easily remove. You can also use colorful dining room tablecloths, dinnerware, and light fixtures. Why not go bold with a midcentury modern pendant light or a rustic floor lamp?
Some other ideas for adding color include getting a large piece of artwork to put on the wall over your dining room table, placing a vibrant rug under your table, adding patterned curtains, getting colorful dining room chairs, and putting out throw pillows and blankets if you have a bench. In terms of furniture, you can also go with a colorful dining room table, bar cart, banquette, or buffet.
It's time to break out the paintbrush and find your perfect palette. In no time, you'll have a dining room that you'll be eager to show off to family, friends, and dinner party guests.