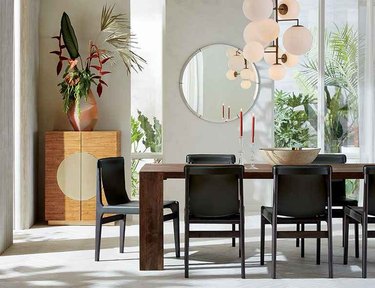 Hunker may earn compensation through affiliate links in this story.
When you host as many dinner parties as we do, it's not hard to amass quite a collection of pieces for entertaining. From multiple sets of dishes (everything from the good china to those hand-thrown ceramics that always look so Instagrammable) to tablecloths, linen napkins, and seasonal centerpieces, there's a lot that goes into making a memorable event. Unfortunately, that also means you need someplace to store it all when you're not charming a house full of guests.
The conundrum: How does one contain it all in a room that also holds a dining table and seating for six plus? You've come to the right place. From sleek and modern furniture pieces that are more than the sum of their parts, to sneaky and clever storage solutions that guests won't look twice at, these are some of our favorite ways to make the most glamorous room in your home serve you while you're serving your guests.
1. Midcentury Sideboards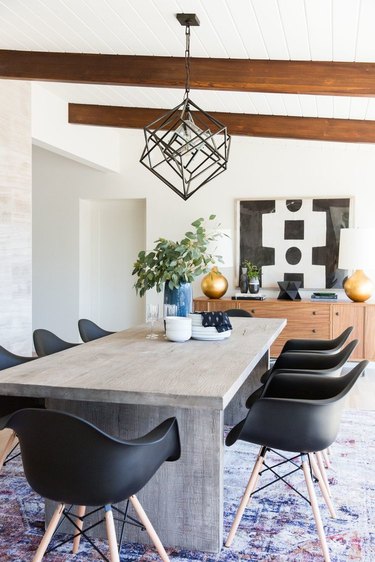 A classic, midcentury modern sideboard is the perfect balance between storage workhorse and sophisticated statement piece. Choose one with a variety of drawer and cabinet sizes to max out on space for everything from wine glasses to spare serving boards and centerpieces.
2. Bar Cabinets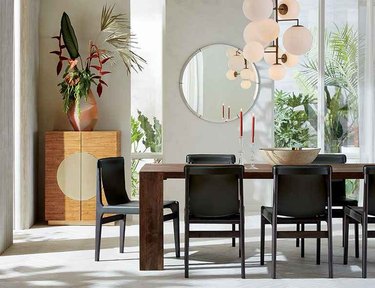 Think of bar cabinets as the impossibly posh little sister to sideboards and buffets. With a more upright profile, a bold bar cabinet can slot into small spaces easily ... and unlike an exposed bar cart, it always allows for a dramatic reveal when you're ready for cocktail hour.
3. Glass-Front Cabinets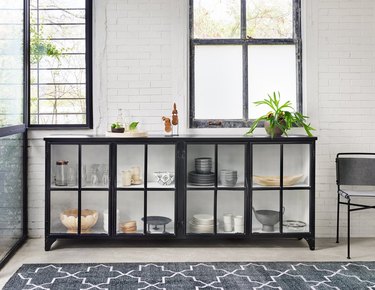 Whether you prefer vertical or horizontal, glass-front cabinets are a pro hostess's best friend — because they display all your favorite dishes and objects_,_ but also keep them dust-free (so you're always ready for some last minute guests).
4. Bar Shelves
If you're short on space, wall-mounted may be the way to go. There's nothing more chic than these mirror-backed "bar shelves" — perfect for those times when all you really need to store are a few extra bottles of bubbly.
5. Storage Seating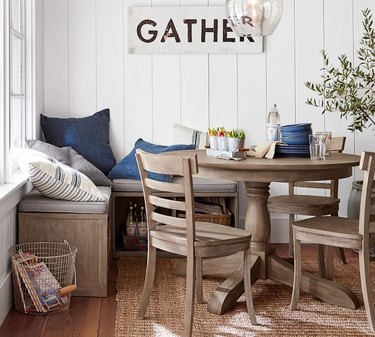 Probably the most clever way to sneak some storage into your dining area, banquettes aren't just for the kitchen anymore. Pick one with a boxy look like this for a more relaxed feel, or trade traditional banquettes for a tufted dining bench that conceals space for table linens and such underneath — your guests will never be the wiser.
6. Built-in Banquettes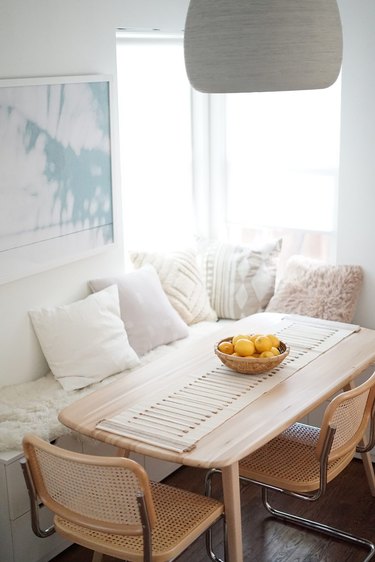 What's better than a banquette? A banquette with drawers. A crafty reimagining of an IKEA staple makes for tons of added storage even in a petite dining space. And best of all, you won't have to rummage through stacks of napkins to find what you're looking for when friends drop by.
7. Artisan Buffets
If you're looking for a storage piece that doubles as a design focal point, opt for an artisan-made style that can do double-duty as a buffet for your next "serve yourself"-style get-together. With a sideboard this striking, you might not even need any wall art to complete the space.