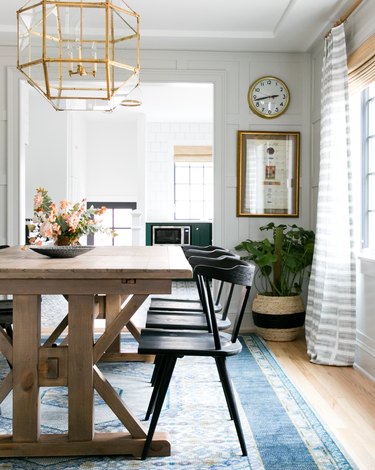 Depending on your personal preference, you can start with your furniture and decorate based on your select key pieces, or you can start with an eye-catching rug and build around that. Whichever you choose, here are a few tips to finding your perfect dining room rug.
1. Oversize is better than undersize.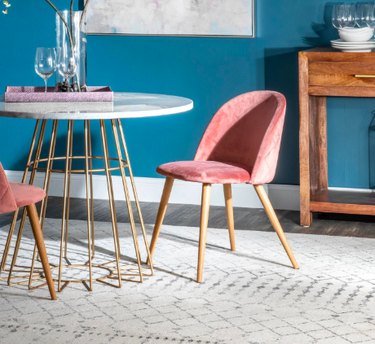 It can be tough finding the dining room rug idea that fits your space just right. But if you get a rug that's too small, you run the risk of it constantly getting caught on the chairs as they're pulled in or out. With an oversize rug, you can eliminate that problem completely and cover more ground.
2. Play with shapes.
Ditch the standard rectangular rugs and test out different shapes in the dining room. Round rugs are quite popular, but you can also go for square, oval, or other abstract shapes, too.
3. Low-pile rugs are your dining room's best friend.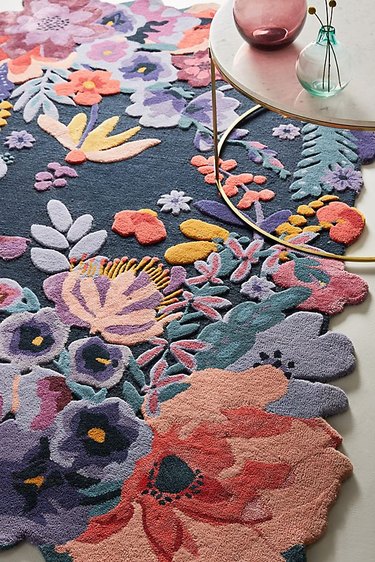 Not only are people constantly eating in a dining room, but they are constantly walking in and out of them, too. With so much hustle and bustle, it can get messy fast, which is why low-pile designs are ideal dining room rug ideas. It's easier to vacuum this style of rug and since there's not much fluff to them, there's a lower risk of anyone tripping or slipping.
4. Try carpet tiles.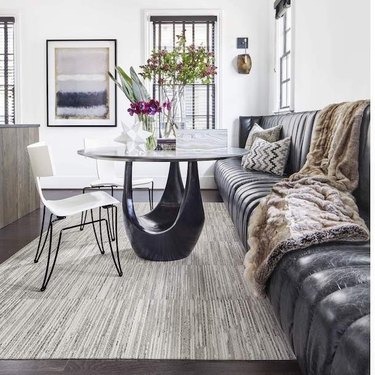 Carpet tiles are a great dining room rug idea that allows you to customize your space and create the perfect area rug. They're also super easy to clean and replace. Plus, you can get creative with them, too, and mix and match different tiles to design a completely unique dining room rug.
5. Use outdoor rugs for the dining room.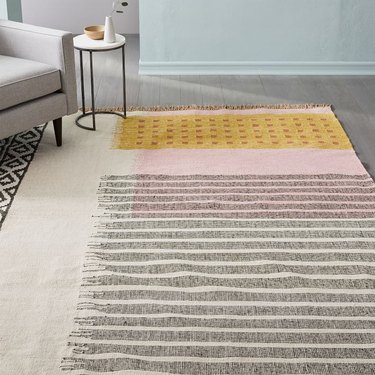 Outdoor rugs aren't just for patios. Many of them are versatile enough that you can use them indoors, too. Since they're typically more heavy-duty than standard indoor rugs, they can be easier to clean, which is why this dining room rug idea is one of our favorites.
6. Opt for patterns with darker colors.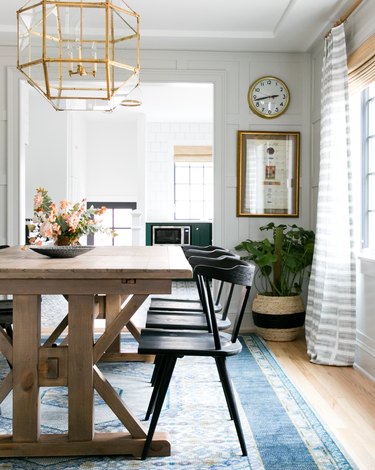 Light-colored rugs can get dirty easily, especially in a room dedicated to eating. As much as we hope there aren't any accidents in the dining room, it's better to be safe than sorry. Opt for a rug that flaunts a darker hue instead of a lighter one.
---
Pauline is Hunker's Associate Commerce Editor. She covers all things home and shopping, whether it's the next must-have product launch or a roundup of the best home and decor sales. You can reach out to her at pauline.lacsamana@hunker.com.