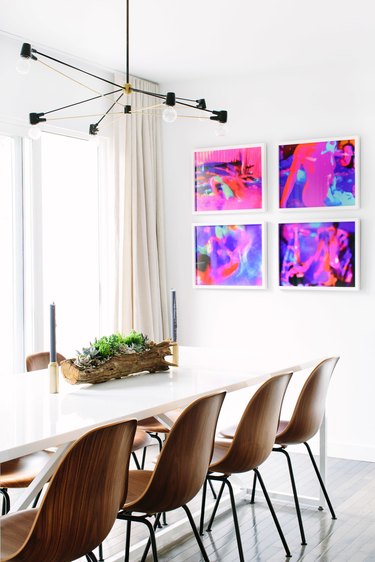 Dining room table ideas may not seem as exciting as shopping for new throw pillows or an abstract print to hang in your living room. This piece of furniture only comes in a few shapes and a limited color palette, so purchasing one might seem pretty straightforward.
But we disagree. We'd argue the dining room table is one of the most important pieces of furniture in your house: It's where you'll start your day with a cup of coffee and a few moments to yourself, where your friends and family will pull up chairs for dinner parties and holidays, and maybe where you'll roll out an art project or feed your kids an after-school snack. It's a place where you'll gather day after day, and it can change the look and feel of the entire room.
But how do you go about finding the table that's right for you? Good question. You'll need to consider five crucial factors, and this handy guide breaks them down into bite-size morsels.
1. Style
When browsing different dining room table ideas, think about looks as well as practicality. Are you somebody who likes to keep everything perfectly neat? Then a wood table might not be the right choice for you: You'll need to use coasters and placemats to keep it from getting damaged. Do you have young kids? The edges of a glass tabletop might not be a good fit right now. Do you move often? Avoid tables too heavy for two adults to lift (that means no stone designs). And if you have a big space, a small table will look lost; in contrast, a hefty table in a tiny space will be visually overwhelming.
Just as important, make sure your new dining room table will fit aesthetically with your personal style. Remember that you don't need to stick strictly to the style of the rest of the house (a "farmhouse" table in a farmhouse, etc.). A clean-lined metal table can provide nice contrast in an old house, and a painted vintage version would add intrigue to a modern apartment. We love the juxtaposition of the sculptural base with glass top in this beach-chic dining room designed by Chango & Co. The trio of pendant lights hanging above complements the look beautifully.
2. Shape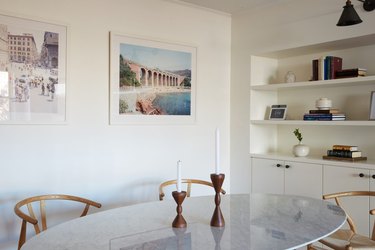 Dining room tables are generally available in four different shapes: square, round, oval, and rectangular. But the shape you choose can actually make a big difference in your space. In a room with lots of hard, straight edges, you may want to opt for an oval or round table for contrast. According to the pros at Pottery Barn, curvilinear options are also good in tight spaces, since it's easier to walk around a curved-edge table than one with corners. This white dining room designed by Ronen Lev is a picture-perfect example, surrounded by Wishbone chairs to boot. Keep in mind that some tables have leaves and can expand — more on that later.
3. Size
Remember these words: Measure, measure, measure. You'll need to carefully measure the room or space where your dining table will go before you head to the store (or online), and keep those dimensions in mind while you look. You can also mark out with painters' tape where you'd like your table to go, so you can get a rough estimate of the dimensions you're looking for. Keep in mind that you'll want plenty of space to walk around the table, and enough wiggle room on every side so that diners can pull their chairs out with ease. (A good rule of thumb? Leave 3 feet on each side of the table, interior designer Lucy Harris told The New York Times.)
It's also good to think about how many people will be sitting at the table most of the time. Each person will need about 2 feet of elbow room. Are there usually four of you, with friends who drop in for dinner on weekends? Opt for a table that fits six comfortably, and a couple more in a pinch. Or, are there usually just two of you, besides once a year, when you host Thanksgiving? No need to get a massive table that will take up your whole dining room: Consider getting a smaller table for two, then renting one for special occasions like holidays. Or, go for an expandable dining table or one with leaves. Think through how you'll use the table and find one that fits your needs. The petite round option that designer Katie Hodges selected for this cozy dining nook is a dream table for two.
4. Longevity
A dining room table idea is not the kind of thing that you commit to lightly — it's not a piece of furniture that you buy and then toss after a few years. At least, it shouldn't be. Try to think of your table as an investment, no matter how much it costs: This is an important piece that you'll want to keep, even if its role adapts over the years. (You might only have space for something petite right now, which will fit in your studio apartment, but in a bigger place down the road, it could become a lovely dinner table or desk.) Consider the quality of the material and the joinery first and foremost, and be wary of buying any furniture just because it's trendy. A dining room table should stand the test of time. The sturdy wood piece in this dining room by Amber Lewis will surely last for years to come.
5. Comfort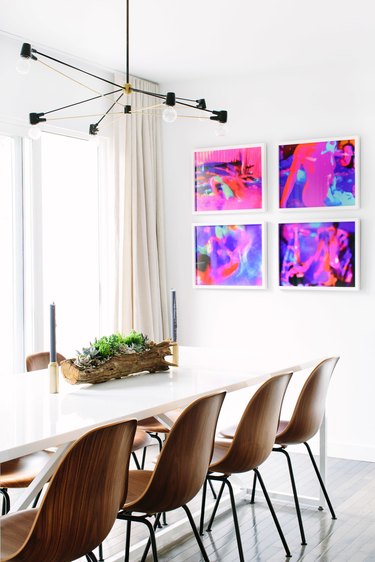 Don't just look at the top of the table: Take a look at the legs, too. Is there plenty of room to squeeze in extra dinner guests without the base getting in the way? Then, take a seat at the table (yes, in the store). Are you knocking your knees or shins on the legs or base? You also want to make sure your chairs fit, too. You don't want to get the table if the seating doesn't fit, especially when you've spent a pretty penny on a collection of Eames molded side chairs, as seen in this dining room by September Workshop. Swoon!