Give your dining table a quick update with the addition of a table runner. Table runners can be placed lengthwise down the center of a table or widthwise across a table for decorative embellishment with or without a tablecloth. No matter how you decide to use them, they add to style to a table setting.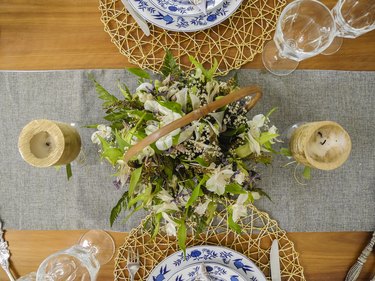 Lengthwise Placement
Before buying a table runner, measure the width and length of your table. The correct table runner size when placed lengthwise down the center of the table should be one-third the width of the table. It should also be a minimum of 12 inches longer than the table to allow a 6-inch drop on each end.
If you use a tablecloth underneath the table runner, the ends of the runner should be even with the edge of the tablecloth. A short table runner used as a textural foundation for a centerpiece should be one-third the length of the table. Use this type of table runner on informal table settings.
Widthwise Placement
Table runners placed across the width of a table should appear slightly narrower than a runner placed lengthwise. Keep these runners at one-fourth the width of the table. When deciding on the table runner length, use the same drop guideline as a lengthwise runner, allowing 6 inches on each side of the table, with or without a tablecloth.
Runners placed widthwise should align with each table setting, serving as a place mat for two. Separate multiple runners on long tables by 24 inches to avoid an overcrowded appearance. Place mats can also be layered on top of table runners placed widthwise or used alongside runners placed lengthwise.
Table Runner for Round Table
Runners placed on round tables typically don't have a standard length measurement, except when used on bare tables. A stand-alone table runner on a round table looks and functions best with a standard 6-inch drop.
A 90-inch table runner can easily accommodate covered round tables ranging in diameter from 48 to 72 inches, or comfortably seating four to eight people. The drop length with the 90-inch runner changes depending on the size of the table. For example, on a 48-inch table, you get a 21-inch drop, on a 54-inch table you get an 18-inch drop, on a 60-inch table you get an 15-inch drop, and on a 72-inch table you get an 9-inch drop. A longer runner gives you a more substantial drop on larger tables. A 108-inch runner creates a 24-inch drop for a 60-inch table and an 18-inch drop on a 72-inch table. A 120-inch runner equals a 24-inch drop on a 72-inch table.
Long drops of 24 inches or more are recommended when using a table runner for a round table over full-length tablecloths. For a dressier look on round tables, place two runners across the table in a crisscross formation.
Fabric Options
When setting formal tables with complex centerpieces, table runners provide a visual guideline for keeping the centerpiece components aligned in the center of the table. Use fabrics that complement the style of the room, the style of the table and the overall setting, whether it's casual or formal.
Fabrics such as organza, silk, satin and polyester complement formal settings and look best when layered over high-quality linen tablecloths or used as decorative elements on glass or lacquered surfaces. Lace and embroidered fabrics also lend an upscale feel and can be used with or without an underlying tablecloth.
In a casual setting, lightweight cotton fabrics with lively patterns and colors complement the natural wood grain on tables. For more of a rustic, organic feel, choose fabrics with coarse textures such as twill, burlap and grass cloth. You can also use table runners as decorative embellishments on other types of furniture such as dressers, end tables, console tables, trunks and chests.
Decorative Toppers
Items placed on top of a table runner can be as simple as a bowl of fruit or a vase of fresh flowers. Candles and candle holders make elegant additions to centerpiece items, and the table runner acts as a protective barrier for catching wax drippings.
For seasonal displays, fill a shallow tray with assorted miniature pumpkins and gourds or arrange a trio of bird's nests with floral greenery on a cake platter, filled with speckled egg candies. Turn wine glasses upside down and place a flower under the glass and a tea light candle on the inverted base. Fill assorted glass vases with water and floating candles or simply add colorful citrus fruit. Let the occasion and the surroundings guide you in creative embellishments for table runner decor.
Table runners offer a simple way to dress up your table, whether it's casual or upscale. Experiment with different placements and drop lengths to find a look you love.
---
Michelle Radcliff owned a retail home furnishings business for eight years. Radcliff offers decorating advice on her blog, Home Decorating News, is a regular contributor on interior design at LoveToKnow.com and earned certification as an interior decorator from Penn Foster College in 2013.